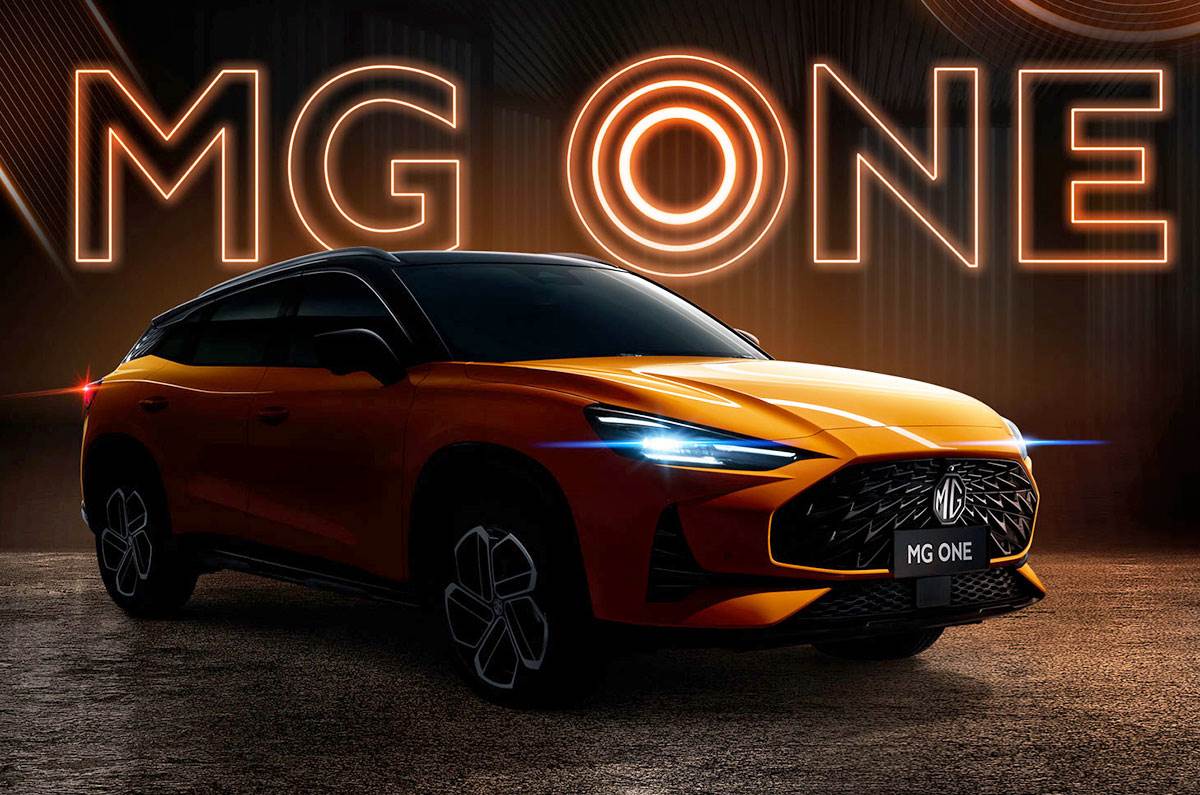 Cars
Provisionally called 'e3', a small five-door hatchback is due to appear by year-end. Roughly the same size as the former 3, the big difference is what powers it: the newer car will be an EV.
SAIC also plans to manufacture the e3 in RHD form as the UK has proved to be such a lucrative market for MG's other electrified models. The car can be thought of as a competitor for Renault's Zoe, at least in the European region.
The 5 EV is an electric estate. The name and initial details were revealed to the media by MG Motor UK with the British market's sales launch taking place in October 2020. The maximum range is 214 miles (344 km) WLTP. Launches in LHD European markets commenced in March.
This car shares much with the Roewe iE5, with that model itself using a platform derived from GM's Global Delta. The iE5 – launched in China in mid-2018 – has the same single motor with an output of 115 kW, and a 52.2 kWh battery pack. The boot's capacity is 464 litres with seats up and the load cover in place, rising to 1,456 with the seats folded.
Successors for the 5 (the sedan, also launched in 2020) and 5 EV aren't due until the end 2027 but there will be a facelift three or so years before that happens.
The Cyberster is still in SAIC's product plans, just delayed somewhat. At one time, this electric roadster was going to mimic some of the details of the E-Motion, a concept which debuted at the 2017 Shanghai motor show. Another concept, this time called Cyberster, was revealed until the Shanghai motor show in April.
The E-Motion had scissor doors and was a big coupé with a front end which made it look like a Jaguar. The roadster will be based on SAIC's Electric Modular Architecture.
SAIC has confirmed that a roadster based on the Cyberster will also be for RHD markets but is yet to confirm when production is due to start. It could be as soon as 2022.
SUVs
Even though images of the One, a future SUV, were made public on 30 July, specifications, along with the sales launch in China and elsewhere are still months away.
Certain details have been disclosed by a Chinese Ministry of Industry Information Technology registry filing. According to the preliminary data, the 4,579 mm long One is powered by a 133 kW 1.5-litre turbocharged engine. Width and height are 1,866 and 1,601 mm. We can expect a seven-year life cycle.
India is fast becoming one of the best markets for MG outside China so it makes sense for SAIC to localise certain models. One additional future one could be a modified Baojun RC-6. That was the strong hint given by SAIC's decision to display a (left-hand drive) version of the crossover-sedan at the New Delhi auto expo in February 2020 wearing MG and RC-6 badges. The car would probably be called a word though.
MG's badging system has very little consistency but that doesn't seem to affect the brand's success in any market. The latest SUV, which is called Marvel R, proves that point. It's currently being rolled out in multiple left-hand drive European markets, that process having started in May. This is the same vehicle as the R Marvel-R sold in China.
There are two choices of power for this 4,674 mm long electric SUV. The cheaper of the pair comprises a two-motor set-up which also means rear-wheel drive and a claimed range of up to 500 km. Power is 130 kW (177 PS). The three-motor option also means standard all-wheel drive with 209 kW (284 PS) but the range is only 370 km. A 70 kWh battery pack is standard.
Another additional SUV is said to be coming. The provisionally named JS will reportedly share much with the Roewe RX8, which dates to 2018. The latter is 4.9 m long and comes with five or seven seats. It uses the same body-on-frame platform as the Maxus/LDV T60 pick-up and D90 SUV.
An even larger SUV already exists, although not in China: the Gloster is a special SUV for India, based on the Maxus D90/LDV D90. The original is 5.2 m long and in some countries, the vehicle uses the LDV brand, as happens with other Maxus vehicles.
MG revealed a pre-production version of the Gloster at the India Auto Expo in February 2020. SKD assembly commenced at the Halol plant seven months later. There is a choice of 163 hp and 375 Nm or 218 hp and 480 Nm versions of a 2.0-litre diesel engine. An eight-speed automatic is standard for both. Six- and seven-seat layouts are offered.
A facelift for MG India's lengthiest vehicle is two years away with its replacement expected in 2026. Depending on market trends, the next Gloster could be an EV.
Reports for many other manufacturers' future models are grouped in the OEM product strategy summaries section of Just Auto. That includes MGs not detailed in this report.

Future platform intelligence
More detail on past, current and forthcoming models can be found in PLDB, the future vehicles database which is part of GlobalData's Automotive Intelligence Center.
This, the third of three features examining SAIC Motor's current and future models, followed a look at what's ahead for Maxus/LDV as well as for Roewe & R. Next, Just Auto's future model reports series turns to Anhui Jianghuai Automobile (JAC).