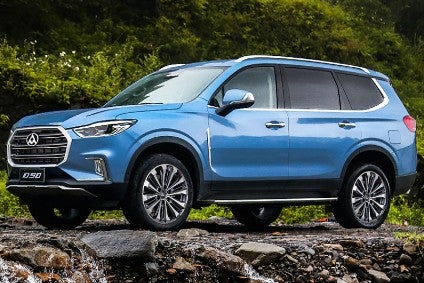 Geely, GM, Ford, PSA and others are suffering double-digit big declines in a Chinese market which dipped by seven per cent at a wholesales level last month. Conversely, there are winners within the ranks of other major OEMS, such as VW, Honda, Nissan and Toyota, not to mention Mercedes which even made the top ten in August. But what of the state owned local giant, SAIC? Well, all divisions are reaping the rewards of substantial investments in ever more new models, especially Maxus. 
What had once been an LCV brand which sold an outdated van – the Maxus – with its origins in the long-forgotten UK-based Leyland DAF Vehicles, is steadily becoming a highly successful international bridgehead for Shanghai Automotive. It's seeing surging sales in China too. In August alone, Maxus shot past Jeep, selling 5,380 vehicles and securing 38th position (34,270 Ytd) thanks to a year-on-year gain of 126%. How? Marketing, word of mouth about good value vehicles and that thing which struggling brands' CEOs looking for a quick buck and a fast-track career progression so often overlook: well engineered products and a steady flow of updated and additional ones. Let's take a look at what's on offer and what's to come.
Pick-ups
The T60 pick-up had its world premiere at November 2016's Guangzhou motor show. Powered by a VM Motori 2.8-litre four-cylinder diesel engine, it is intended to be a rival for the Toyota Hilux and Mitsubishi L200/Triton in relevant export markets. Sales commenced in China in the second quarter of 2017. Australia was one of the first export markets, the LDV T60 going on sale there in October 2017.
The T60-based Maxus T70 was announced earlier this year, this variant premiering at the Shanghai motor show. It is the same vehicle but with SAIC's N series 2.0-litre diesel engine. Outputs are 120kW (160hp) and 375Nm in single turbo form, or 160kW (214hp) and 480Nm for the bi-turbo version. The MG Extender is a version of the T70 sold mainly in the Thai market. As for the life cycle, this should last until 2027, with the first facelift expected in 2021 and a second one in 2024.
SUVs
The D60 is a ladder-frame chassis SUV in the style of the Mitsubishi Pajero Sport. Initially for China only, where it has been sold as the Maxus D60 since the market launch two months ago, the D60 will also wear LDV badging in some countries. The vehicle's debut as a prototype took place at the Shanghai motor show in April. The first facelift should be in 2022 with a second one in 2025 and then a successor in 2028.
Maxus also sells a larger SUV, that being the D90. This 5.2m long model was first seen as a concept, also called D90, in April 2016 at the Beijing motor show. The production version followed a year later at Auto Shanghai. There have been rumours that SAIC intends to assemble this model in India, badged as an MG.
The Wuxi plant which SAIC inherited when it took over Nanjing Auto is the manufacturing base for many of the Maxus & LDV brands' models. The D90 is built there and it uses the same body-on-frame platform as the Maxus/LDV T60 and T70 pick-ups.
A concept based on the D90 was exhibited at the Beijing motor show in April 2018. This big SUV was called the Tarantula. Rumour says it will be called D100 in production form with a launch believed to be due next year.
MPVs
There are two Maxus minivans. Details of the G10 and G50 can be found in PLDB. Please see the link below for details.
Electrified models
The EG10 is a plug-in version of the G10 passenger van. It was revealed in prototype form in June 2015 but the production model didn't appear until the Chengdu motor show in August 2018. A successor is due in 2022.
Two SUVs with strong links to the D60 were announced in China in August. One, the Euniq 6, is fully electric, while the Euniq 6 Plug-In is a PHEV.
The CATL ternary lithium battery in the Euniq 6 is claimed to have an NEDC range of up to 600km (372miles). As for the Plug-In, its powertrain consists of a 1.3-litre turbocharged four-cylinder petrol engine and a single motor. On electricity, the maximum claimed range is 65km and 750km for both petrol and ions.
Styling wise, the EV has no grille, whereas the Plug-In has blue accents in its headlight modules and matching stripes in the tall air vents which sit astride the large grille which it shares with the Maxus D60. Both vehicles should be facelifted in 2022 and again in 2025, then replaced in 2028.
Reports for many other manufacturers' future models are grouped in the OEM product strategy summaries section of just-auto.com.
Future product program intelligence
More detail on past, current and forthcoming models can be found in PLDB, the future vehicles database which is part of QUBE. That includes those Maxus and LDV models not named in this report.
This was the first feature in a series which examines future models for the passenger vehicle divisions of SAIC. The second one will look at Roewe, with MG the topic of the final report.