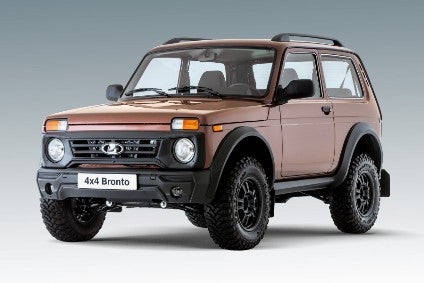 With some 300 dealers and a steady 20% share of its home market, AvtoVAZ Group remains the dominant automaker in Russia. Things are tough just now though with the largest monthly collapse on record (-72%) happening in April and Lada matching that (-71%) percentage drop.
The Renault -controlled OEM can at least take solace in the continued popularity of the Granta and Vesta small cars. These remain in first and second places year-to-date. Let's also not forget that if the history of the Russia tells us anything, volatility and surprises must be classified as normal. Remember too when it looked as though the pace at which this market was expanding could see it toppling Germany to become Europe's largest?
Deliveries of 88,996 vehicles for the year to the end of April put Lada well out in front, some 32,000 units ahead of second placed KIA . Add in Renault, Nissan and Mitsubishi for a true perspective on why Groupe Renault-Nissan Motor simply cannot be challenged, either by Kia-Hyundai -Genesis or the Volkswagen Group. The Alliance might be troubled at a global level but in Russia, it looks secure.
What does need to change, is the pace at which AvtoVAZ is allowed to launch new vehicles. To be frank, it's too slow, and models remain in production for many more years than their Kia and Hyundai equivalents.
Renault needs to make sure that it doesn't end up with another Dacia on its hands: Lada may yet suffer a dramatic reversal of fortune due to how old its vehicles have become. To recover, much money would then be needed to reignite the brand and tell people that new models have finally arrived. In fact, Lada could become a much more difficult problem to solve if it remains a division which cannot lift the margins of its vehicles.
Cars
A facelift for the best selling Granta sedan, hatchback and estate range was announced in August 2018 with the cars officially presented for the first time during the Moscow motor show later that month. Given how long it took AvtoVAZ to release an updated model – production dates to late 2011 – a direct successor likely will not appear until 2021 at the earliest.
The new model when it comes, should be based on Groupe Renault's latest B0+ architecture. More vehicles which do or will use this low cost platform, along with other Lada cars can be found in PLDB (see link at end of this report).
SUVs
The X-Ray should by rights have been facelifted last year as production began as long ago as late 2015. Instead, a refresh probably won't happen until the second half of this year. The X-Ray Cross, another derivative, was added in November 2017.
These small vehicles were previewed first by the Lada C-Cross concept at the Moscow motor show in August 2008, then by the XRAY concept at the 2012 show, the XRAY Concept 2 at August 2014's Moscow show and the XCODE concept at the 2016 Moscow motor show. The first X-Rays were in Russian showrooms in February 2016. After the facelift, successors should appear in 2024.
A successor for the long-lived 4×4/Taiga (see image) is at least two years away, maybe even three, depending on how the profitability of AvtoVAZ is affected by the COVID-19 crisis. And to put the company's long running challenges and delayed projects into context, a replacement had at one time been expected to go on sale in Russia during 2016.
After a collapse in the Russian market, there was a need for AvtoVAZ to preserve cash throughout 2015, 2016 and 2017. However, as vehicle sales climbed throughout 2018, it became perplexing as to why Groupe Renault continued to put off replacing Lada's best known four-wheel drive vehicle.
A three-door design study, the Lada 4×4 Vision, was revealed at the Moscow motor show in August 2018 but so far at least, there has been neither an updated version nor any firm date for the launch of a production model based on that prototype. The current model is available as a three-door and a five-door. It is also one of the world's oldest production vehicles, dating to 1977.
Another model which is well overdue is a larger crossover. Two years before the 4×4 Vision, AvtotVAZ displayed the XCode concept at the Moscow show. As has been said before, this design study will hopefully prove to have been a preview of a C segment SUV. Such a vehicle could lift Lada pricing into the air above where it presently competes.
No official statement about building a vehicle similar to the XCode has been made but it is an open secret that a future Lada along these lines is under development. Expect to see it reach production at Togliatti either later in 2020 or else 2021.
After the XCode arrives, a D segment SUV around the same size as the Skoda Kodiaq would be the next logical move. And just why Renault has not used the Arkana – built and available in Russia for coming up for 19 months now – as the basis for one further Lada crossover is baffling.
Reports for many other manufacturers' future models are grouped in the OEM product strategy summaries section of just-auto.com.
Future platform intelligence
More detail on past, current and forthcoming models can be found in PLDB, the future vehicles database which is part of GlobalData's Automotive Intelligence Center. That includes Lada models not featured in this report.
The first brands to be featured as part of the Groupe Renault and Nissan Motor series were Alpine and Renault, followed by Dacia and Renault Samsung Motors. Next will come reports on Mitsubishi, Infiniti , Datsun, Venucia and Nissan.