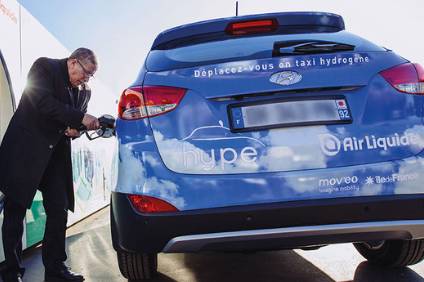 Cast your mind back a decade or so ago and you'll recall how hydrogen was among a number of promising alternative fuel candidates to replace petrol, compressed natural gas, bio-diesel and even battery-electric power. For a variety of reasons, however, demand for battery electric vehicles (BEVs) has gradually increased to the point where every carmaker is investing heavily in them. Continuing just-auto/AIC's series of research snapshots, Matthew Beecham takes a look at how hydrogen can play a role as a viable fuel in the future across the automotive industry alongside BEVs.
A fuel cell electric vehicle (FCEV) uses a fuel cell instead of a battery or supercapacitor to power its on-board electric motor. Fuel cells in vehicles generate electricity to power the motor, typically using oxygen and compressed hydrogen. The interaction between the oxygen and hydrogen in a costly and complex metal box is called a fuel stack. Like BEVs, they are silent to drive and emit no harmful emissions. The only waste is water vapour.
FCEVs have some advantages over BEVs, including the time it takes to recharge and driving range. Unlike BEVs that take almost an hour to recharge to 80 per cent strength, hydrogen fuel cell cars can be refuelled and ready to go in less than five minutes.
The driving range of FCEVs is also said to be superior to BEVs although times are changing. While FCEVs can roam over 300 miles, some EVs are catching up. For example, the Tesla Model 3 Long Range has a 75kWh battery enabling a 'real-world' driving range of around 348 miles per charge, depending on your driving style and journey patterns. The KIA e-Niro can travel 282 miles on a single charge while the Hyundai Kona Electric with its a 64kWh battery, offers up to 278 miles (WLTP) on a single charge.
A few carmakers have offered hydrogen-powered cars to date, albeit leasing them in modest numbers. They include Toyota (Mirai sales to government and corporate customers began in Japan in late 2014) and Hyundai ix35 FCEV has also been available for lease since 2014.
Toyota, Hyundai are not the only carmakers investing in FCEVs. Last month, SAIC Motor unveiled its first fuel cell-powered MPV in Shanghai, the Maxus EUNIQ 7, as part of a broader push to harness hydrogen as a key fuel of the future. The FCEV is fitted with SAIC's third-generation fuel cell system which the company said gives it a range of 375 miles and a hydrogen refuelling time of just a few minutes. The automaker said it was stepping up its spending in this segment and aimed to launch 10 FCEVs in the next five years to claim a 10 per cent share of sales in the country by 2025 with annual sales of around 30,000 vehicles. China plans to build over 1,000 hydrogen refilling stations by promoting annual sales of 1m FCEVs by 2030, according to a plan drawn up by the Ministry of Industry and Information Technology in 2016.
BMW used the 2019 IAA to unveil its i Hydrogen NEXT fuel cell development project. In a press release issued during the event, the carmaker stated: "The [concept] demonstrates that this technology can be integrated effectively into a dynamic vehicle like the X5 [due in 2022]."
Other carmakers taking an interest in hydrogen include the likes of Honda, Kia, Jaguar Land Rover (JLR) and Daimler. For its part, JLR is developing a prototype hydrogen fuel cell vehicle with its partners. Kia's research into fuel cells dates back to 1998, which resulted in the creation of the limited production Kia Mohave FCEV, able to travel up to 428 miles on a single fill-up.
Sustainable car company Riversimple is also exploring the application of hydrogen-powered vehicles. The Welsh start-up has developed a two-seater hydrogen fuel cell car known as Rasa (the name is derived from Tabula Rasa, which means 'clean slate' in Latin). Although it has yet to enter production, the company reports strong demand for its lightweight eco coupé.
While some carmakers continue to invest in developing prototype FCEVs, others are switching their R&D focus. The Volkswagen Group says it is focusing on battery-powered electric cars for the masses – even though Volkswagen Group Research is continuing to explore fuel cell technology and Audi, for example, has announced a small-scale hydrogen-powered vehicle for 2021.
Although FCEVs perform a clever chemical trick, they have some downsides. They are far more expensive than most cars with an ICE or, for that matter, battery-electric powered one. For example, a Toyota Mirai FCEV will set you back around £65,000 in the UK (available on a lease) whereas a Nissan Leaf will cost less than half that.
While driving a FCEV feels like a breeze, locating a hydrogen gas filling station is not plain sailing as there are very few refuelling stations dotted around the globe. In the US there are currently just 48 such stations, 42 of which are in California. So you are free to roam around the state but must stay within reach of a station. In the UK, there are 15 places to refuel with hydrogen gas according to Zap Map.
The California Energy Commission (CEC) recently awarded Shell Hydrogen a US$40.8m subsidy to support hydrogen refuelling infrastructure in the state. Toyota and Honda – who have in the past cooperated on a hydrogen refuelling station adjacent to their respective campuses in Torrance (Toyota has since moved almost all operations to Texas) have agreed to expand FCEV sales in California in support of these hydrogen stations.
In supporting carmakers, component suppliers are also playing an important role in pushing back the technical boundaries. Faurecia Clean Mobility develops and produces novel solutions to drive mobility and industry toward zero emissions. Its R&D focus includes hydrogen fuel cell and battery packs. It is also investing significant resources in optimising the potential of hydrogen fuel-cell technology for the automotive sector.
"The longer term play is hydrogen fuel cell systems."
During an interview with just-auto, Andrew Pontius, Vice President, Light-Vehicle Product Lines, North America, Faurecia Clean Mobility, said: "We believe very strongly in an electrified future, and in the near-term electrified means hybrids and some people who adopt BEV [Battery Electric Vehicles]. The BEV future will be shared between pure battery electric and range-extended battery electric with hydrogen fuel cell technology on board. … The longer term play is the hydrogen fuel cell systems. At a minimum, we're already working on the hydrogen fuel cell tanks. So this is a carbon fibre wound tubular tank that holds hydrogen at 700 bar, which is an incredible amount of pressure, which is why the cylindrical shape is so important to withstand that kind of pressure. The other part of the play is working on a smaller more energy-dense fuel cell stack where the hydrogen is converted into electricity. Those two things together constitute a huge percentage of the overall hydrogen fuel cell system."
Mahle said earlier this week that it is maintaining its investments in R&D at a high level and will further strengthen its activities by expanding its global competence centres, including those in Germany and China. It says key development areas are battery systems and hydrogen applications. The supplier recently began to install hydrogen testing infrastructure at its headquarters in Stuttgart.
Mahle CEO Jörg Stratmann advocates an approach that is open to all technologies. "Viewed from an international perspective, there will not be one single powertrain of the future," he says. "That's why Mahle is continuing to follow its dual strategy: electrification, development of the fuel cell, and the use of hydrogen and alternative fuels in an intelligently electrified combustion engine. At the moment, the change in powertrain technologies is driven primarily by political objectives. The current one-dimensional debate focused on a single drive is not productive. We want a dialog that has a basis in technology."
"A lot of work has been done to reduce the amount of platinum in fuel cells, but the essential missing ingredient is the scale of manufacturing."
Paul Turner, Engineering Director at Revolve, a powertrain engineering services company says that cheaper fuel cells must be a prerequisite in the next generation of hydrogen FCEVs. During an interview with just-auto, he said: "A lot of work has been done to reduce the amount of platinum in fuel cells, but the essential missing ingredient is the scale of manufacturing, as they are not raw material dominated. It's all about making them it at the right price. If you look at batteries, you can see that the technology and its production is dominated by raw materials. People argue that battery prices will come down the more you make but typically the higher the demand for raw materials, the higher the price. If the technology has a materials bias then you will see costs increasing with volume, whereas if your costs are associated with the manufacturing process then, typically, your costs will come down."
While critics doubt whether hydrogen will ever be efficient or cost-effective for cars compared to other zero-emission technologies others believe that the next generation of FCEVs will be cheaper, more durable and reliable. The refuelling infrastructure certainly needs to expand while the cost of hydrogen stations – compared to BEV charging points – must fall. Fuel cell costs also need to tumble. And yet hydrogen has not completely lost out to lithium-ion. As and when the industry scales up then that situation could begin to reverse. But let's not get too hasty. Breakthroughs are never easy and take time. While hydrogen fuel cell vehicles are now unlikely to ever stand out as a mainstream alternative to ICE, the technology remains on carmakers' radar and will always find niche applications.