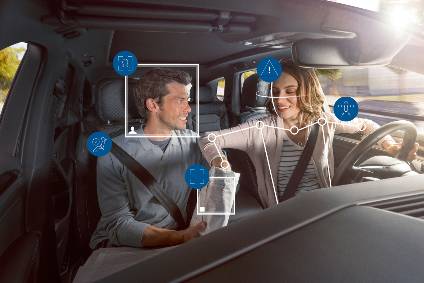 Driver monitoring for fatigue and distraction has become a major focus of automotive safety regulators and governments worldwide. This trend looks set to continue in SAE level 2 (partial) and 3 (conditional) semi-autonomous vehicles. If and when cars appear on the road in a highly automated mode, driver monitoring will become even more significant. Continuing just-auto/AIC's series of research snapshots, Matthew Beecham assesses the current state of play with driver monitoring systems and some regulatory forces driving them.
A driving monitoring system (DMS) uses a camera to monitor driver alertness that not only recognises the driver, but also checks his or her level of vigilance. Its purpose is to alert the driver when signs of drowsiness or distraction are detected.
Your car is watching you
The idea of a car watching the driver is not new. We have seen driver alert systems being offered by a number of OEMs using different guises, including Ford (known as Driver Alert), Mercedes-Benz (Attention Assist), Toyota (Driver Monitoring System), VW (Fatigue Detection System) and Volvo (Driver Alert Control).
Such systems are being further developed as cars offer more advanced driver assistance features. In semi-autonomous vehicles, defined by the Society of Automotive Engineers (SAE) level 3 (conditional automation), the driver must be ready to take back control of the vehicle. A DMS, therefore, ensures that the driver is ready to take control of the vehicle when the situation dictates. When highly automated vehicles become available (level 5), driver monitoring will become even more compelling. Hence the current focus of development is on camera-based facial recognition technology.
What's next for DMS?
Advanced DMS can help the car adapt to environmental conditions, keep the driver comfortable while ensuring they remain alert. Artificial intelligence (AI) can monitor driver drowsiness and signal to the vehicle to make adjustments to cabin lighting, fan speed, and temperature settings based on detected levels of fatigue. AI can also monitor driver anger to enable interventions or route alternatives that help prevent road rage. Some solutions involve a 'virtual assistant' advising the driver to take a deep breath and play relaxing music.
DMS can go further still. Consumer technologies such as fitness trackers have been popular for some time, monitoring our heart rates, performance and sleep, but how might the renewed focus on wellness translate to the automotive space? Tim VanGoethem, vice president of advanced mobility solutions at Harman X, Harman's division focused on innovation and future-facing technologies, reckons that in the longer term, the car could interact with wearables, such as fitness tracking apps and devices that are helping us monitor our sleep, exercise and stress. He told just-auto: "Once such devices are capable of detecting serious health issues – that your heart rate is indicating a heart attack, for example – then sharing such data with the car could mean that it takes control to safely manoeuvre you to the side of the road. Similarly, monitoring glucose levels could prompt people to take breaks on long journeys when blood sugar drops, or could be used to pre-empt significant fluctuations in those that have diabetes."
The eyes have it
As the pandemic rages on, EyeSight Technologies, an Israel-based startup developing DMS, says its platform can detect when drivers wearing face masks become distracted or drowsy. "Traditionally, [our systems] would … track certain factors on the mouth and face, but we have actively trained our AI and computer vision on use cases with a face mask to be able to perform even with these occluded," an Eyesight spokesperson told VentureBeat. "We had to collect large amounts of data of drivers wearing various face masks in different driving scenarios. This is something that we had a head start on while building our system for the Asian market, where masks have always been more prevalent."
Mirror maker Gentex is also pushing back the technical boundaries of DMS. Craig Piersma, Director of Marketing & Corporate Communications for Gentex Corp told just-auto: "When it comes to camera-based driver monitoring systems, our current focus is a system packaging exercise. The mirror is an ideal location for discreet, elegant, low-profile DMS integration. We're currently working to integrate a system that would monitor driver alertness/attentiveness, gaze location and areas of interest, and driver behaviour. In the future, we'd expect the system to handle occupant detection, objects left behind, and gesture, emotion and speech detection."
In terms of tomorrow's DMS, Aaron Jefferson, VP, Strategy, Marketing and Business Development, ZF Electronics and ADAS Division, says that driver monitoring will, of course, be increasingly important in understanding not just driver state but whether the driver or the vehicle is in control as we move to higher levels of automated driving. He told just-auto: "From a safety perspective, monitoring drivers and expanding that to passengers can help make critical safety decisions. For example, understanding how close an occupant is to an airbag enclosure can help inform whether or not to fire an airbag or at least adjust the force with which it deploys. Understanding driver state such as drowsiness or distraction will be another key input for the ADAS and semi-automated AD systems of the future – whether for activation of warning systems or in assisting the driver to be aware of issues affecting their judgment."
Manufacturers eye boom time for DMS
Manufacturers predict a blossoming market for DMS technology in the next few years, driven in large part by new safety requirements that will be set in place as part of the Euro NCAP. In October 2019, the European Parliament and Council issued a regulation requiring that all manufacturers ensure that vehicles are "designed, constructed and assembled so as to minimize the risk of injury to vehicle occupants and vulnerable road users." Under the new rules, all motor vehicles (including trucks, buses, vans and sport utility vehicles) must be equipped with advanced monitoring systems.
While the regulation is intended to be technology-neutral, it appears that a camera-based eye-tracking DMS solution is the only one that can satisfy the requirements. It uses infra-red light thus can still work when the driver is wearing sunglasses.
Taking things a step further, Volvo Cars believes driver intoxication and distraction should be addressed by installing in-car cameras and other sensors that monitor the driver. An intervention could involve limiting the car's speed, alerting the Volvo on Call assistance service and, as a final course of action, actively slowing down and safely parking the car. The automaker wants to start a conversation about whether carmakers have the right or maybe even the obligation to install technology in cars that change driver behaviour.
Whether or not we like the idea of being under constant surveillance while driving, the new regulations and manufacturer initiatives should help prevent thousands of accidents.