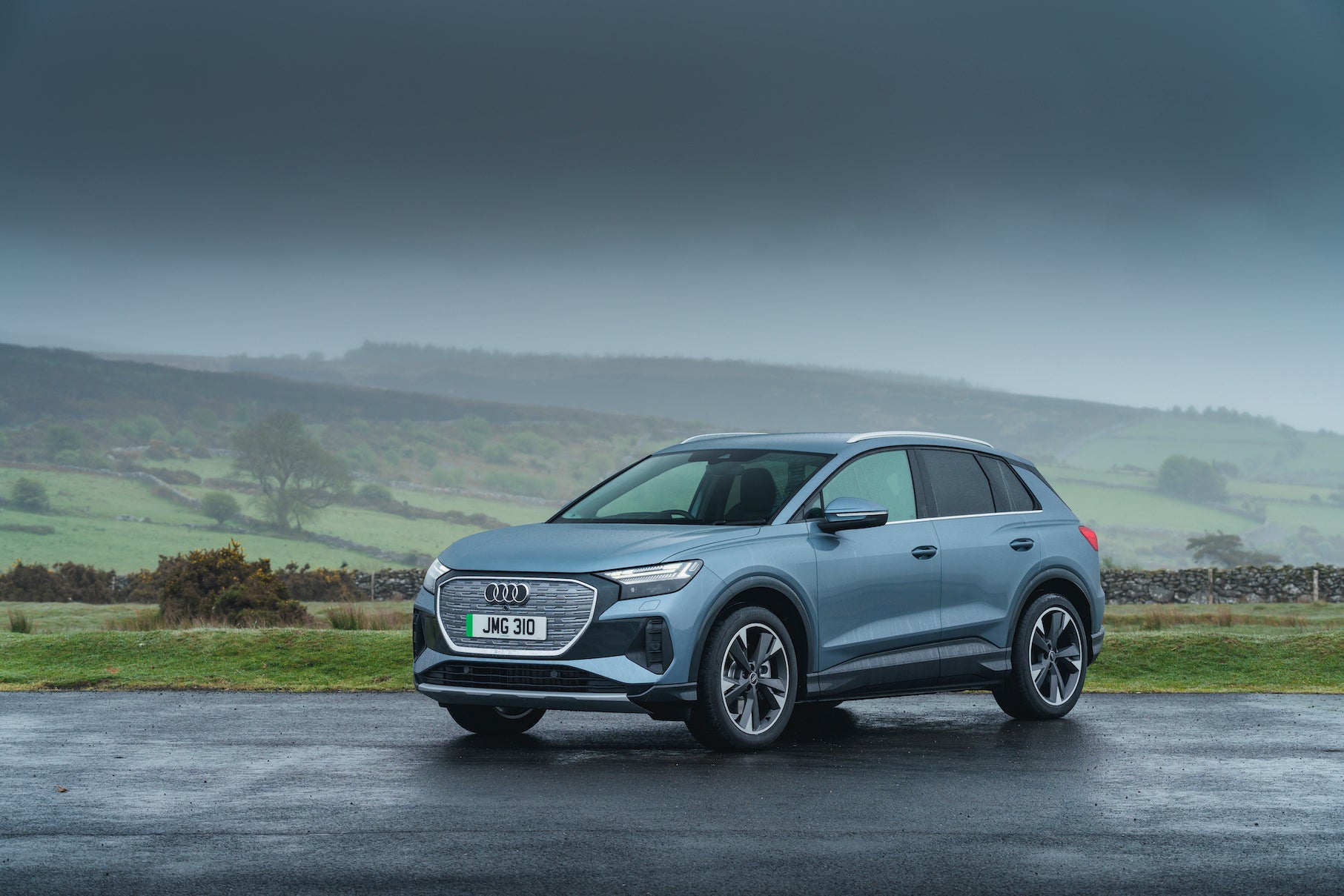 Until this one appeared, no electric Audi had sold that well; understandably really, as most are too big for many people and come with sky-high pricing. The Q4 is different: right-sized, roomy, perfect for families and possessed of smart styling.
Like an ID.4 (only much nicer inside)
You'd never know there's much unseen commonality with certain, less premium feeling VW, Cupra and Skoda models, Audi having given the Q4 a look all its own.
Seeing one coming towards you, the four interlocked silver rings on a black background catch the eye, these being set into a large silver grille, flanked by distinctively shaped glowing DRL. It immediately says Audi but with fresh proportions.
Rear-bias dynamics
The car's basic building block is the Volkswagen Group's MEB, a rear-biased electric vehicles platform. For all-wheel drive, a second motor is added, sited on the front axle. That also helps with weight distribution and, naturally, handling.
It's a stretch to claim that the Q4 e-tron is a sporty thing yet it does feel unlike most other Audis, the majority of which are FWD. And even if they're a quattro, the forward axle is taking most of the torque. Not so with this model.
Lots of e-trons on the way
The Q4 is a touch smaller than the Q5. While that might obvious, the lengths of the brand's multiple new EVs don't necessarily fit the firm's traditional size system.
This model is blazing a trail for lots of other e-tron SUVs, some of which (Q5, Q6, Q8, Q8 Sportback) are already here – a couple of those being just for China – with at least one other (Q3, but no successor for the Q2L) on the way for a global audience.
Certain of these newly added EVs can be bigger or smaller than the number part of their badging suggests (e.g. China's Q5 e-tron is the same size as Q8 e-tron and Q8 e-tron Sportback).
Right-sized for families
Speaking of sizing, the 4,588 mm long and 1,865 mm wide Q4 e-tron – built in both Europe and the PRC – is extraordinarily spacious yet not too lengthy or wide for the often far from generously dimensioned roads, driveways and garages of Britain. How did Audi manage that? With intelligent design.
Stretching the wheelbase, placing the battery low in the chassis and eliminating excessive overhang from both ends has resulted in one other benefit: pleasing proportions. Yes, here is an electric SUV which doesn't resemble a squashed orb.
The everything-electronic dashboard and instrumentation display is standard MEB, meaning not to everyone's liking but fine once you become resolved to certain things. Such as remembering to overrule the so-called 'assistance' defaults after you fire up, should standard settings such as steering interference irritate.
Those who aren't enamoured of shiny black plastic for its ability to soak up fingermarks won't love a few of the surfaces in this car. Mostly though it's a soft, dark-grey covering for places such as doors, dashboard and the digi-display sun-hood. Joyously, heating and cooling are commanded via real buttons. If only there was a rubber-feel dial for music volume though: instead, a hard plastic rocker switch.
By contrast I have nothing but praise for how roomy the Q4 is. Audi has really taken advantage of the lack of a central tunnel and a wide (but not excessively so) body to create a truly relaxing place to stretch out, both front and back. The boot's volume is an excellent 520 litres, expandable to 1,490. Oh, and an honourable mention for the wash-wipe on the back window. Would that all EVs have this.
Fast, with a decent range
The experience for the driver is pleasing, only a touch too much lean in the bends being something to note. Unladen weight of 2,135 kg greatly helps to smooth out the ride (but likely wear out the tyres) and steering feedback is fairly direct. The thing is fast too, the S line 50 test car charging to 62 mph in 6.2 seconds. Top speed is 111 mph.
Cars with a five and a zero have a 76.6 kWh battery – cheaper variants have a 52 (also net) pack of cells – which will take charging at up to 135 kW. Power and torque are 299 PS and 460 Nm. Range in my hands was around the 250 miles mark but a feather-foot, the HVAC off with windows up and you can be looking at closer to the official 316 (WLTP).
One related point on mass. The 52 kWh battery pack weighs 350 kg, while the 76.6 kWh one weighs 500 kg. We'll all become used to EVs yet it's still a huge issue for engineers who create and develop such cars. At least a lot of the heft can be positioned inside the wheelbase, unlike front- or rear-engined vehicles.
Official consumption of ions is a claimed 3.4 miles per kWh. And no I don't understand what a decimal point with any imperial measurement means either (same as OEMs quoting touchscreens as inches point something). But for what it's worth, the dashboard indicator reckoned all my driving averaged 3.2 kWh.
And if a Q4 is a bit too big…
Being an Audi, pricing is far from bargain basement but it's not as crazy-expensive as some other mass brands. Nor is Audi likely to destroy your resale value with (multiple) sticker slashes. Followed by sudden reversals. And should the Q4 still not be quite what many EV-intenders are seeking, company boss Markus Duesmann recently said a smaller model below this one is on the way ('Q3 e-tron' seems an educated guess).
The Audi Q4 e-tron costs from GBP62,755 in as-tested S line 50 quattro form. Worldwide, the range comprises 125 kW 35-, 150 kW 40-, 195 kW quattro 45- and 220 kW quattro 50-badged variants.