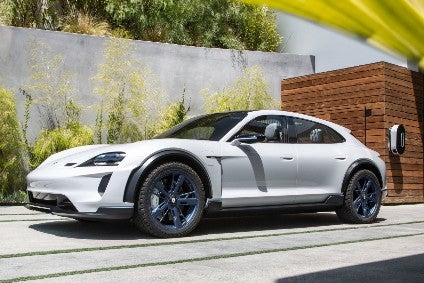 Operating profit of EUR2.0bn in the first three quarters, along with 19.4bn in sales means Porsche AG is in great shape. The decision to create an EV also seems to be paying off with more than 11,000 Taycans sold in the same period. There's quite a few more new and reinvented models to come too.
Production of the second generation Macan is due to commence in September or October 2022. As is the case with the current model, all build will be at the Leipzig plant in eastern Germany.
In a major change, the company will abandon petrol engines, making the next generation an EV. That isn't the whole story though: the current model, which has been around since the end of 2013, will end up being in production for a decade or longer. In 2022, it will be facelifted and made to look like the electric successor. This means buyers in those countries where people aren't ready for or don't want an electric Macan can still have one with an engine.
As with the Taycan, the Macan 2 will have 800-volt technology and be based on Porsche-Audi's PPE architecture (Premium Platform Electric).
The 718 Cayman and 718 Boxster are now in urgent need of replacement. Considering how old they are, combined sales are nothing short of remarkable. The replacements, due out in 2021, will use a version of the 992 Porsche 911's architecture. As well as cars powered by updates of today's four- and six-cylinder engines, there should also be hybrid and plug-in hybrid variants. An EV is also possible although it wouldn't arrive until after 2022 and might instead use the PPE architecture.
There had been plans for a plug-in hybrid powertrain in the 911 Carrera 4. This variant's front axle would have been driven by an electric motor but Porsche halted the development programme after discovering that the weight penalty would be too great. The company has also been clear that it has no plans for a fully electric version of this generation 911.
Three years ago, Porsche CEO Oliver Blume said that a 911 E-Hybrid (plug-in hybrid) would not appear until the 992 series car was half-way through its life cycle, which would be the second half of 2022. Since then, some insiders say that the company is developing a 911 Mild Hybrid as well as a PHEV.
The 911's ZF eight-speed dual clutch gearbox is said to be able to cope with torque outputs in excess of 800 Nm. One of the obvious packaging issues would be where engineers could position the battery for a plug-in hybrid. It would inevitably be at the front of the car but that in turn means a smaller boot and fuel tank.
There were further developments in March, when German media reports stated that Porsche had changed its mind yet again and that the 911 PHEV project had been shelved once more. However, Oliver Blume stated in an interview later the same month that a '911 Hybrid' would be going ahead. The CEO was speaking at the company's annual financial results press conference. That could mean merely the addition of mild hybrid technology.
As the 992 series 911 – in production since November 2018 – will be around until 2026, it's too early to say how Porsche intends to replace it. Given what's going on with public opinion and legislation, a fully electric car is certainly possible. Petrol engines would probably be available too though, for relevant markets.
Two not dissimilar Volkswagen Group models are about to go into production. Each is a big electric hatchback and neither has been shown in production form. One is the Audi e-tron GT and the other is the Taycan Cross Turismo (name to be confirmed). Set to become Porsche's second electric model, the market launch is due to take place in the next quarter.
This model was previewed by the Mission E Cross Turismo, a concept which was revealed at the 2018 Geneva motor show (see pic). One of the novelties of the prototype was an illuminated E in the word PORSCHE on the car's rear when the batteries were being recharged. The company told the media in October 2018 that the concept would evolve into a production model.
Unlike the Taycan, which is based on the firm's J1 architecture, the Cross Turismo will use PPE. We can expect a life cycle of seven to eight years, which means a facelift in 2025 and a successor in 2028/2029. There should be battery upgrades too.
The replacement for the Cayenne Coupé as well as the fourth generation Cayenne and the PHEV derivatives of each seem likely to become EVs. These SUVs are due to be rolled out in 2026.
Reports for many other manufacturers' future models are grouped in the OEM product strategy summaries section of just-auto.com.
Future platform intelligence
More detail on past, current and forthcoming models can be found in PLDB, the future vehicles database which is part of GlobalData's Automotive Intelligence Center. That includes Porsche models not reported on above.
This is the fifth report in a series highlighting certain current and future models from the passenger vehicle divisions of Volkswagen Aktiengesellschaft. It follows a look at VW cars; VW SUVs, MPVs and pick-ups; Audi cars; and Audi SUVs. Next, it's Škoda's turn, then in January, Seat and Cupra; as well as Bentley, Lamborghini and Bugatti.