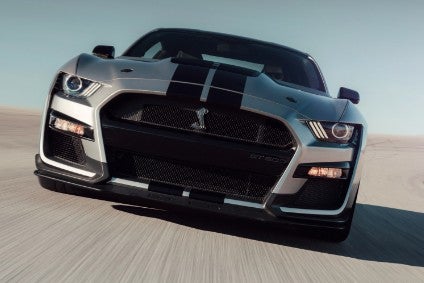 Beset by such a serious crash that Cadillac is only 1,800 units (wholesale) behind it, Ford has a massive problem in the world's number one vehicle market. How to recover from delivering a mere 165,848 locally manufactured passenger vehicles for the year to the end of September, a decline of 47 per cent? Happily, the blue oval's position in the USA couldn't be more different to its situation in China.
SUVs, crossovers and pick-ups will be looked at in a second report which follows this one but below there is much to discuss when it comes to cars and all manner of electric models, including robo-taxis.
Cars
The future of the B563 project is now unclear post the announcement that Ford has more or less handed over R&D for its Indian market models to Mahindra & Mahindra. This car is or was to be a B2E platform five-door B segment hatchback along the lines of the Maruti Suzuki Baleno and Hyundai i20, with a sedan to follow at an interval of some twelve months. If B563 is still progressing, the market launch would be in 2021/2022.
The ninth generation Fiesta will be based on C2, a transverse-engined FWD and AWD architecture which debuted with the fourth generation Ford Focus in 2018. The seventh and eighth generation models used/use a platform originally developed by Mazda and first seen way back in 2007.
If the company acts on mistakes of the past, the ninth generation Fiesta should appear in 2023/2024. The seventh generation model was built for eight and a half years which, if judging by a steep fall-off in sales, was 18-30 months too many.
If there is to be a next generation Escort (stretched Focus-based sedan for the Chinese market), it would go on sale there in 2021. The architecture would be C2. Escort production is part of CAF, the Changan Auto and Ford Motor joint venture.
There are certain questions concerning the replacements for the Mondeo and Fusion. Ford told suppliers in late 2017 that it had cancelled plans to manufacture a new generation of the cars at plants in Valencia and Hermosillo. However, production of the CD542N project may still go ahead in China. This would be via the Changan joint venture: CAF builds the CD391 Mondeo at a plant in Chongqing.
Ford stated in 2018 that the current models would continue to be built in Spain, Mexico and China for some years yet. Given the age of the Fusion/Mondeo and, for example, Ford of Europe having a too-old Fiesta in 2015 and 2016 compared to far younger competitors, this seems unwise.
The next Fusion for North America is expected to become a direct rival for the Subaru Outback, the USA's best selling wagon (YtD deliveries: 140,530). That means it could be a version of a second generation Mondeo Active estate/wagon. Such a model would probably be an import from Spain. Whether or not there will be a replacement for the Hybrid (petrol-electric) and/or Energi (PHEV) is not clear.
It is perplexing as to why Ford thinks that a car which sells as well as the Fusion does shouldn't be directly replaced. Toyota Motor Sales USA (Camry), American Honda (Accord), Nissan North America (Altima), Kia Motors America (Optima) and Hyundai Motor America (Sonata) will be unable to believe their luck that Ford is choosing to walk away from this massive segment. GM might also do the same thing if rumours of the tenth generation Chevy Malibu having been cancelled prove to be true.
Two months ago it was reported that Ford had made trademark applications in the UK, New Zealand and Australia for the name 'Mondeo Evos'. The second word was the name of a concept which heralded the front end styling of the current Mondeo. It could be that Evos will be Ford's equivalent of Audi's e-tron, i.e. a word to signify an electric vehicle.
The next Mustang isn't due to go into production until 2025, sources now believe. For reasons which are not clear, Ford is said to have delayed production from the original May 2020 date for Job 1. It is also rumoured that there could also be a five-door fastback in the style of the Porsche Panamera in addition to the three-door fastback and convertible. The architecture will likely be CD6, a rear-wheel drive and all-wheel drive platform. Details of the existing Mustang, including what's new for the 2020 model year, can be found in PLDB (see link below).
Electric crossovers & SUVs
In July, Ford and Volkswagen told the media about their decision to further deepen ties via an expansion of their existing alliance. One piece of news was the announcement of an electric Ford for European countries:
"Ford will become the first additional automaker to use Volkswagen's dedicated electric vehicle architecture and Modular Electric Toolkit – or MEB – to deliver a high-volume zero-emission vehicle in Europe starting in 2023.
Ford expects to deliver more than 600,000 European vehicles using the MEB architecture over six years, with a second all-new Ford model for European customers under discussion".
CDX746 is the project code of an electric crossover similar in size to the Edge. Due for launch in North America during the final quarter of 2022, it will be manufactured at Flat Rock on the same line as a related Lincoln model, CDX747. These vehicles will take the place of the Lincoln Continental at the Michigan plant. The Changan Ford joint venture should also build both these vehicles in China.
A Tesla Model X-sized crossover, informally known as the Mach 1, will be revealed later in 2019. In images revealed so far, the vehicle appears to be a five-door hatchback with tail lights which resemble the Mustang's. Ford is keen to pitch this vehicle as one with high performance. The name is not yet known and there are said to be four possibilities: Mach E, Mach-E, Evos or Model E.
Originally, Ford was understood to have been planning to build this vehicle or vehicles at Wayne Assembly in Michigan at the rate of around 120,000 units per annum. Job 1 was due in late 2018 for North America's 2019 model year. Then, plans changed. And changed again.
The car was to have been manufactured in Mexico at either an expanded Cuautitlán plant, or else at an additional facility in San Luis Potosí. This US$1.6bn plant, which had been under construction, was axed, Ford announced on 3 January 2017. Then there were said to be plans to make the vehicle at Flat Rock in Michigan. Now the Mach E will be made at Cuautitlan, it was stated in March. There should be a closely linked model for Lincoln too. Other Ford EVs will instead be made at Flat Rock Assembly Plant in southeastern Michigan, Ford also told the media on 20 March 2019.
The company told the media in January 2018 that it was "on track to deliver a full battery electric performance SUV that offers at least a 300-mile range, for launch in 2020".
Whatever production name the production model uses, it will use a bespoke electrified vehicles architecture. A media release from Electrify America a few days ago disclosed that this model will be available in rear-wheel drive form.
Ford and Rivian announced a project in April but the specifics, such as what size, what body style, where it will be made and so on, are not yet known. As well as injecting US$500m into Rivian, Ford Motor Company will manufacture the model in question using Rivian's electric vehicles skateboard architecture. No brand was mentioned either, so the Rivian architecture model could be a Ford or a Lincoln. The release date will probably be 2022. Size-wise, this vehicle will likely be in the 5m+ category.
Electrified F-Series
A hybrid version of the F-150 pick-up would be available by 2020 and sold in North America and the Middle East, Ford Motor Company told the media in January 2017. The firm further stated at that time that the F-150 Hybrid would be built at Dearborn Truck in Michigan, and that the vehicle would "offer powerful towing and payload capacity and operate as a mobile generator".
Not only will there be a gasoline-electric F-150 but in a more recent statement, a Ford executive spoke of plans for a fully electric version. In January, Jim Farley, the company's head of global markets, told attendees at the Deutsche Bank Global Automotive Conference in Detroit, "We're going to be electrifying the F-Series — battery electric and hybrid." No release date was given. Six months later, Ford showed a prototype of an F-150 EV pulling freight train carriages which contained 42 F-150s. Both hybrid and fully electric variants should be announced soon but they probably won't be on sale until well into 2020 and their life cycles should be short: a new F-150 is due out for the 2022 model year.
Zotye-Ford
Ford Motor Company and Anhui Zotye Automobile Co., Ltd. told the media about a proposed JV in November 2017. Named Zotye Ford Automobile Co. Ltd., the 50-50 venture would see the partners manufacture a range of electric vehicles in China. The brand would be a new one but almost two years later it has yet to be named. As for the location, this would be/would have been at a new plant in the province of Zhejiang.
The media statement included this paragraph:
Pending regulatory approval, the new JV will design, build, market and distribute all-electric passenger vehicles for China, the world's leading electric vehicle market. The establishment of the JV is a key step by Ford towards realizing its vision of a cleaner, more environmentally-sustainable future. The new JV will leverage a combined investment of 5 billion RMB (approximately U.S.$756 million).
In August there were media reports claiming that Ford Motor Company and Zotye would "review" their collaboration. Some even believe that the JV will be dissolved as little progress has reportedly been made. Reasons speculated upon included the alleged financial health of Zotye Auto and volatility in the Chinese passenger vehicle market, with the artificially induced demand for electric vehicles having collapsed since the lowering of incentives began to take place.
Autonomous
In August 2016, Ford announced its intention to have a fully autonomous vehicle in commercial operation in 2021. The model in question would be designed for use as a taxi. The company's first fully autonomous car will reportedly be a Society of Automotive Engineers-rated level 4-capable vehicle. It may not have a steering wheel or throttle/gas and brake pedals though that seems increasingly unlikely. According to the company, it would be specifically designed "for commercial mobility services, such as ride sharing and ride hailing, and will be available in high volumes".
Ford revealed the Fusion Hybrid AD prototype at CES 2017. The future robo-taxi is expected to use evolutions of the technology in this car.
There were further developments in August 2017, when Ford announced an experimental automated drive pizza delivery vehicle in partnership with Domino's. Again, the test car was a Fusion Hybrid fitted with cameras, sensors, radar and LiDaR (light detection and ranging) but the vehicle had two engineers on board. The trial took place over six weeks in and around Ann Arbor. Customers would approach the car after a text message alerted them to its arrival, then enter the final four digits of the number they used to place the order onto a keypad on one of the side windows. Following this, the window would be lowered and the pizza passed to the customer from a warming oven.
According to Ford, the market for delivery services will expand from being a US$13bn industry in 2017 to one worth US$31bn by 2021.
In September 2017, Ford announced a partnership with Lyft. It is presumed that the company sees this collaboration as a way to put fleets of self-driving vehicles on US roads.
The production location for the autonomous vehicle was announced in March. It will be made at a new facility located close to the existing Flat Rock Assembly Plant in southeast Michigan. The launch date has not been confirmed but due to the viability of such vehicles in real world conditions, passenger and pedestrian fears over safety, legislation and the astronomical R&D costs, it would not be surprising if Ford delayed the arrival of its AD vehicle(s) until later in the 2020s.
For other Ford-related robo-vehicle news, see this recent just-auto.com news story.
Reports for many other manufacturers' future models are grouped in the OEM product strategy summaries section of just-auto.com.
Future product program intelligence
More detail on past, current and forthcoming models can be found in PLDB, the future vehicles database which is part of QUBE. That includes those current and future Ford cars which were not discussed in the above report.
This was the first of three features in a series examining the current and future models of Ford Motor Company's passenger vehicle brands. The second one will look at Ford brand crossovers, SUVs and pick-ups with Lincoln the topic of the final report.