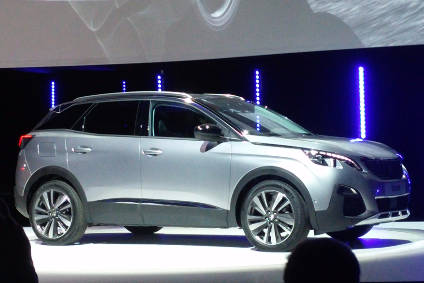 PSA Groupe, as PSA Peugeot-Citroen now likes to be known, has turned itself around since the dark days of 2012 when it made an annual loss of EUR5bn. This, let us remind ourselves, was a volume player that was seen as spread thinly with sales across two poorly differentiated brands while also overly reliant on the depressed European car market where it also possessed excessive and costly manufacturing capacity.
CEO Carlos Tavares took over in 2014 with a plan to bring the group back into profit. The future would be based on a rationalisation of the product portfolio and much better differentiation of the brands with DS turned from a Citroen sub-brand to an upscale brand in its own right. The product engineering strategy was also in the process of being given an overhaul. Platforms were consolidated into two new modular and flexible structures that could support multiple models. By focusing on a more compact range, PSA would be able to improve market coverage and improve margins by targeting the most profitable segments.
Brand strategies would also need to be aligned with engineering and new product development. DS would become a premium line expressing sophistication and French glamour, French modernity and style. Peugeot would be a more tech-driven brand with strong engineering and design values, while Citroen's appeal would centre on affordable comfort, allied to design quirkiness.
The internationalisation of sales would also turn PSA into a truly global player. This is still a work-in-progress, but recent initiatives to develop sales in Iran and also extend PSA's cooperation with Chinese partner Dongfeng, underline the importance of this strategy.
After a plan to cooperate with GM in Europe on small car architectures was ended, group small cars would be on EMP1 (now morphed to the 'Common Modular Platform' or CMP). Medium and large cars would be on an engineering architecture called EMP2. The key is to offer broad geographic reach and lower cost through modularity for cross-range component use and grouped volumes. The EMP2 strategy would, it was hoped, lead to appropriate coverage of all world body styles, namely the C, D, F and premium segments, alongside major advances in weight and fuel-consumption reduction as well as better packaging, more features and enhanced styling freedom.
Four years on, how is PSA Groupe performing? The short answer is: all things considered, pretty well. In 2015 it was back in profit (with a very respectable net profit of EUR1.2bn) well ahead of expectations and substantial progress can be seen in all elements of the 'Back in the Race' recovery strategy outlined by Carlos Tavares. The company is confident enough to move on from the recovery theme to the next stage in its latest business plan: 'Push to Pass'.
To take the engineering strategy, the current C4 Picasso and 308 were the first vehicles on the new EMP2 platform and PSA's latest LCVs have also been successfully developed on it. In Paris this week, we got a look at the latest vehicle to be added to the platform, the new 3008 SUV. This is a very important vehicle for the Peugeot brand as it sits in a high-margin and high-growth market segment. The styling of the vehicle was well received by attendant media, the overall look seen as a significant improvement on the much more MPV-like predecessor.
Peugeot brand CEO Maxime Picat described the importance of the more overt SUV-styling in the latest 3008. "The MPV segment is decreasing," he said. "Buyers want more SUV-like vehicles, but with characteristics that can make it a practical family car. I want an SUV to drive, sporty, but with the practical ability to take my four kids. We are a group with three brands and we can use those brands to hit different market segments. We have a very strong Citroen C4 Picasso which is good for those who want a more MPV-like experience. But it is another strategy for Peugeot." Higher ground clearance, larger wheels and bigger dimensions are among the characteristics that emphasise the bolder SUV theme in the new car's design.
Picat also confirmed that plug-in hybrids are the way forward in terms of electrification for EMP2 vehicles in the future. "All C- and D-cars, including SUVs, will have new plug-in hybrid powertrains. It will start with 3008 in 2019. For the smaller cars, like 208 or 2008, we will launch an electric version of them."
Engineering the 3008 on the EMP2 platform means that a number of significant structural enhancements can be claimed over the previous model. Peugeot says that an average of 100kg has been saved over the previous generation through the use of lighter materials where possible, including high-strength steel. There is also a thermoplastic boot floor and tailgate. The wings, front suspension arms and rear seat frames are made of aluminium.
Plenty of attention has been lavished on the interior (i-Cockpit), impressive array of advanced driver assistance systems and engine offerings (four gasoline models including a 1.2L 6-speed manual with CO2 average of just 115g/km and five diesels that can reduce CO2 emissions to 100g/km). There is even an innovative option that will allow you to charge – in the boot – an electrically assisted scooter for 'last mile mobility', a nice way to address the increasingly complex modal and journey options that are starting to influence the way we move around cities (it weighs 8.5kg and can travel up to 25km/h and has a range of 12km on a full charge). Park up and then complete your journey on the two-wheeler, which also collapses so that you can easily wheel it while walking or stand with it on a train, bus or tram.
The internationalisation of the strategy for PSA and Peugeot is clearly going well. PSA is preparing to sign a final agreement for a joint venture with IKCO in Iran that will make Peugeot cars in a market that could grow strongly now that sanctions are being lifted. "We are still targeting to industrialise new cars such as the 2008, 208 and 301 at the end of next year in Iran. Everything is going smoothly," says Picat.
PSA recently said that it would like to reach 1m vehicles in China and SE Asia by 2018 and has also strengthened its partnership with Dongfeng in China to include a new platform for EVS. Global ambitions for PSA inevitably beg the question about a possible return to North America and when it could happen. The company is being cautious. Carlos Tavares recently said the company will embark on a ten-year programme to restart operations in North America.
The 3008 certainly looks like a model that US consumers could be attracted to. "North America is back on our radar, but there is a ten-year timespan, so there is no rush. I do not want to push the metal there; we have to find the most favoured solution to enter the market. We have not decided brands and models. Clearly this [3008] is nice, it could be one solution, but there are others. We are still working on it and we are going to take our time with this. If we go back it is to stay there for the long-term."
With the 3008, Peugeot is laying down an important marker that it can efficiently develop models in relatively high-margin segments as part of a broader group strategy to increase profit. At this point, the styling, packaging and the strategy look right. The success or otherwise of the 3008 (to be followed by the bigger 5008, also on EMP2 architecture) will be an important element in the planned development of the Peugeot brand and ultimately the success of the 'Push to Pass' group business plan. Attractive styling in the SUV/crossover segment is likely to be even more important as the segment becomes more crowded. Being more SUV and a little less crossover (or MPV) is probably a wise move and this generation 3008 has certainly moved styling in that direction, but not too far.