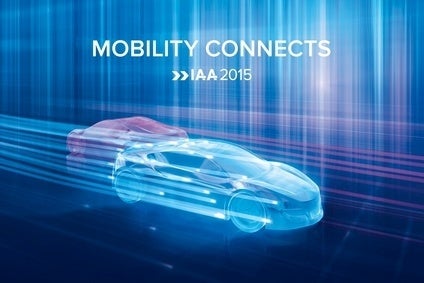 There is much more to the IAA in Frankfurt than a dazzling array of new cars. At the world's biggest auto show, suppliers' stands bristled with lightweight innovations to help reduce emissions as well as improve driver safety, comfort and communications. Matthew Beecham caught-up with executives from some of the world's leading component suppliers. In this second instalment, we take a look at the main IAA messages from Tenneco, Faurecia, Magna and Plastic Omnium.
Tenneco
Responding to the needs of global engine manufacturers for aftertreatment solutions that help to meet stringent emissions regulations, including EU6c, as well as the need for increased fuel efficiency, which also provides for lower CO2 emissions, Tenneco used the IAA to showcase its latest mixing technologies for light duty diesel engines. The company's mixers are flexible enough to accommodate the reduced packaging requirements of advanced catalyst systems, including SCR-coated diesel particulate filter (SDPF) applications, while enabling flow uniformity of 95 percent or higher.
We spoke to Tim Jackson, Executive Vice President Technology, Strategy and Business Development, Tenneco Inc and Ben Patel, Vice President, Clean Air, Global Research and Development and Systems Integration, Tenneco Inc.
Main message
Ben Patel: "On the Clean Air side of our business one of the central themes of our display here at IAA is the new Euro 6c regulations for light vehicles. Many of the technologies on display whether at a component level or system level are designed to effectively provide higher temperatures at the catalyst for quicker light off."
Tim Jackson: "We no longer have the luxury of taking 10 – 12 minutes after an engine cold start to get the temperature up and running. So with today's architecture it is not uncommon to see a distance of 6/10th of a metre between the back of the DPF and front of the SCR. But in the future, that will shrink to about 0.1 metre. We have to go to more innovative shapes in order to get those catalysts closer to the engine or the turbo outlets in order to get the heat there quickly. Ultimately, we are going to get these systems up to temperature in 80 – 180 seconds in order to meet the emissions performance of the new certification cycles. Certainly WLTP [worldwide light duty test cycle] adds both low temperature as well as a high driving cycle and so if you take a system that was designed to meet the New European Driving Cycle (NEDC) and test it against WLTP, the emissions could double. So thermal management is the key, more use of electronic exhausts valves, more use of compact mixing. These are the megatrends and certainly the introduction of gasoline particular filters."
Faurecia
Faurecia focused its exhibits at the IAA around a central theme that drives its innovation strategy: Driving Well-Being. Driving Well-Being is Faurecia's customer promise: bringing the technologies that will create value for automakers and delivering tangible user benefits for consumers. Faurecia is driving well-being through innovations for sustainable mobility and an enhanced life-on-board.
We spoke to Geoffroy de Grandmaison, Marketing Director, Faurecia to learn more about the tier one supplier's seating innovations and concepts, including its so-called Lightweight & Roominess and Active Wellness. The latter can detect a driver's drowsiness or stress and take countermeasures – such as a very specific seat massage pattern – to relieve those conditions.
Main message
"Our message is that we have developed successful products and want to be a technology leader in lightweight. We have introduced a new concept seat called Lightweight & Roominess. This seat features our short term proposals to improve lightweight and roominess. We have selected as a reference the driver seat of a Nissan Rogue (SOP 2013). The complete seat is a six way manual seat, mid height point, that weighs 18 kg, which is a best-in-class performance. It features our CMF1 frame, which weighs just 12 kg, which is a 20 percent improvement compared to the previous generation. It features our own acclaimed mechanisms and mechatronics. We have been able to achieve weight reduction while complying with the most stringent safety regulations. The frame is produced on our generic lines installed across the world which allow producing specific frames for different automakers on the same line. Our motto is: your frame, our process to highlight the benefit of standardisation.
"We have shown a CMF front seat product structure – which is a Renault Nissan product – we will have equipped 21 million cars for Renault Nissan by 2021. Currently, Faurecia CMF seat frames can be found on-board the Nissan Qashqai, Rogue, X-Trail as well as Renault Espace, Mégane and Talisman.
How have you achieved that lighter weight seat?
"We have selected 10 off-the-rack and readily available technology bricks. It ends up with a 2.3 kg lighter complete seat. All those lightweight technologies are below 2€/kg. On the metal parts, we save 1.6 kg: 600 grams thanks to thinner side-members and risers using high performance steel grades. We save 700 grams on mechanisms with our new Modul-T track and optimised sectors and spacers. Side-members are thinner thanks to high performance steel grades (DP 1200 and DP1000). Using glass fibre reinforced thermoplastics on the cushion front cross member and on the handle bar brings 300 grs. Foam pads are made of a premium foam formula that allows reducing the density at same comfort performance, which enables saving 300 grs. We took out the plastic molded backrest and replaced it with a sculpted, light back panel, and we gained 300 gr. Last but not least, the sculpted light panel allows having a concave shape; a rear occupant can enjoy three centimetres more leg roominess. We did not compromise on comfort and styling.
"Our conviction is that the market expects aggressive kaizen solutions. That is to say high strength steel with carbon fibre thermal plastics reinforced with carbon fibre. This is what the market is ready to pay now."
Magna
Magna's Transformobility Exhibition made its way to the IAA, showcasing the company's latest innovations and technologies for future mobility. What if the car of the future could transform traffic into open roads, gestures into actions, emissions into oxygen, frustration into freedom, and blind-spots into plain sight? Magna's Transformobility Exhibition displayed technologies that address many of these issues, from developments in the connected car, including autonomous driving features and cyber security, to alternative propulsion solutions and lightweighting.
We spoke to Swamy Kotagiri, Chief Technology Officer of Magna International to learn more about tomorrow's car seating, cameras and sensors.
Main message
"Magna is the only company that has such a broad portfolio in the automotive supply base. So one of the key messages that we want to project here is that we understand the automotive industry and how to make the products smarter, safer, cleaner and lighter. The main idea behind that objective is to meet the key trends in the industry. Different people see those trends in a different way, of course. For instance, the future mobility concept could be [seen from an] environmental or consumer buying habits perspective. If we take all of this and sum it up, it is basically about three major themes, namely: Active safety and autonomous driving; regulatory and legislative; comfort and convenience."
Plastic Omnium Auto Inergy
Plastic Omnium, the world's leading producer of exterior components & modules and fuel systems, used the IAA to present its latest technological developments. These developments represent its investment strategy, which is focused on lowering vehicle weight and reducing polluting emissions for carmakers worldwide.
We spoke to Jean-Francois Berard, Vice President, R&D, Strategy, Marketing and Industrial, Auto Inergy Division.
In terms of the automotive fuel tanks market, what is the big picture?
"The big picture includes PHEVs, the LEV3 in North America with the Chinese emission legislative requirements catching-up. All of our Chinese customers and global customers producing in China are asking us to evolve towards this new Beijing 6 type regulation. This is very interesting for us because we have the competence – through our US operation – of this type of technology as both are close."
What about other BRIC countries?
"The Indian market is not moving as quickly but will eventually introduce more stringent regulations. We don't know when but it will happen."
What does that mean for Plastic Omnium?
"It means more complexification of the technical solution. As technology leaders, we can supply any BRIC country with the solution it needs today. So for us it is not a threat but huge opportunity to add value to a customer."
For updates on Tedrive Steering, Johnson Controls, Continental and Hella, see also: