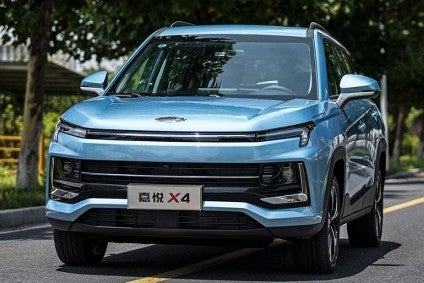 A shake-out which began twelve months ago is seeing many brands disappear from China's monthly sales charts. For a while, Anhui Jianghuai Automobile also looked vulnerable. Instead, this medium-sized car maker has found a niche by contract manufacturing EVs and continuing a steady roll-out of of its own JAC-brand models.
Joint ventures: Volkswagen
Two years ago this month, Volkswagen Group China signed an MOU with Anhui Jianghuai Automobile Group (JAC) and Seat. The three groups had intended to establish an R&D centre with a focus on developing electric vehicles, connectivity and autonomous driving technology plus a platform for battery electric vehicles (BEV).
The SEAT brand would return to China "by 2020/2021". A second media statement in November 2018 saw this date shifted to "by 2021" and noted that work on the R&D centre would be started by the end of 2018.
JAC Volkswagen no longer includes SEAT, however, the Spanish firm announcing four months ago that it had "decided to postpone its entry into China and will not be part of the shareholding structure of JAC Volkswagen, although it will continue to collaborate in the areas of Design and R&D". Then in May, the Volkswagen Group spent the equivalent of a billion euro to buy 50% of Anhui Jianghuai Automobile Group Holdings Limited (Jianghuai Automobile Holding). This is the firm which had controlled Anhui Jianghuai Automobile Group (JAC Motors).
Not only did this give the German company full control but at the same time, Volkswagen lifted its stake in JAC-Volkswagen, the electric vehicles JV to 75% (from 50%). Further, the Volkswagen Group told the media of new intentions to not only launch five additional electric models by 2025 but to also erect a plant for such vehicles. Production of Meb architecture models is due to commence at this factory by 2023, said Stephan Wollenstein, the head of Volkswagen Group China. The annual production target has been set at between 350,000 and 400,000 units, to be reached in 2029.
Joint ventures: Nio
Fledging electric car maker Nio is JAC's other main partner. The firms' JV is called Jianghuai-Weilai (Weilai is Nio in Chinese). Nio had been working on its own factory in the Jiading district of Shanghai but due to cost cutting this was cancelled in March 2019. Now, as Nio reportedly approaches profitability, the official line is that it is happy to continue with Jianghuai-Weilai but whether or not that will remain the case into the 2020s is uncertain. Today the model line up is small but volume is rising and Nio might wish to invest in its own production facilities. The just-revealed Nio EC6, an additional EV, will be built by JAC at a plant in Hefei, though.
JAC: current models
June was somewhat less than a great month for JAC, its own brand retail sales dropping by 68% compared to a 6% dip for the market according to China Passenger Car Association data. It must be remembered that June 2019 had been an especially strong month due to then imminent new emissions norms which saw many OEMs clearing out non-compliant models. Also, as bad as last month's plunge was, 7,495 retail deliveries saw the brand actually rising in the sales charts from May's 38th place to 35th.
The Jiayue A5 was JAC's best seller in June, its retail sales total being 2,752 units. This was followed by the Refine M3 (1,313), Refine M5 (912), Jiayue X7 (792), Refine M4 (672), Refine S4 (553), iEV6E (154), iEVA50 (98), iEVS4 (75), iC5 (54), Refine S3 (49), Refine R3 (29), iEV5 (21), Refine S7 (8), iEV60 (7), iEV7S (4), Refine A60 (1) and Heyue A30 (1).
New & future JAC models
With the worst of the COVID-19 crisis appearing to have passed in China, JAC began making announcements in May about multiple future models. One of these, a 4,795 mm long SUV, will be called Jiayue X8 (potentially, X8 in export markets). An SUV to be positioned above the equally new X7, it will be available with five, six or seven seats. The standard engine is said to be a 1.5-litre petrol turbo.
The Jiayue X4 is yet another fresh model for the brand's Chinese market range. A sketch of this 4,410 mm long SUV was publicised by the company in March with the sales launch commencing in June. The term 'Jiayue' is hard to translate but an English equivalent would be the encouragement, 'Go for it!'. The standard engine is a 1.5-litre four-cylinder petrol turbo and the model itself has strong links to the older Refine S4.
Also announced in March was the larger Jiayue X7, a 4,776 mm long SUV. The powertrain is a 1.5-litre petrol turbo with stated outputs of 174 horsepower and 251 Nm. As with other JAC vehicles, more details, including the expected life cycle actions such as facelift timings, can be found in PLDB.
A third pick-up is due to join the T6 and T8 later in 2020. The T9 (Shuai Ling T9 in the Chinese market), like those trucks, has a ladder-frame construction and there will be RWD and 4WD variants. Prototypes have four full sized doors but there could be other body styles.
The S432 (the codename) will be launched in the Chinese market towards year-end. Engine details for this six-seater crossover are yet to be confirmed.
Reports for many other manufacturers' future models are grouped in the OEM product strategy summaries section of just-auto.com.
Future platform intelligence
More detail on past, current and forthcoming models can be found in PLDB, the future vehicles database which is part of GlobalData's Automotive Intelligence Center. That includes JAC vehicles not reported on above.
The next OEM to have its future model plans looked at will be Mazda.