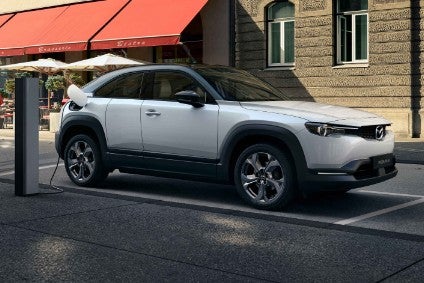 Now within the Toyota Motor Corporation sphere of influence, Mazda is busy expanding its global product portfolio supervised and protected by a powerful parent. The smaller partner has much appeal to its minor shareholder too. That includes innovative powertrains and state of the art platforms, with TMC in return giving Mazda access to hybrid technology as well as its famous lean production system.
Cars
The firm's smallest non-Kei model is atypically now more than five years old. Even more unusual for Mazda is that the 2 has been facelifted twice, which almost certainly means it will stay in production until 2021 or 2022, meaning the manufacturing cycle could be as many as eight years. Production of the five-door hatchback commenced at the Hofu plant south-east of Hiroshima in July 2014 and then at AutoAlliance in Thailand two months later.
In June 2011, Mazda revealed that the then next generation Mazda2 would also be built at a future plant in Mexico from 2013, as would the third generation Mazda3. In January 2013 Mazda stated that it intended to expand the facility to 230,000 cars a year by 2016 but in October 2014, this was lifted to 250,000 by 2016. The third generation Mazda3 was the first model to be made there, production having started in January 2014.
In November 2012, Mazda announced that MMVO would also build up to 50,000 units per annum of a Mazda2-based model for Toyota. Production would commence in "summer 2015". This turned out to be the Scion iA, a restyled Mazda2 sedan. With the winding up of the Scion brand during CY2016, the former iA became the Toyota Yaris iA for North America's 2017 model year, was carried over for MY2018 and became simply Yaris for the 2019 model year. Toyota Motor Sales USA has added a Mazda2-based Yaris hatchback for the 2020 model year.
Sales began in Japan during September 2014, with petrol front-wheel drive versions coming first, followed a month later by diesel/FWD variants, with all-wheel drive cars added in December 2014. The Mazda2 sedan had its world premiere at the Thailand International Motor Expo in November 2014. Like the five-door, it is locally built.
The second facelift for the Mazda2 was announced in July. The car's name also became standardised at the same time: until then it had been the Demio in Japan. The next 2 should use either the TNGA-B architecture or else Mazda's own SkyActiv platform. If the car is indeed being engineered with the Toyota architecture, that would explain the unusually long life cycle for the current model. TNGA-B has only just been announced and the first vehicle (Yaris) isn't yet in production.
The fourth generation of the Axela (Japan) and 3 hatchback and sedan is now one year old. It was the first Mazda for a fresh architecture and also for a homogeneous charge compression ignition engine.
Claimed to offer 30% better fuel economy than equivalent existing petrol engines, it is similar to a diesel in that it uses pressure rather than spark plugs to ignite the fuel. Mazda calls this technology 'Skyactiv-X'. A proprietary combustion method called Spark Controlled Compression Ignition overcomes two issues that had impeded commercialisation of such engines: maximising the zone in which compression ignition is possible and achieving a seamless transition between compression ignition and spark ignition.
The Axela/Mazda3 was previewed by the Kai concept at the 2017 Tokyo motor show. This beautiful vehicle, which was said to have been styled by Yasutake Tsuchida, featured a supercharged Skyactiv-X engine. Mazda revealed the sedan and the five-door hatchback at the LA auto show in November 2018 with both cars new for the 2019 model year in North American markets.
The global engine line-up is as follows:
1.5-litre Skyactiv-G petrol
116PS and 270 Nm (199 lb-ft) 1.8-litre Skyactiv-D diesel (replaced the former 1.5- and 2.2-litre diesels)
122PS and 213Nm (157 lb-ft) 2.0-litre Skyactiv-G petrol
181PS and 222Nm (164 lb-ft) 2.0-litre Skyactiv-X petrol SCCI
North America's 2020 model year Mazda3 is carried over although the car gains certain safety technology as standard.
Chinese production of the fourth generation model commenced just a few weeks ago. The vehicle's global life cycle should end in late 2023 (possibly later in China) after a facelift in mid-2021.
The fourth generation 6 (it might also be called Atenza in some countries) will be based on the same SkyActiv architecture as the latest 3, CX-30 and MX-30. Due to be announced soon, this D segment model will again be manufactured in Japan, China and Russia.
The company is likely to offer the next sedan with a diesel engine as well as four-cylinder petrol units in the US market. The importer added a special Federalised version of its 2.2-litre four-cylinder engine to the CX-5 line-up as a premium priced option for the 2020 model year. The next Mazda6 might also be offered with this engine.
The 6 should have a seven-year life cycle with two facelifts although the car may stay in production in China for a couple of years after build ends in Japan, as has been the case with previous generations.
The fifth generation MX-5/Roadster should be released in 2023. As per the current model, the car should be manufactured in Japan for eight years with a facelift at the four-year mark. The existing model's platform will be retained, albeit in updated form.
As for whether or not FCA will be provided with replacements for the Fiat 124 Spider and Abarth 124 Spider, Mazda Motor's CEO Akira Murumoto stated in a December 2018 interview that it was too early to say. He added that the Roadster/MX-5 would always be the company's own design and not a joint venture.
There is a chance that this vehicle might be available with an in-line six-cylinder petrol engine. Mazda disclosed this powertrain project in May. The company also stated that it is also planning a straight-six diesel and that both these engines would be mounted longitudinally in a new architecture.
Pick-up
Unlike the current BT-50, the next one for markets in mostly southern Asia will not be a joint venture with Ford. Both the BT-50 and Ford Ranger are presently manufactured in the same shared Thai plant but Mazda stated in July 2016 that Isuzu would supply its next generation pick-up. There was a further twist in this story later the same month when Isuzu announced to the media that its collaboration with GM on the development of midsize pick-up trucks made in Thailand had ceased.
Mazda's supply deal with Isuzu is to last for ten years commencing in 2021. The future BT-50 will share much with the recently-announced new generatiom Isuzu D-Max.
SUVs
The age of the CX-3 further demonstrates that the company is moving to longer life cycles with certain models. Introduced in early 2015, this B segment SUV is hardly old so it could certainly stay in production for another year, possibly too. The second generation model should share the SkyActiv platform as introduced by the latest Mazda3/Axela.
The CX-30 was a surprise world debut at this year's Geneva motor show. Europe-wide sales commenced in September. Mazda is yet to explain the name but the model is 4,395mm long, so larger than the CX-3 and smaller than the CX-5. There are three engines: 1.8-litre diesel, mild hybrid 2.0-litre petrol and the so-called SkyActiv-X. The company has stated that the CX-30 is not the model it will build at the under-construction US plant co-owned with Toyota.
Based on the Mazda SkyActiv Vehicle Architecture which debuted a year ago with the Axela/3, the CX-30 comes in front- and all-wheel drive forms. The production life cycle should last six years with the model having a facelift in the second half of 2022.
The 4,633mm long CX-4 is a special model for China. It was previewed by the Koeru ('succeed' in Japanese), a concept at September 2015's Frankfurt IAA. The prototype was based upon the first generation CX-5 but 60mm longer and wider. It could be thought of a kind of 'CX-5 Coupe'. The CX-4 is manufactured in the northeast of China by the FAW Mazda joint venture. It entered production in June 2016, taking the place of an aged Mazda6 sedan. The mid-life facelift should happen in a few months' time, with the successor due in 2023.
Soon to reach three years of production, the current CX-5 is therefore due for a mid-life update in 2020. This second generation model had its global debut at the LA auto show in November 2016. In North America, it was new for the region's 2017 model year. Japan was the car's first market, sales commencing there in February 2017, with exports following soon after.
Depending on the market, up to three engines were originally available: 2.0- and 2.5-litre petrol and 2.2-litre diesel. All have four cylinders. The CX-5 was to become available with the diesel in the US from the second half of 2017. This would have been the first time that the company had offered a compression-ignition engine in the USA. However, plans changed and after a long delay, the diesel option is finally happening: new for the 2020 model year, cars became available in July after a premiere at the New York auto show in April.
Mazda sold more than 1.5 million examples of the the first generation CX-5, the model having accounted for 25% of the brand's worldwide sales. The second generation uses the same platform as the original. The company has said that it hoped to sell an annual average of 400,000 CX-5s during a five-year lifecycle. A facelift was announced in October 2018 and there should be a second one in the third quarter of next year. The third generation model should be launched in early 2022 and be based on the FWD/AWD SkyActiv platform.
A CX-50 or CX-6 could be added to the line-up in 2021, some months ahead of the next generation CX-5. The cars would share an architecture and engines. It can be thought of a crossover-coupe rather than an SUV. As for where the CX-6 will be built, that should be at either Hofu 1 or Hofu 2 in Japan and also in China at Changan Mazda joint venture factory in Nanjing.
The CX-7 (it might instead be the CX-40, CX-50, CX-60 or CX-70) will be an additional vehicle for North America. This SUV will be manufactured alongside a Toyota SUV at Mazda and Toyota's forthcoming US plant, a greenfield site in Huntsville, Alabama. The volume of each will be 150,000 units a year. It is not yet clear what architecture and powertrains will be used for the Mazda. These could be shared with Toyota.
The partners broke ground at the site in December 2018. The plant, which is expected to have around 4,000 workers, will open in 2021. The official name of the JV is Mazda Toyota Manufacturing, U.S.A., Inc. (MTMUS).
At 4,900mm long, 1,840mm wide and 1,730mm high, the CX-8 is the brand's second largest model. That compares to 5,075mm, 1,969mm and 1,747mm for the CX-9.
Until the appearance of a left-hand drive example as an exhibit at the Beijing motor show in April 2018 it had been unclear as to whether or not Mazda intended to manufacture the CX-8 in such a form. The model for China is petrol-powered, production at the Changan-Mazda JV plant in Chongqing commencing in December 2018.
Assembly was added at a plant in Vietnam in June. Thaco (Truong Hai Automobile Joint-Stock company) (Thaco), a JV partner of Mazda, assembles the CX-8 at its factory in the Chu Lai-Truong Hai Automobile Mechanical Industrial Zone.
A revised CX-8 went on sale in Japan in October. There wasn't a facelift though (details are in PLDB: see the link below); that probably won't happen until 2021. The next generation model may appear in either 2023 or 2024.
The second generation CX-9 is close to the mid-point of its life cycle, having been launched in early 2016. Unlike the original, the current one is powered by what was a new 2.5-litre four-cylinder petrol turbo engine (instead of a V6). Mazda calls this engine SKYACTIV-G 2.5T. Its outputs were originally 184kW (250PS) and 420Nm (North American version) but there is a rise in torque, among other changes for Mazda USA's 2020 model year. North America accounts for roughly three quarters of annual production with Australia and Russia being other, lesser markets.
The next CX-9 is expected to become larger. It should also feature longitudinally mounted in-line six-cylinder engines, one petrol powered and one a diesel. The existence of the pair of future powertrains was almost casually mentioned in the company's annual report, issued on 9 May. See PLDB for more details.
Electric
Mazda's first series production electric model was under development, the company's head of R&D, Kiyoshi Fujiwara, stated in an interview at the 2016 LA auto show. However, the firm would only sell the vehicle in markets where EVs are popular, it was noted. The MX-30 was revealed at the Tokyo motor show a few weeks ago (see image above).
The 4,395mm long crossover, which has the same length and wheelbase dimension as the CX-30 but with its own body, has a claimed maximum range of just 200km from its 35.5kWh battery pack. One distinctive feature is 'freestyle' rear doors which open in the same way as those on the BMW i3 and Mazda's own RX-8.
Exports to left-hand drive European countries will commence during the second half of 2020, with cars for the UK due to be in dealerships in early 2021. At the moment, there is no news on potential sales in North America. This is likely due to the MX-30's limited range, something which has also stopped American Honda from requesting the e small electric car from its Japanese parent. This could mean that Mazda Motor USA might be waiting on a potentially larger, longer range EV later in the 2020s.
Rotary
The RX-8 has been out of production for almost eight years, yet still Mazda continues to hint that a successor – potentially to be called RX-9 – might one day be launched.
The RX-Vision, a rotary-powered coupe concept, appeared at the 2015 Tokyo show. There was no news on a potential RX-8 replacement at the 2017 Tokyo show, although Mazda displayed the RX-Vision again, and alongside a new concept, the Vision Coupe. The company did not say anything about the newer design study's powertrain although it did hint that the styling would reflect the direction to be taken for the next Atenza (Mazda6).
In a December 2018 interview company CEO Akira Marumoto said that no development programme for a rotary engined sports car was in place, even though he personally wanted to see one started. The issue, he insisted, was one of funding and specifically, making the business case. If such a model is ever to be realised, it probably won't be available for sale until 2022, 2023 or later.
While there is doubt over whether or not a new stand-alone RX model will ever appear, Mazda confirmed that it is developing a Rotary-EV. The Wankel engine will not power the car or SUV, but instead serve as a range extender. A rotary has several advantages over a petrol engine: it has lots of power and is inherently small with minimal NVH. The combustion engine will also run on LPG, the company says. This was made official in an October 2018 media release. As for a name, RX-30, RX-30e, RX-40 and RX-40e have been suggested but each is speculative.
Reports for many other manufacturers' future models are grouped in the OEM product strategy summaries section of just-auto.com.
Future product program intelligence
More detail on past, current and forthcoming models can be found in PLDB, the future vehicles database which is part of QUBE. That includes those Mazda models which were not discussed in the above report, such as its Kei mini-vehicles.
The next OEM to have its future models strategy examined will be Changan Automotive.