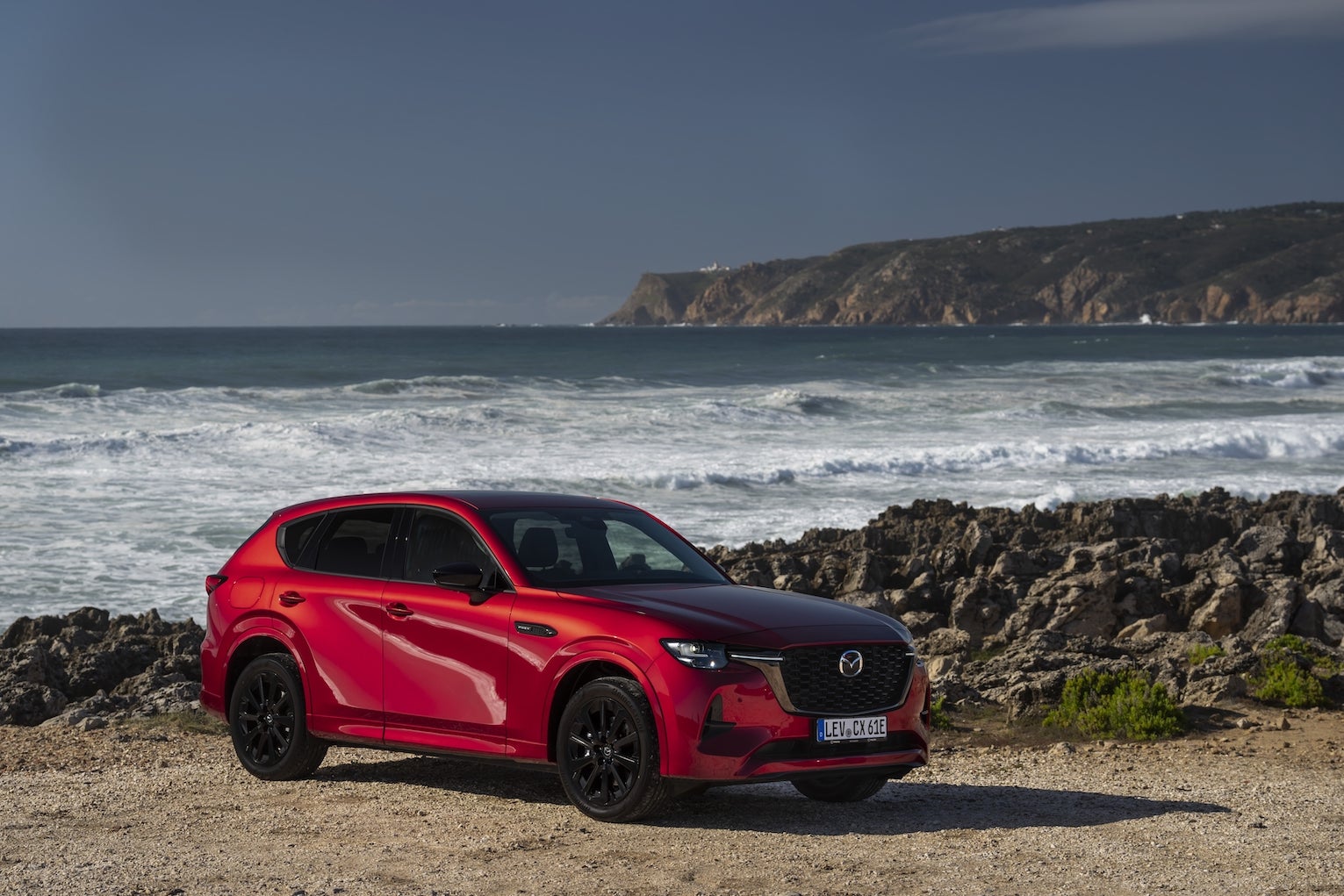 The Japanese company is in far better shape these days than it was a decade ago. The experience of being more or less cut loose by Ford Motor Company caused trauma but also a fresh approach to model development.
Casting about for new alliances, Mazda found a willing partner in Toyota plus it has continued to manufacture cars and SUVs in China with both FAW and Changan. Isuzu is another collaborator, as is Suzuki.
Even with its multiple JVs, the Hiroshima-based OEM greatly treasures its independence. This is obvious from the large investments Mazda has been making in new platforms and engine families.
There is a particular emphasis on larger capacity petrol and diesel units, a new line of both now starting to come on stream. But shouldn't this company, which has had brushes with financial ruin twice during the last half century, be investing a lot more in electrification?
Mazda sees itself as being prepared for all eventualities and there is truth in this. For a medium-sized car maker, it has an excellent spread of technologies, including decades of expertise with Japan's future fuel of choice: hydrogen. Not to mention the company's belief that IC engines have a lot of life left in them – something it shares with a certain giant partner called Toyota.
Cars
There are several Kei Mazdas, the Carol being one. The current model was launched in Japan during December 2021. Supplied by Suzuki, this 3.4 m long hatchback is a lightly modified Alto. A facelift is due in 2024 and a new generation in 2026.
The Carol comes with two powertrain options. While each is a 0.7-litre Suzuki three-cylinder engine, one produces 36 kW (49 PS) while the alternative is a mild hybrid which adds 2 kW thanks to an integrated starter-generator. 
The 2, or Demio, the Japanese market name it was launched with in 2014, has had a long life, something which is unusual for a Mazda. This B segment hatchback and sedan is built in Japan and Thailand. J20, the successor, will likely arrive in 2023 and should be mainly for countries in Asia.
There is another model called 2, or rather 2 Hybrid and this is a different car. A special five-door hatchback for European countries, it supplements the Mazda original and is manufactured by Toyota at its Onnaing factory in northern France.
As with the donor car, the Yaris Hybrid, the powertrain is a turbocharged 1,490 cc three-cylinder petrol engine plus two motors, driving the front axle. Engine power and torque are 85 kW (116 PS) and 169 Nm (125 lb ft). The first motor produces 59 kW (80 PS) and helps to power the car, while the second one fires the engine and charges a battery.
There should be a facelift during the second half of 2023 and a successor in 2024.
The fifth generation MX-5/Roadster is probably as far off as 2025. As per the current model, the car should be manufactured in Japan for eight-ten years.
There is a chance that this vehicle might be available with Mazda's in-line six-cylinder petrol engine. It is also possible that hybrid and/or electric drive will be available in Japan and Europe.
A successor for the decade-old 6/Atenza is long overdue. The fourth generation of this sedan (and likely wagon too) range was to be based on the SkyActiv 2 architecture with build again taking place in Japan, China and Russia.
Sources claim that the project was switched to Mazda's rear-wheel drive (and all-wheel drive) architecture as debuted by the CX-60. That also means that in-line six-cylinder engines should be available. There is however no guarantee that the car will be offered in North America.
The 6 should have a seven-year life cycle with two facelifts. The car may stay in production in China for a couple of years after build ends in Japan though. This has been the case with previous generations.
SUVs & Crossovers
The MX-30, a small electric crossover with a range which could be described by the same word, hasn't exactly been a great success. Launched two years ago in Japan, the brand's first series production EV is closely related to the CX-30. The biggest issue is the 200 km maximum range, mainly because the battery's capacity is only 35.5 kWh.
Mazda also offers the MX-30 as a mild hybrid in Japan and certain other countries, this variant being called e-Skyactiv G. The 3 and CX-30 have also just been updated with this 2.0-litre powertrain, a replacement for a 2.0-litre engine in the home market.
There should be a facelift later in 2022 but the MX-30 EV is likely to be axed in the US as its sales have been minimal.
The replacement should use a platform which is due to arrive in 2025. The name is Skyactiv EV Scalable Architecture.
Revealed in November 2021, the CX-50 is a special SUV for North America. It is manufactured alongside the Corolla Cross at Mazda and Toyota's US joint venture plant in Huntsville, Alabama. The volume of each model will be 150,000 units a year.
Initially, this factory was scheduled to manufacture a Mazda SUV and the Toyota Corolla. These plans changed and in July 2019 Toyota told the media that its model would instead be a new SUV. Toyota began building the Corolla Cross at the factory in September 2021 while the Mazda went into production just over four months later.
Even though the platform is Mazda's own, the company told the media in November 2020 that there would be a Toyota hybrid powertrain. A year later, this statement was part of Mazda USA's media information as it revealed details and images:
"In the coming years, the CX-50 will also be offered with electrified powertrains, including a traditional hybrid model. More information about our electrified models will be shared at a later date".
Two powertrain options were announced in November 2021:
Skyactiv-G 2.5-litre four-cylinder engine producing 139 kW (187 hp) and 252 Nm (186 lb ft)
Skyactiv-G 2.5-litre turbo producing 186 kW (250 hp) and 434 Nm (320 lb ft)
There should be a a facelift for the CX-50 in 2025 and a successor in 2028.
The CX-60, another new SUV to have been launched in 2022, is for many markets but none is in North America. Announced in March, this 4,745 mm long five-seat SUV is the first vehicle for a fresh RWD and AWD architecture.
Mazda has also debuted its high-efficiency straight six turbocharged engines in the new model. These are a 3.0-litre 48V mild hybrid petrol which is to be joined by a 3.3-litre 48V mild hybrid diesel.
Production commenced at Hofu Plant No. 2 in Yamaguchi prefecture on 11 March. This was a few weeks before the CX-60 became available in its first market: Japan.
The company told the media in October 2021 that the CX-60 would be mainly for Europe and Japan, with Australia also named later.
A plug-in hybrid CX-60 is also available. This combines a 141 kW and 261 Nm 2.5-litre (non-turbo) four-cylinder petrol engine with a 100 kW and 250 Nm motor. Torque goes to both axles via an eight-speed wet-clutch gearbox.
This new PHEV is Mazda's most powerful propulsion system yet. Combined outputs are 238 kW (324 PS) and 501 Nm (369 lb ft). The battery's capacity is 17.8 kWh while the maximum range in EV mode is a claimed 50 km (37 miles). Zero to 100 km/h takes a stated 5.8 seconds while top speed is limited to 200 km/h.
Mazda didn't announce the diesel engine's specification until a few weeks ago, this being ahead of its arrival in 2023. There are to be two versions of the 3,283 cc straight six: 147 kW (200 PS) with rear-wheel drive or 187 kW (254 PS) with all-wheel drive.
The CX-60's life cycle should be seven years, with a facelift in 2026.
The reason why there's no availability of this model in North America is that Mazda will instead offer a CX-70 there. Simply put, this is the CX-60 but modified with wider tracks, styling changes and different powertrains. The sales launch is expected in 2023.
To be mainly for Japan, Europe and Australia, the CX-80 is a forthcoming large SUV, also based on the firm's new RWD and AWD architecture.
Four-cylinder PHEV power is confirmed, with six-cylinder petrol and diesel mild hybrid engines likely too. It is presumed that the CX-80 replaces the CX-8 in relevant markets from late 2023.
Another big SUV will be mostly for North America commencing in the 2024 model year. The CX-90 will have three rows of seating and in-line six-cylinder engines. The 90 succeeds the CX-9 and is a wider version of the CX-80.

Reports for many other manufacturers' future models are grouped in the OEM product strategy summaries section of Just Auto.
Future platform intelligence
More detail on past, current and forthcoming models can be found in PLDB, the future vehicles database which is part of GlobalData's Automotive Intelligence Center.