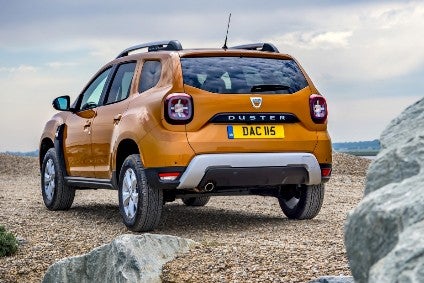 The biggest mistake for anyone to make when summing up Dacia is to think of it as a provider of cheap, basic, boring cars. A major update for the Duster is now taking the brand right into the mainstream, with an emphasis on value rather than low pricing.
Is there a better example of just how strong Dacia has become than its recent matching of Nissan Europe's market share? ACEA's numbers for the first three quarters of the year place both on 3.3 per cent. Even if Nissan has (for now) a higher number of deliveries.
After the plunge in September, registrations in the EU and EFTA were up by 2.5 per cent for the year-to-date. Dacia, however, managed a rise of 13.7 per cent to 405,619 cars. It has stayed ahead of SEAT (3.0 per cent market share and a +20 per cent gain to 363,220), closed the gap to Citroen (3.8 per cent, +6.0 to 470,845), has overtaken Kia (3.1 per cent, +5.7 per cent to 385,818) and isn't too far behind Hyundai (3.5 per cent, +7.1 per cent to 425,854). It's Nissan though that it's in real danger of being surpassed by Dacia. The Japanese make's deliveries dropped by 9.1 per cent to 411,278 which means that even though it's ahead, market share has fallen to an identical percentage.
Groupe Renault keeps on investing in Dacia, tweaking existing models and tapping into a desire among so many buyers for cars which are not overly complicated or overloaded with technology that tends not to get used. As long as value and economy are strong, the cars look good and costs such as insurance are low, who cares that there is no radar cruise control, automatic parking, push-button start or electronic parking brake? Quite a lot of Dacia owners, it seems.
A close look at the latest Duster shows where Renault saves money. For a start, the car has had a major facelift instead of being replaced. This little SUV has been around since 2010 and its popularity only ever seems to go in one direction – up. For what you pay, and pricing starts at GBP9,995, this is a great value car. The base variant is exactly that though (steel wheels, wind-up back windows, dark plastic bumpers, no A/C), and a lot of buyers prefer the mid-level trim which can still have the same '9' insurance group depending on the engine.
After the entry level Access front-wheel drive 115PS, there's a jump to GBP11,595 for the next version up, and then into the thirteens and fourteens for diesels and 4×4 variants in Essential and Comfort spec, reaching GBP16,395 for Prestige trim. Anyone wondering how Renault makes such a success of Dacia would be interested to know that only when you pay up for the top trim level do you get a multi-view camera, blind spot warning, climate control and keyless entry.
Dacia insists that the updated Duster revealed at last year's Frankfurt IAA is a second generation model. Renault's internal code for the vehicle has changed from H79 to HJD and the company has a point in calling this a fresh design if, as it claims, every panel is new. Having said that, the door skins look identical to my eyes and the car's dimensions have hardly changed.
The dashboard and interior have had some revisions but the basic layout remains. And there's not much wrong with that either. All variants have a multimedia touchscreen, which can be basic or better equipped with features depending on which of the ten available variants buyers choose.
Cabin noise is claimed to be 50 per cent lower than previously, thanks to the use of better sound-absorbing surfaces in the cabin and engine compartment as well as thicker glass for the front windows.
A lack of soft-to-the-touch plastics probably won't bother many Duster owners. As the exterior looks underline, it's all about rugged utility rather than lots of creature comforts. The car's interior is strong on room, plus there are multiple places to stash odds and sods including a generously proportioned glovebox and commodious door bins.
Dacia has announced some more changes to the Duster line-up in recent weeks, including a 1.6-litre turbocharged petrol engine which premiered at the Paris motor show. So as to be compliant with Euro 6d Temp, this has a particulate filter. There are two versions, each one becoming available in 4×2 form from early 2019: 96kW (130hp) with 240Nm of torque or 110kW (150hp) and 250Nm. Buyers wanting four-wheel drive must wait until mid-2019 though.
There are two other powertrain choices, these being an 86kW (115hp) 1.6-litre petrol and a 1.5-litre diesel which has the same amount of power.
The car made available for review was a 4×2 in second-from-top Comfort trim and powered by the 115hp 1,598cc petrol engine. The lack of a sixth speed for the manual transmission wasn't as much of an issue as I had thought it might be, although economy suffers, with the WLTP average being 43.5mpg. Top speed is 107mph, 0-62mph takes 11.9 seconds and CO2 is 149g/km.
Dacia's claims about a quieter interior hold true and even with what is a fairly lofty ride height, body roll isn't excessive at normal speeds. The new electric power steering system which was another change with the rebodied model has a good amount of feel to it and even for keen drivers, the Duster has more appeal than many might assume.
As brands such as Kia and Skoda continue to move up the pricing chain, others, such as Dacia (and in the UK, MG too) are reaping the benefits, their sales shooting up almost month-on-month. A week spent getting to know the latest Duster showed the depth of its abilities – this is patently not a cheap and cheerless alternative to a second-hand car – there is much to like. The popularity of the brand will likely keep rising too: might this be the first year that Dacia tops half a million sales across Europe?