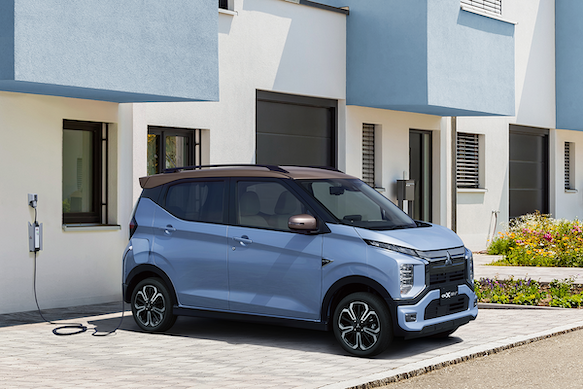 Becoming ever more embedded into its Alliance with Renault and Nissan has helped Mitsubishi weather recent storms. Is the worst now behind it?
One of the largest issues facing Mitsubishi Motors Corporation has been its size relative to competitors and indeed, to its Alliance partners.
Pricing power is another ongoing challenge, even though for years, one model, the former Outlander PHEV, was a trailblazer for high-volume and presumably matching margins.
Many other non-premium makes have since copied MMC's innovative ways but the Japanese firm was left behind due mainly to the sheer age of this and other models. That remains an issue; something it has in common with Nissan.
You need only look at the brand's sales across Europe for the evidence of what happens when there is no fresh product: for H1, Mitsubishi dropped to 30th place with just 30,092 registrations (source: Acea).
On a brighter note, the brand's US performance wasn't too bad during the first half, the total being 48,272 compared to 53,377 for the same period of 2021.
The new-shape Outlander has been doing all the heavy lifting in North America, with deliveries of the Mirage, Outlander Sport and Eclipse Cross all tumbling. Again, two of those three are very old indeed.
Sales in Australia aren't too far behind the total for the USA, the result for the first six months being 41,748. That was enough to put Mitsubishi into third place (behind Toyota and Mazda), the strong performance due to the Triton (L200) and Outlander.
Thailand is another good market (H1 sales circa 25,000) but the same can't be said of China where the total will have been well below that number during the same period (year to the end of May: 14,787 – June data not available at time of writing).
What about Japan? Here at last there is some very good news with sales up by 53 per cent during the most recent month, albeit from a low base in June 2021.
The main reason for the big improvement is the Outlander but the new eK Cross EV also helped matters and, incredibly, the Delica D:5. The latter is an MPV which Mitsubishi has been building since 2006. Now manufactured at the Okazaki factory in Aichi prefecture, it even survived the closure of the Sakahogi plant (Pajero Manufacturing Company) in 2021.
What Mitsubishi needs most is replacements for so many of its superannuated models. This report reveals information about some of these as well as when they are due to arrive.
New electric Kei model…
As mentioned above, the marque's latest addition to its home market line-up has just been launched. Both the eK X EV and its Nissan Sakura equivalent are part of the companies' NMKV joint venture.
Each is as short, tall and narrow as a typical petrol-powered 660 cc Japanese market Kei mini-vehicle. They come off the same production line at Mitsubishi's Mizushima factory.
The battery's capacity is just 20 kW and so the maximum range is only 180 km. Power and torque are 47 kW and 195 Nm. The life cycle should be eight years so a facelift would be due in 2026 along with a longer range battery. Also, the platform will be the basis of other small EVs.
...and an e-SUV for China
Another model launched in 2022 – the Airtrek – is exclusive to China. This one should have a seven-year production cycle. An SUV, it is manufactured by the GAC Mitsubishi Motors joint venture. GAC's Aion V Plus is the basis of this 4,630 mm long model.
The Airtrek has a 69.9 kWh battery pack and a single motor which produces 135 kW and 350 Nm.
Europe – Renault to supply two models
Jumping now to Europe, the first product of a fresh strategy for the region will be launched there in 2023. The new approach is to have Renault produce two models and if this works, others could follow.
Speculation suggested that the vehicles would be restyled versions of the Clio E-Tech Hybrid and Captur E-Tech Hybrid and/or Captur E-Tech Plug-in. The second of the pair was confirmed by Mitsubishi's CEO Takao Kato at an Alliance presentation in January.
As well as an ASX hybrid and an ASX plug-in hybrid, there are to be ICE-only variants. Details of the (non-electrified) ASX are as follows:
67 kW 1.0 MPI-T three-cylinder (non-turbo) engine, six-speed manual
103 kW 1.3 DI-T four-cylinder turbo, six-speed manual
116 kW 1.3 DI-T four-cylinder turbo, seven-speed dual-clutch transmission
The sales launch is set for March 2023 although the new ASX will be shown to the media in September. See the link below to PLDB for details of the ASX Hybrid and ASX Plug-in Hybrid.
How and if the ASX sold in other regions – and also known as the Outlander Sport or RVR – will be replaced isn't yet known. This small SUV is now more than twelve years old.
As had been speculated, it has now been confirmed that the other Renault-built model coming for European markets in 2023 will be based on the Clio.
Reviving the Colt name, the B segment hatchback should share the powertrain of the Clio E-Tech Hybrid. Production will be at OYAK-Renault's Bursa plant in Turkey.
As the Renault original will be replaced in 2026, the Mitsubishi should be too.
What about the next pick-up?
Manufactured in Thailand since the end of 2014, build of fifth generation L200/Triton should end in the fourth quarter of 2023.
Mitsubishi is developing the sixth generation model with an evolution of the current pick-up's platform although the frame will be new. For the first time, there will be a PHEV and potentially an EV. A late '23 market release is forecast.
Other replacement models – when?
As for other major models, the Xpander and Xpander Cross should be facelifted for a second time in 2024 and replaced in 2027 while a new Eclipse Cross should arrive in 2024.
In future, many Mitsubishi models will be twinned with Nissans, at least when it comes to platforms and powertrains. That also goes for the next Mirage/Space Star and its sedan equivalent, the Attrage. These cars could appear in 2023. The current models have been around since 2012/2013.
Reports for many other manufacturers' future models are grouped in the OEM product strategy summaries section of Just Auto.
Future platform intelligence
More detail on past, current and forthcoming models can be found in PLDB, the future vehicles database which is part of GlobalData's Automotive Intelligence Center.
This report is the fourth in a series for the Renault-Nissan Alliance's divisions and brands. First came a feature on Renault, followed by Alpine, then Dacia. Next comes Infiniti and Venucia then Nissan.