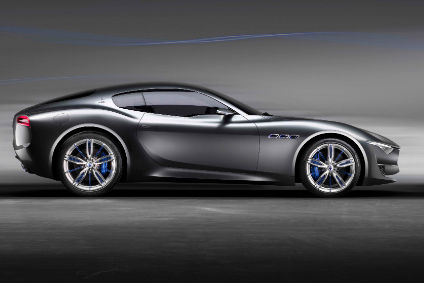 The third instalment in just-auto's analysis of FCA's passenger car brands' model lines is a focus on Maserati. A look at what's ahead for Alfa Romeo was recently published, followed by an examination of Ferrari's plans. Features on Lancia; Fiat & Abarth; Chrysler, Dodge & RAM; and Jeep will be published soon.
The high-margin Maserati business is proving to be a leading light for FCA. The rejuvenated brand has a medium term volume target of 75,000 vehicles per annum, with new models being gradually added.
SUVs
The additional vehicles include the brand's first SUV. This, the Levante, went into production in the first quarter of 2016. RHD build did not commence until September: the UK market, where luxury SUVs sell well, is expected to be an especially profitable one. The Levante went on sale in Britain in recent days.
M161 is off to a good start and now that RHD cars are on the market and US sales about to commence, 2017 looks like being a very good year for Maserati. This big SUV has also turned out to be a much better engineered vehicle than it might have been.
The former Chrysler Group was originally tasked with rebodying the Jeep Grand Cherokee to create a large 4×4 for the trident brand. Build would be alongside the big Jeep at the Jefferson North plant in Detroit, Fiat CEO Sergio Marchionne told the media at an event in November 2010. He also stated that the vehicle would be likely to use a Ferrari V8. Then in November 2012, the Fiat and Chrysler CEO reportedly told investors that the vehicle would instead be built "in Italy". This was eventually (September 2013) revealed as meaning Mirafiori.
Maserati's second SUV concept to be called Kubang revealed the brand's thinking of what a large 4×4 might look like when it was unveiled at the Frankfurt motor show in September 2011. The first Kubang had debuted at the Detroit auto show in January 2003. A large SUV for Alfa Romeo would also now be based upon the Grand Cherokee, Marchionne added.
At the Paris motor show in September 2012, Fiat stated that the SUV would be after the Via Emilia Levante in Bologna where the Maserati brothers originally envisioned the automaker. The model had for a time been expected to enter production in mid-2014 but series production was delayed until February 2016. Average annual build is expected to be around 25,000 units though it could go higher.
The Levante, which is 5,003mm long and therefore a true rival for the Porsche Cayenne and BMW X5, is available with up to four engines:
250hp 3.0-litre VM Motori turbo diesel V6
275hp 3.0-litre VM Motori turbo diesel V6
350hp 3.0-litre Ferrari turbo petrol V6
430hp 3.0-litre Ferrari turbo petrol V6
FCA's forthcoming 2.0-litre turbo engine that it will manufacture at Trenton Powertrain in Michigan might be a future four-cylinder petrol option for the big SUV. A 200+hp derivative of the 2.2-litre diesel from the Giulia MultiJet 180 (hp) is another possibility.
A facelift should take place during the first quarter of 2020, with the second generation model set to appear in the final few months of 2023.
Will there be a smaller SUV for Maserati; a vehicle to tackle the second generation Porsche Macan? That is a strong possibility and such a model would surely be manufactured in the same plant as the similarly sized Alfa Romeo Stelvio.
FCA has a lot on its plate trying to juggle stretched engineering resources in Italy so don't expect to see the theoretical second, smaller SUV until at least 2019. It would probably be more accurate to think of 2021 as the year when this vehicle could appear.
Sports cars
Project M148, the future Alfieri hatchback and convertible, can be thought of a rivals for the forthcoming 992 series Porsche 911 Carrera and Carrera Cabriolet as well as X161, the next Jaguar F-TYPE hatchback and convertible.
The Alfieri was once due to be in European dealerships from this year but now FCA has delayed the three-door until 2019 and the cabrio until 2020. Rechargable versions of both will be added in the second half of 2020 (see section below on electric models). A facelift for all cars would be due in early 2024 and replacements from late 2026 or into 2027.
A concept preview at the 2014 Geneva motor show was a hatchback and is said to have used the GranTurismo MC Stradale as its basis. The design study's wheelbase was shortened to 2,700mm, with length of 4,590mm, width of 1,930mm and height of 1,280mm.
The production cars will instead be based on a modified version of the architecture which underpins the Quattroporte, Ghibli and Levante. It will have more aluminium in its construction than the sixth generation Quattroporte's platform. The place of build is not yet known but a strong possibility would be at Maserati's Modena factory though AGAP, the former Bertone works in Grugliasco (Turin), is another possibility.
As for the larger GranTurismo and GranCabrio (GranTurismo convertible in some markets), these went out of production a few days ago and there will be a hiatus before new cars appear.
Once, these were to be on sale during 2015. That was according to what Fiat management told analysts in December 2012. Then at May 2014's FCA investors' briefing, the GranTurismo replacement was simply listed as being due for launch in 2018. No explanation for what would have been an astonishing three-year delay was given.
An additional derivative, which could see the GranSport name revived, may also be under development. The GranCabrio had not been expected to be replaced but a Maserati executive confirmed to just-auto.com in November that a successor is indeed in the future products pipeline.
In common with the smaller Alfieri, the next GranTurismo and next GranCabrio are being developed on a new platform which is being evolved from that which underpins the Quattroporte, Ghibli and Levante. As these models are all fairly heavy, the freshened architecture won't be for the supercars, so there should be more aluminium, magnesium and carbonfibre featuring in their construction.
The next GT and GC are due to be released from the end of 2018. They will be more expensive as the Maserati model range expands. The brand is being positioned above Alfa Romeo but below Ferrari in terms of pricing. That means EUR50,000-150,000.
Sedans
The Ghibli is intended to be a rival for the Mercedes-Benz CLS-Class sedan. China being one of the car's main markets, it had its global debut at the Shanghai motor show in April 2013. Both rear- and all-wheel drive variants are available. As for powertrains, there is a choice of turbocharged petrol and diesel V6 engines, plus an eight-speed automatic gearbox. This was the first diesel Maserati.
The company is keen to emphasise that this sedan is all-Italian, and while that is mostly true, its Ferrari-designed 3.0-litre petrol turbo engine's aluminium block is cast by Chrysler at its Kokomo plant in Indiana. But after that, it's shipped to Europe for machining by Weber Automotive GmbH.
What became the M157 project has an interesting history. Two variants of one additional model for the Maserati range were announced by Fiat Group at a presentation in April 2010. Aside from a target launch price of euro 55,000-70,000 in Italy, no further details were given. The second car was subsequently cancelled.
The cars would be launched 'within the next five years', Fiat Group management told investors in April 2010. It is presumed that the models in question would have been rivals for the BMW 550i and M5 sedans.
The former Bertone plant at Grugliasco, 10km west of Turin, was announced as the production location for Maserati's two future sedans in May 2011. What is now FCA acquired the plant in 2009 and refitted it for the production of Maserati models. It was also renamed in honour of Fiat's patriarch, Giovanni 'Gianni' Agnelli. It is now officially known as Officine Maserati Grugliasco or AGAP for short.
It is believed that an architecture created from the Chrysler Group's LX platform is the basis for the Ghibli. The platform is the same as that used by the sixth generation Maserati Quattroporte as well as the new Levante.
The latest 2017 model year Ghibli premiered at the Paris motor show at the end of September. The main news was a 20hp rise in power to 350hp for the 3.0-litre petrol V6. A larger touchscreen/modified infotainment system was also new. There were no changes for the VM Motori 3.0-litre V6 diesel.
Even though this model has been built since mid-2013, there is yet to be a facelift. That should happen in 2017, the updated car being likely to appear at the Shanghai motor show in April. No other styling tweaks are expected after that, and the next generation model should be released in the third quarter of 2020.
Just a few months before the Ghibli went on sale, a new generation of Maserati's largest sedan, a model with heritage dating to the 1960s, appeared. The sixth evolution of the Quattroporte made its debut at the Detroit motor show in January 2013. The company stated at the time that it hoped to sell 80,000 units of this low, slung sports limousine over a 7-8 year lifecycle.
This was the first Quattroporte to offer all-wheel drive (LHD cars only). A stop-start system and an eight-speed ZF automatic gearbox were further novelties for the brand at that time.
Both 410hp 3.0-litre V6 (RWD or AWD) and 530hp 3.8-litre V8 (RWD only) gasoline engines feature. A special low-power version of the V6 is offered in the Chinese market. This 330hp 3.0-litre Twin Turbo variant premiered at the Shanghai motor show in April 2013.
A 3.0-litre V6 diesel premiered for the Quattroporte at the Frankfurt motor show in September 2013. It is offered in two states of tune: 184kW (250hp) for the Italian market and 202kW (275hp) for other countries.
The sixth generation car's platform, though derived from Chrysler Group's LX architecture, shares only the electrical system, air conditioning components and front seat mounting points. The car itself is larger than the Mark V model, as it had to be to make room for the Ghibli, which comes out of the same AGAP factory in Turin.
Maserati revealed some minor changes for the Quattroporte at September 2015's Frankfurt IAA. These were for the model year 2016 range. For the 2017 model year, there was a tiny facelift, with this range of variants announced to the media in June 2016. The car's motor show debut was three months later in Paris.
There should be a major facelift in late 2017, the aim being to reignite sales and better distinguish the car from the Ghibli. Quattroporte generation seven is set to go on sale in 2020 though as the Alfieri roadster and EV are due out around then, the big limo might be pushed back slightly into early 2021. FCA's Giorgio platform should be the basis of the Quattroporte for the 2020s.
Electric models
There may well be a PHEV version of the Levante but this might not appear until 2018. its powertrain would be a development of the Ferrari petrol engine rather than the VM diesel. As for an electric smaller SUV, that one would be a battery electric model but likely not available until 2022.
Coming before either of these two is the electric Alfieri. This will absolutely need the lightest possible platform, which is why the architecture it and the combustion engine versions will be based upon will have so much aluminium content. The rechargable Alfieri is due out during the third or fourth quarters of 2020.
Battery-electric versions of the next Ghibli and Quattroporte seem less likely than other potential Maserati EV models. A PHEV Ghibli will probably become available in some US states, certain European countries and China during 2018 or possibly even 2017, after the car has had its mid-life facelift. A Quattroporte PHEV with a slightly more powerful variation of the Ghibli plug-in hybrid's petrol-electric powertrain would be a logical addition to that model's range. It may even appear ahead of its smaller PHEV brother.
Where to next?
What appears to be going on at Maserati looks from the outside a lot like a serious focus on this potential shining diamond of a business. The brand has one major issue, which is target buyers assuming that the cars are far more expensive than they are. What a fantastic problem to have.
Reid Bigland's first six months in the role as boss of both Alfa Romeo and Maserati have been in the best possible sense, uneventful and replete with equanimity. New model launches have taken place, the cars have had first class reviews and are beginning to sell in steady numbers. Moreover, there have been no impetuously announced production numbers, which was once always the case with the Alfa brand at least. The idea of under-promising (or thus far, saying nothing at all about how many units will be built) then over-delivering seems to have been adopted.
Giulia registrations are rising month by month and the Stelvio will reportedly begin to be manufactured from the second quarter of 2017, while the Levante is now ramping up. Meanwhile, the brutally beautiful but admittedly ancient Grand Turismo/Grand Cabrio were, almost unwitnessed, euthanized in November.
Quiet, relentless progress is what a properly premium brand wants. Not the intermittent destruction of employees' morale by issuing threats about perhaps closing plants, or talking publicly about maybe or maybe not delaying spending on future models. That sort of behaviour tells potential customers that the company concerned is not a serious business. And that there are no long-term plans to invest in the highest possible quality products and protect the resale values of said vehicles. Does BMW behave that way? Porsche? Toyota? Honda? If you want to achieve double digit returns year in, year out, you have to run a company in the same ways that the most successful OEMs do.
Maserati could yet become a massively profitable division of FCA, as indeed could, over the longer term, Alfa Romeo. Right now, one of these brands is garnering a lot of attention, while the other gets on with attaining the goal set for it: 75,000 cars being built annually by 2018.
Thanks to the Levante, Maserati will almost certainly outperform the target it needs to hit. Alfa Romeo? It instead needs a more realistic goal than the last one publicly aired, which was 400,000 vehicles a year by the same timeframe. On the other hand, profits and RoI are far more important than big production numbers. Chrysler had the latter and was headed for bankruptcy before three governments put up economic scaffolding around it. They waited while Fiat circled, signed up and commenced an emergency rebuilding job. Despite the incredible job which Richard Palmer continues to do, a lot of debt from those times is still festering. So FCA needs its two Italian premium brands to become big earners. Presto.
Why Maserati needs to become more like Porsche
Don't be surprised if in five years' time, it is the presently smaller, less shouty division which is looking a lot like Porsche. Or at least the way that it had been just before starting to deliver the increases in production and XXL sized returns which are now the norm for that company. Could Maserati become a 250,000 vehicles a year brand? Absolutely. Not until 2025, though. But think about it: the money to be potentially hauled in during the climb to that level of annual production would be more than enough to keep FCA afloat during the inevitable next major worldwide economic maelstrom.
Reid Bigland seems a smart man, and looking at his rise within FCA, clearly evinces ambition. So therefore we should keep an eye out for any reports of him insisting that far more cash be put into a further expansion of Maserati's product range and manufacturing activities. Should that happen, we'll know that where the greater opportunity lies amongst the two brands for which he has responsibility, has been sensed.
It's a predictably ingenious strategy of the Agnelli family's John Elkann's to play several already very successful stars against one another, testing each. Who can deliver the greater returns – Group COO Richard Palmer has modestly performed gigantic financial miracles, while Mike Manley has made Jeep a massive earner, but the head of Alfa-Maserati could well have a hitherto unseen genius for turning a tiny, tarnished trident into a large, luxuriant one. With platinum-plated prongs. One of these three men, plus perhaps COO for the EMEA markets, Alfredo Altavilla, will probably become CEO of FCA in 2018. That tiny, almost overlooked Maserati might just be key to that is an engaging thought.
Future model plan reports for other manufacturers can be viewed in the OEM product strategy summaries section of just-auto.com.
Future product program intelligence
More data on vehicle lifetime and future product plans is available in PLDB from QUBE.