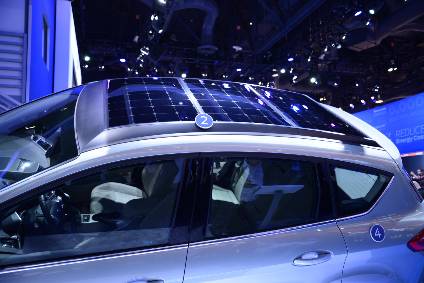 Despite the fascination for clean tech, commercialising solar roofs have been weighed down by the extra cost and complexity. Continuing just-auto/QUBE's series of research snapshots, we take a look at who is doing what to energise the solar roof market.
Nothing new under the sun
The idea of car roof mounted solar cells is not new. The 2009 Toyota Prius had an option of a solar panel capable of generating 56 watts of power. And for its part, Ford showcased its solar assisted C-MAX Solar Energi Concept at the 2014 consumer electronics show. Instead of powering its hybrid battery from an electrical outlet, the C-MAX Solar Energi Concept harnesses the power of the sun by using a special concentrator that acts like a magnifying glass, directing intense rays to solar panels on the vehicle roof. Ford says the result is a concept vehicle that takes a day's worth of sunlight to deliver the same performance as the conventional C-MAX Energi plug-in hybrid, which draws its power from the electric grid.
Since then, other automakers have begun to offer solar roofs too. In 2014, Nissan began offering a small solar-panel roof option for its Leaf EV primarily to help power things like air conditioning. The Karma Revero plug-in hybrid luxury sports car is also offered with solar cells embedded in the rooftop.
Toyota Prius solar roof capable of generating 180-watts
The Toyota Prius PHV, released earlier this year, incorporates a photovoltaic (PV) module developed by Panasonic. The solar roof is the industry's first that can supply power to a car's main battery pack.
The supplier claims that its solar cells have a unique structure that combines a crystalline silicon substrate and an amorphous silicon film, and feature high conversion efficiency and good temperature characteristics. Panasonic points out that conventional automotive solar cells can output up to several tens of watts and have been used only for the auxiliary charging of 12 V batteries and ventilation power sources for parked cars. However, the use of the features of its solar cells allow a high output (approx.180 W) in a limited area on a car's roof, enabling the charging of the drive lithium-ion batteries as well as 12 V batteries. This results in a possible extension of an EV's travel distance and increased fuel economy.
Thanks to strong competition in the PV roof industry, the cost of solar cells continues to fall. Yet adding them to a car roof remains expensive given the additional wiring and electronics, let alone research and development behind such advances.
So, how much extra are we talking? Well, you can have the 'base' version Prius PHV for GBP34,895 and fork out an extra GBP1,500 in the UK for the privilege of having a large solar panel sunroof that contributes a little to daily recharging. When the vehicle is parked (but not plugged into a charging socket), the solar roof charges a solar battery which, when fully charged, delivers a pumping charge to the hybrid battery. During driving, the solar charging system charges the 12 volt auxiliary battery, compensating for auxiliary load and thereby reducing the energy consumption of the battery.
Solar power: Now we're motoring?
Although such technical advances in solar power are laudable as they use energy that would otherwise be wasted, PV cells can still only boost a car's range by a limited amount. In the case of the
A solar charged Prius PHV can increase the EV driving range by up to 3 miles per day. Now we're motoring?
Prius PHV, it is claimed that solar charging can increase the EV driving range by up to 3 miles per day (depending on weather conditions, of course), equating to some 620 miles of all-electric driving per year.
A further limitation is that conventional solar panels are optimally angled to the sun whereas car solar roofs are, relatively-speaking, more or less flat and limited in area.
As of the end of April 2017, Bloomberg reported that Toyota had sold 1,350 units in Japan of the new Prius plug-in equipped with solar panels, nearly 9 percent of the total, according to the car maker.
Tesla Model 3 may have solar roof option
Last summer, Tesla chief Elon Musk revealed his latest master plan in a blog on the company's website, noting the first master plan he wrote 10 years ago "wasn't all that complicated and basically consisted of: create a low volume car, which would necessarily be expensive; use that money to develop a medium volume car at a lower price; use that money to create an affordable, high volume car; and provide solar power." He summarised Master Plan, Part Deux as: "Create a smoothly integrated and beautiful solar-roof-with-battery product that just works, empowering the individual as their own utility, and then scale that throughout the world."
Panasonic is Tesla's sole supplier of batteries, making packs for the Model 3. The supplier is also working with Tesla on solar roofs. Late last year, the partners sealed a deal to begin manufacturing PV cells and modules at Tesla's Gigafactory 2 in Buffalo, NY, for home solar rooftop panels.
Last October, JB Straubel, CTO and co-founder of Tesla, said: "We are excited to expand our partnership with Panasonic as we move towards a combined Tesla and SolarCity. By working together on solar, we will be able to accelerate production of high-efficiency, extremely reliable solar cells and modules at the best cost."
The Tesla Model 3 will "probably" have a solar roof option, says Elon Musk.
Time will tell if this solar partnership extends to car roofs. A month later, Musk took to Twitter to discuss the possibility of a solar roof option on the Model 3, going on record that it will "probably" have a solar roof option. But unlike Toyota's Prius, he hinted that it could be "a deployable solar shield like a retractable hard top."
Further afield, Dutch start-up Lightyear has made it a mission to develop, make and sell solar-powered electric cars that could run for about 500 miles without the need to be plugged into the mains. It addresses what it sees as one of the main stumbling blocks to the mass adoption of EVs, namely the charging infrastructure. The company claims that 3 per cent of the world's population live within 60 miles of a public charging station. Car production is expected to commence in 2019. Prices start at <drum roll> EUR119,000.
While the integration of solar cells directly in the roof skin or in the sunroof panels is gaining momentum, such novelties have yet to gain mass market appeal. As roof systems have long since been part of a car's identity, they will always attract some car buyers. Others believe that solar roof solutions are still mostly just that – image promotion. Although the technology makes sense and offers possibilities, the cost still needs to tumble. Much will depend on the technological development, balancing weight, solar roof efficiency and pricing. This may well become a trend but let's just wait and see.