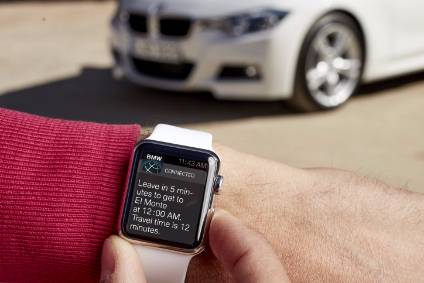 We live in an increasingly connected society and the way things are heading, we will not be escaping 'always-on' personal connectivity when we get into our cars. Continuing just-auto/QUBE's series of research snapshots of connected and autonomous vehicles (CAVs), this one considers some recent advances in the fast-changing world of car connectivity.
A connected vehicle comes fitted with technology that enables it to communicate and exchange data wirelessly with other vehicles, devices and infrastructure. A fully autonomous vehicle, on the other hand, is capable of driving itself without a driver.
As we await autonomous vehicles, connected cars are everywhere. For example, Volvo's XC60 comes with a connected infotainment system, known as Sensus Connect and viewed on a 7-inch screen. Sensus includes Volvo On Call, which allows drivers to communicate with their car via an app to lock, unlock, check fuel levels, pre-heat, pre-cool, locate and check mileage on the car. The C-segment Vauxhall Astra comes fitted with OnStar, GM's personal connectivity and service assistant, making a 4G LTE mobile Wi-Fi hotspot. Up to seven devices, from smartphones to tablets, can be connected simultaneously.
Connected and autonomous cars will offer freedom to some of society's most disadvantaged.
CAVs will transform the lives of six out of every 10 people in the UK, according to research by The Society of Motor Manufacturers and Traders (SMMT), Connected and Autonomous Vehicles: Revolutionising Mobility in Society, the first comprehensive UK-based study of the human impact of CAVs. It canvassed the views of 3,600 people and found that this new technology will offer freedom to some of society's most disadvantaged, including those with disabilities, older people and the young.
The research, conducted with Strategy&, PwC's strategy consulting arm, shows CAVs have the potential to reduce social exclusion significantly. Six out of 10 (57 percent) people surveyed said this new technology would improve their quality of life. For young people, the impact could be even greater, with 71 percent of those aged 17 to 24 believing their lives would be improved.  Young people were most excited, with almost half (49 percent) saying they would get into a CAV today if one were available.  Older people are also set to benefit, with almost a third having problems walking or using a bus, and many unable to drive due to ill-health, poor eyesight or prohibitive insurance, making a strong case for self-driving cars.
Some OEM developments to help you stay connected
Connectivity has become a key priority for new car buyers.
This latest research confirms how connectivity between the vehicle, passengers and outside world has become a key priority for new car buyers. While the typical considerations of fuel consumption, performance and cabin comfort are still uppermost, staying connected while driving is moving up their list of priorities.
In terms of how things could shape up, Hyundai Motor has drawn up a connected car roadmap, introducing four main service fields as part of its 'hyper-connected intelligent cars' concept. The mid- to long- term development focus includes smart remote maintenance service, autonomous driving, smart traffic, and connectivity mobility hub, all of which will benefit from continued R&D investment in the fields of in-vehicle networks, cloud and big data analytics and connected car security technologies. Hyundai Motor is also accelerating development of its advanced ccOS (connected car Operating System), the core platform technology for its future connected cars.
Ford is also pushing back the technical boundaries in the connected car arena. Its SYNC 3 system incorporates much of the functionality desired by consumers today.
At the most recent CES, we spoke to BMW executives to learn more about the automaker's Connected Window, a prototype based on the new BMW 5 Series Sedan, as the future of personalised, connected mobility is unveiled. And from this July, BMW's Mini brand is enhancing connectivity and driver aids as part of a cockpit and instrument update. Mini Countryman and Clubman buyers who choose the optional Media Pack XL or Tech Pack will also now get Apple CarPlay preparation included. Last week, BMW Group, Intel and Mobileye divulged that they are to work with Delphi as a development partner and system integrator for their autonomous driving platform.
The 'always-on' connection provides endless possibilities to drivers.
The 'always-on' connection provides endless possibilities to drivers. If you enjoy the idea of connectivity and using additional layers of functionality through app downloads, Volkswagen has a solution that may appeal. Its Car-Net platform provides a variety of in-vehicle internet-based services, including remote vehicle access, roadside assistance, diagnostics and maintenance, and the ability to set speed and boundary alerts. The automaker has developed a new app which takes personalised connectivity to the next level.
In explaining VW's concept and the possibilities for its further development, Dr Marcus Heitmann, general manager for Volkswagen Car-Net, told just-auto: "Today there are already 2.1 million cars on the streets using Volkswagen Car-Net. But looking into the future we need to get away from being focused on the car. We need to focus on the customer. That's why we're developing an ecosystem which offers mobility services with a central User ID for the customer. But what's the benefit? A good example is an annoyance you always get when you step into a car that someone else used before. This may be a rental car or even a car from your friend. Today you have to change all the setup: switch music or stations, connect your phone and so on. In the future there is only one login with the Volkswagen User ID meaning the car receives all your preferences and is instantly 'yours'."
Mitsubishi Motors recently began offering its charging spot search smartphone app in Japan, with expanded features and support for Android Auto, via Google Play. It allows users to search for charging spots or check their availability in real time. Users can also share a charging spot on Google Maps and set it as the route destination.
Audi took part in the Google I/O developer conference last week to present its concept of a next generation infotainment system with fully integrated Android.
You might also like …
Many of us are familiar with shopping recommendations, such as Amazon suggesting books we might like to consider for holiday reading this summer. 'Machine learning' does the trick here.  It uses algorithms that can iteratively learn from data, in turn enabling a computer to make predictions and adapt to new situations.
In automotive industry circles, machine learning is being used in a number of ways, including predictive services. For example, Geely's Volvo Cars recently formed a "close partnership" with Google to develop the next generation of Android-based infotainment and connectivity which will launch on new models within two years. The automaker said the partnership "promises to revolutionise how customers engage and interact with their cars. The large catalogue of popular Android apps – developed by Google, Volvo or third-party app developers – will offer connected and predictive services in and around the car."
Last November, Inrix, a provider of connected car services, divulged that its Traffic will be integrated globally into the Volvo V40, V40 Cross Country, S60, V60 and XC60. Volvo Cars worldwide are now equipped with INRIX real-time and predictive traffic flow information for routes, travel times, and alerts to accidents and incidents on over five million miles of roads.  In 2015, Inrix was selected as the global traffic provider Volvo Sensus Connect.
Machine learning used to predict traffic jams before they happen.
Seat also aims to become a front-runner in vehicle connectivity, and to achieve this, is developing a navigation system which predicts traffic jams before they happen and suggests alternative routes. "We spend an average of 2.5 years of our lives at the wheel, and during rush hour in Barcelona, driving time can go up by 50 percent. Predictive navigation can help solve this problem, but navigation systems don't know this yet," said SEAT president Luca de Meo at the most recent Mobile World Congress.
Aside from in-car connectivity for one moment, the new VW Arteon is offering as an option for the first time predictive cornering lights with predictive control – thanks to camera-based information and navigation data, the bend is already illuminated before the driver steers into it.
Supplier visions of the connected car
In giving us a vision of the connected car, Alexander Klotz, head of advanced development, systems and technology interior division, Continental, told just-auto. "Connected vehicles are involved in fewer accidents, consume less energy, are rarely stuck in traffic jams and connect drivers and passengers with their digital life. To achieve this, vehicles are already becoming part of the Internet of Everything. As a consequence, the software in modern vehicles has grown to millions of lines of ever-evolving code. Keeping this highly complex system up-to-date has involved a trip to the auto repair shop up to now. This is why we are offering over-the-air updates for multiple vehicle electronics together with the satellite network company Inmarsat, enabling vehicles not only to be always-on and up-to-date but also to install new features and functions on the go. For us, these kinds of holistic vehicle updates really mark the final step for vehicles to become part of the Internet of Everything."
Ian Simmons, Vice President, Business Development, Corporate R&D, Magna International, says that car connectivity can be in multiple categories. He told just-auto: "One is that, as an enabler for the consumer to get more data and information, service and access, it is something that allows them to take their smartphone experience from the home into the car and office. So it allows them a 24/7 connectivity environment should they desire that.
"The second area is that connectivity will increase the ability for safety as it starts to interface with infrastructure, other vehicles and road conditions, it will give an ability where the vehicles will inherently be safer. And with more active safety being added then you will see accidents decrease.
"The third area is that if you look at the sophistication of electronics going into vehicles today, and the ability collectively to gather data and meaningful information from the vehicle, there is interest in that data from the OEMs, consumers and suppliers. Within that, there are some privacy issues, i.e. who owns the data?"
So, who does own the data?
"Personal data belongs to the driver."
With more and more cars offering some form of connectivity, there is a debate about who owns the data generated by such cars. "Our position is clear," Tom Gebhardt, President, Panasonic Automotive Systems Company of America, told just-auto. "Personal data belongs to the driver! So whenever it is a question of services requiring access to personal information, drivers or owners must always be able to decide whether their data may be forwarded for a service. However, traffic data for optimising traffic flow or road safety for example, should be made available to the world at large. For these types of services, we need standards for free, universal data exchange and overarching platforms in the cloud."
Simmons added that each jurisdiction will have a different way of looking at it. "It is still not clear how that data will be dealt with. But when you look at just how much data, how much consumer capability and commerce is available through this connectivity platform of the future, then it will take some dealing with. Not only that, there is an inferred reliability because if, say, your car is dependent on future 5G – or some other connectivity – then its reliability, uptime and robustness in terms of its software will become crucial." Quite.
The possibilities for connected cars seem endless
Self-driving car sharing opens opportunities for new business models and service providers to enhance that shared vehicle interior experience. If the driver has more time for other activities, the car interior could provide automakers with opportunities to generate a new revenue stream from the occupants' connectivity.