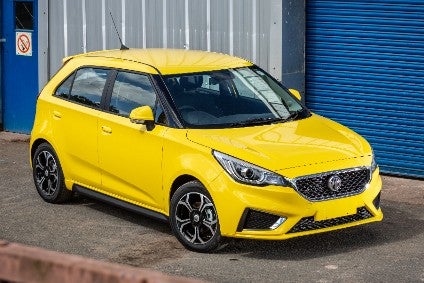 The Polo-sized MG3 first went on sale in its native China in 2012. Facelifted eighteen months later, and then for a second time in 2017, the updated car is finally arriving in Britain dealerships. The SAIC-owned MG Motor UK, the country's fastest rising brand of 2018, has also just laid out its future model plans.
MG – fastest expanding brand in UK
The 3 has always been a surprisingly fun to drive car and competitive against rivals in the second tier of the B segment. Formerly sold mainly on price, little by little MG Motor UK has lifted the image of its models and in so doing, of the brand. This it has done by expanding the dealer network, increasing the length of warranties and adding SUVs to the range.
Year to date, the octagon logo marque is the British market's best performer, registrations having risen by 122 per cent. In July, even though MG overtook Porsche (813 sales versus 758) it modestly kept quiet about this fact.
The current strategic plan calls for sales of 8,800 cars this year, compared to 4,441 in 2017 and 4,192 in 2016. Not only is MG Motor UK on track to reach its goal but last year's total was surpassed on 4 July.
Dealerships – from 80 to 120 by 2020
Keeping the momentum going also means adding dealerships. There are presently 80 and a further four are due to open their doors by year-end. After that, the intention is to continue the expansion until there are 120 outlets in two years' time.
Key to the brand's success is the decision to evolve into crossovers and SUVs. The GS was added to the range two years ago. It accounted for 12 per cent of MG Motor UK's volume in the seven months to the end of July.
Last year there was another additional SUV, the ZS. Year to date, this model's registrations now make up more than half of all UK market deliveries. Proving that there is still life in cars – even ones which are much older than the rival best selling Fiesta and Polo – more than 30 per cent of MG customers have chosen the 3 in 2018.
No diesel, no auto, no matter
The little five-door remains limited to one engine and one transmission in the UK, and the manual gearbox has only five speeds. The lack of diesel seems not to matter, nor does the unavailability of the six-speed transmission or DCT which so many cars in the B segment can be specified with.
If SAIC ('sike') is smart, it will continue to develop the 3, and its priorities should be updated powertrains. That is going to be an essential on the company's To Do list as the stated life cycle of this model will extend into 2022, at least in Britain.
Other plans laid out by the state-owned SAIC's UK MG operation have just been announced. These were in a media presentation by Daniel Gregorious who heads up Sales and Marketing. Highlights are as follows:
2018: 'New' MG3
2019: ZS BEV and new C segment SUV
2020: PHEV powertrain for the C-SUV and a new D segment SUV
2021: electric convertible and a PHEV powertrain for the D-SUV
2022: new MG3 and a new ZS
The 'C-SUV' is the HS, a model that will be revealed at the Chengdu motor show next month. In Britain, this replaces the GS. Whether or not the same thing applies in China was not stated. It might be that SAIC wants to keep the older model going, and there seems no good reason why it shouldn't, as the GS is not yet four years old.
An electric future
Even a glance at the bullet points shows where MG is headed: into the world of electrification. This is probably also why SAIC has waited so long to return MG to LHD European markets.
The battery-powered sports car will surely be a great draw for publicity when it appears, linking what will by then likely be an all-electric or petrol-PHEV model range in not only the existing markets of the UK, Ireland, Cyprus and Malta but multiple left-hand drive European-region countries. The parent company intends to set up shop first in the LHD European Union and EFTA markets where electrified cars are already well understood and relatively popular. Will it be a factory-owned approach or via local partners? No-one is saying just yet, especially as there are still no officially announced plans for the brand's re-entry to markets it hasn't been present in since the days of the ZR, ZS and ZT.
MG Motor's Daniel Gregorius notes that SAIC is serious about its intentions for the region, having already put the ground work in by how the UK market has been approached. One example: the eight-story building which MG Motor UK now operates out of in Marylebone is owned, not leased.
Choosing one of the high-priced villages of central London as its base is a statement of intent. Not only is this a location intended to appeal to the creative talent which SAIC wishes to see joining MG Motor UK, but the ground floor there contains a showroom for all manner of MG models, including historic cars. Gregorious says this has drawn many prospects in and a common statement can be along the lines of, "I didn't know MG did new cars". The sight of SUVs causes further intrigue.
SUVs losing momentum in China but not in Britain
Crossovers and SUVs may be losing favour in the world's largest market as registrations data for China showed yet again in July. That trend, if it is one, hasn't reached Britain. As cars become less popular here and elevated vehicles replace them in what people prefer, it's worth remembering that the B segment is still the largest, of which models such as the Fiesta and Polo make up a high percentage. So it is that the MG3, even as a minor player in its class, remains relevant.
The newly updated 3 gains a revised engine, which of course it has to have to be in compliance with the EC's latest Euro 6d Temp emissions norms, mandated from 1 September. The 1,498cc cylinder unit produces 78kW (106PS) and 137Nm of torque, the second of these outputs being the obvious clue that it lacks turbocharging. Performance isn't a strongpoint, although this being a fairly light vehicle (1,170-1,200kg), the 3 is by no means disgraced.
A 0-62mph time isn't mentioned by MG Motor; instead it quotes 10.4 seconds for 0-60mph. Top speed is 108mph and this applies to all three trim levels: Explore, Excite and top-spec Exclusive.
Economy is very good for a petrol engine: on the NEDC Urban cycle, the 3 returns 38.9mpg. Those who drive a touch more gently might even see close to the 47.1mpg Combined official number. As there is no automatic transmission, all three model grades offer the same CO2 output of 140g/km.
What the 3 has never lacked is interior space. The boot's capacity is 285 litres, which is good for such a small car, and there is more than adequate space for the lanky of limb both front and back. Seats are firm but not overly so, and the new dashboard is a handy update. Very few vehicles lack telescopic adjustment for the steering wheel: alas the MG3, even in updated form, is one of them. It's the only serious fault of a car which delivers much for not a lot of money.
Pulling back some major points, MG Motor UK includes a standard seven-year warranty. As per the same guarantee offered by Kia Motors, there is no limit to the number of owners which this applies to (no matter how many times the car is sold on over the seven years). Unlike the best in the market though, MG caps the mileage, limiting it to 80,000.
Summary
SAIC seems to be doing a lot of things right with the MG brand in the UK. The updated 3 will likely sell well, and its arrival just ahead of the 68 registration plate change is good timing. The current no deposit and zero per cent finance offer will be the icing on the cake for many buyers.
Manufacturing and platform
SAIC has 300 engineers working on MG and the Chinese market's Roewe brand models at Longbridge but the former SKD operation there was wound up a few years ago. Instead, the MG3 for Britain is manufactured at the Lingang factory in Shanghai. The car uses SAIC's own Global Zero architecture.
As for the future models, if a new MG3 takes until 2022 to appear in China, that will extend the current car's life cycle to a decade. This seems a strange decision.
Look at what has happened to the Opel and Vauxhall Corsa as the then GM Europe heavily revamped rather than replaced the eight-year old Corsa in 2014: the car is fading fast as newer rivals with fresh technology overtake it in terms of buyer appeal. The 3 sells in small numbers in Europe so it's not that big a deal here. In China though, novelty is all: MG will have a major task on its hands to launch the eventual replacement, not to mention risking damage to the brand by retaining such an aged vehicle in the line-up.
An e-Motion roadster
When it comes to SUVs, the D-segment model noted above should share much with the Roewe RX8. The latter was released for sale in China during March. The RX8 is 4.9m long, so really, it's an E segment vehicle. Available with five or seven seats, this model uses the same body-on-frame platform as the Maxus/LDV T60 pick-up and D90 SUV.
A fully electric roadster appears to be a curious model for MG when the Chinese market is easily the brand's largest. Speaking at the 2017 Shanghai motor show where the E-Motion concept was revealed, brand executives claimed that this design study could well herald a production car.
The E-Motion had scissor doors and was a big coupé with a front end which made it look like a Jaguar. If built, the sort-of successor for the long-ago MGF would be based on SAIC's Electric Modular Architecture.
The full line-up of what is planned for MG globally can be seen in PLDB, just-auto.com's future vehicles database, available via subscription.