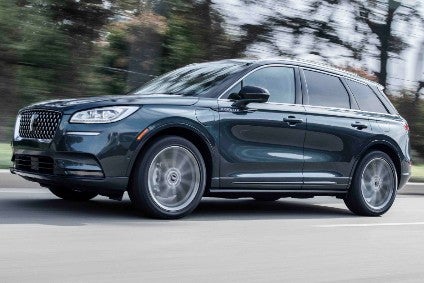 Ford recently appeared to hint that it isn't content with Lincoln being largely restricted to North America, China and the Middle East. Division president Joy Falotico no longer has responsibility for Ford Marketing too, freeing her up for what could be a bigger role in broadening the luxury brand's global reach.
Lincoln has an increasingly good story to tell in both the US and the PRC where targeted spending by Ford on what have been mostly the right models is seeing the brand thrive. There's an obvious gap for something to go up against the extended wheelbase versions of the BMW 3 Series, Mercedes C-Class and Audi 4s in China yet it's unlikely that Ford would approve such a model just for that market.
Fewer than 25,000 locally built Lincolns were sold in the PRC during the year to the end of September, and Ford doesn't see much of an opportunity for a mid-size sedan in North America, so a successor for the MKZ is a non-starter. In fact, after Continental production ends later this month (5,060 built YtD), the brand will no longer be offering even a single car model, the final MKZ having been made in July.
For the 2021 model year, the range of models is reduced to four. These stretch in size from the Corsair to the Navigator with the Aviator and Nautilus in between. There are no EVs though, at least not yet, but PHEVs are either now here or soon to be launched.
Ford reportedly has plans to add a 4.3-4.5 m long crossover-coupe to Lincoln's line-up in 2022, with the model set to be manufactured in China as well as North America. Such a vehicle will most likely be based on the front- and all-wheel drive C2 architecture. It should become the cheapest Lincoln, being aimed at the Lexus UX, Audi Q2 L and Q3, BMW X1, Mercedes GLA, Audi Q3, Volvo XC40, Range Rover Evoque as well as an unnamed future Cadillac. Both PHEV and EV power would be essential.
The model name could turn out to the eGlide, Ford having submitted an application for the word to the Patent and Trademark Office six months ago. On the other hand, it could instead apply to a larger model or even be Lincoln's term for all future electric vehicles in the same way that Audi uses e-tron.
Another trademark application, in this case for the brand's logo, was made to the European Union Intellectual Property Office (EUIPO) by Ford on 12 August. If Lincolns are on their way to EU and EFTA markets later in the 2020s, then not just a small crossover but a line-up of several models would be needed.
Announced in November 2019 and revealed at that month's LA auto show, the plug-in hybrid version of the Corsair follows the naming convention of the large Aviator by being called Grand Touring. The 2.5-litre four-cylinder engine is paired with two motors and all-wheel drive is standard. New for North America's 2021 model year, production of the Aviator Grand Touring will commence on 9 November. The maximum range on energy stored in the battery is around 25 miles.
Lincoln took the unusual position of placing the Grand Touring in the middle of its Corsair range, in terms of power. The output is more than that of the 2.0-litre turbo but less than the 2.3-litre turbo.
For the moment at least, Ford's JV with Changan Auto is only building non-PHEV versions of the Corsair in China. The Grand Touring should be added to the line at the Chongqing factory later this year.
All Corsair variants are due for a facelift in 2023 with the second half of 2026 being the target date for CX721, the next generation model. That vehicle will more than likely be an EV or at least available as one.
New in mid-2019, the Aviator is aimed at the Volvo XC90 and others in its class. Like its Explorer twin, Ford's rear- and all-wheel drive CD6 architecture features. There had been surprise in March 2019 when prototypes powered by a diesel engine were filmed in Colorado. This suggests that Ford's 3.0-litre V6 will become available for the 2021 or 2022 model years. This could also apply to the Explorer.
Ford also builds the Aviator in China, in partnership with Changan Auto, production having commenced in April this year. The standard engine is a 261 hp and 553 Nm 3.0-litre petrol V6 turbo.
The code for the next Aviator is said to be U732.
The CDX747 project code is for an electric crossover similar in size to the Nautilus, due for launch in North America during the final quarter of 2022 and manufactured at Flat Rock on the same line as a related Ford model, CDX746.
Ford's president for North America revealed plans for the Lincoln in January 2019, and suppliers named the project code seven months later, along with the Ford's code. Speaking at a conference in Detroit, Kumar Galhotra said the architecture would be the same as that used for a battery-electric Ford which was already known about.
Production should also take place in China. The vehicle will likely be aimed at the Audi e-tron, Jaguar I-Pace, BMW iX3, Mercedes EQC, Polestar 2 and others in that size class.
In November 2019 there were reports from suppliers which named U787 as the code for an electric Lincoln SUV to be based on Rivian's skateboard architecture. This also meant that Lincoln would in theory have had a 5m long electric crossover and a 5.4 m long electric SUV. The second of the pair was shelved in April 2020.
This electric crossover could also serve as the successor for the Nautilus if there is no direct replacement for that model.
Will there be a large EV based on Rivian's skateboard architecture by 2025? Ford and the start-up announced a vehicle alliance in April last year. Specifics, such as what body style, where it would be made and so on were not known. As well as injecting US$500m into Rivian, Ford Motor Company was to manufacture the model in question using Rivian's electric vehicles skateboard architecture. It should be noted that no brand was mentioned.
Reports out of the US in November 2019 seemed to suggest that the model in question would be a Lincoln, with the project code of U787. The brand was confirmed in a January statement. Three months later, amidst all its US plants having been idled due to COVID-19, Ford told the media that due to what it termed "the current environment", it would no longer be going ahead with this vehicle. There was no explanation as to why, specifically, or any specifics of where this vehicle would have been positioned.
"Our strategic commitment to Lincoln, Rivian and electrification remains unchanged and Lincoln's future plans will include an all-electric vehicle consistent with its Quiet Flight DNA," a statement from the brand announced. The division would instead have "an alternative vehicle based on Rivian's skateboard platform."
It may now be the case that whatever type of EV eventually appears won't arrive until the 2024 model year in North America.
Reports for many other manufacturers' future models are grouped in the OEM product strategy summaries section of just-auto.com.
Future platform intelligence
More detail on past, current and forthcoming models can be found in PLDB, the future vehicles database which is part of GlobalData's Automotive Intelligence Center. That includes Lincoln vehicles not included in this report such as the Nautilus and Navigator.
This was the third of three features which looked at selected current and future models of Ford Motor Company's passenger vehicle brands. The first one was a round up of Ford's cars and electrified models. This was followed by an exploration of pick-ups and SUVs. The next OEM to have its future models strategy explored will be Suzuki including Maruti.