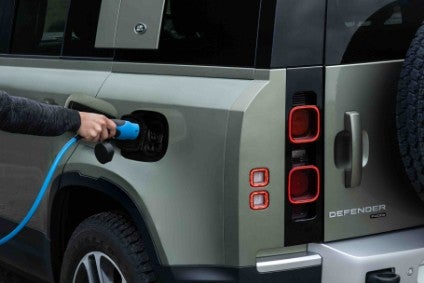 Land Rover's strategy of expanding three vehicle families – Defender, Discovery and Range Rover lines – continues, with the early 2020s looking like a busy time for the brand. More plug-in hybrids are arriving, full electrification is coming, buying in engines from Ford is ending, and a new platform arrives next year.
Defender line
A project which once had the internal code of L851 has been around for some time within JLR. The company realises the potential of having a model in the same style as the Jeep Renegade and after years of delays, the launch timing could now be exactly right as the little Jeep is more than six years old.
The L860 'Defender Sport' should probably hit the market towards the end of next year although several rounds of cost cutting within JLR might have delayed it into 2022. Petrol, petrol-electric and fully electric powertrains should feature but diesel isn't guaranteed. While there had been plans for three- and five-door bodies, the shorter of the pair could have been shelved due to the axe being swung on projects considered non-essential.
It is not yet known what architecture this model will use or where it would be built. There have been assumptions that Tata's OMEGA platform will be used but JLR may instead standardise MLA (see below) for all future vehicles.
It's still way too early to be talking about any exterior updates for the Defender, the first update likely to be pencilled in for 2024. Production started slowly in late 2019 and for obvious reasons, the global roll-out had to be delayed in multiple important markets as the factory was idled due to COVID-19.
L663 uses D7x (where x stands for 'extreme'), a version of the D7u unibody platform from the Discovery. Such are the differences that the body-in-white has to be made on a different line at the Nitra plant where both vehicles are manufactured.
Jaguar Land Rover would like to build as many as an eventual 100,000 units a year of this model. The former Defender averaged fewer than 20,000 units/annum in its final years. To achieve the production target there are three lengths (90, 110 and 130 – references to wheelbase dimensions in inches of the former shape models) as well as four- and six-cylinder engines. The range will eventually comprise:
4,323 mm long standard wheelbase '90' three-door with seating for five or six (production was due to start in March but had to be delayed due to COVID-19)
4,758 mm long extended wheelbase '110' five-door with seating for five, six or five+two (production from November 2019)
5,100 mm long extended wheelbase '130' five-door with seating for eight (production delayed from August to early 2021)
While there are three lengths, there are only two wheelbases: 2,587 mm for the 90 and 3,022 for both 110 and the yet to be seen 130. Plans for pick-ups were apparently dropped.
The first variants were:
D200, 147 kW (200 PS) and 430 Nm (317 lb ft) 2.0-litre four-cylinder diesel
D240, 177 kW (240 PS) and 430 Nm (317 lb ft) 2.0-litre four-cylinder diesel
D300, 221 kW (300 PS) and 650 Nm (479 lb ft) 3.0-litre six-cylinder diesel
P300, 221 kW (300 PS) and 400 Nm (295 lb ft) 2.0-litre four-cylinder petrol
P400, 294 kW (400 PS) and 550 Nm (406 lb ft) 3.0-litre six-cylinder petrol
The four-cylinder diesel D200 and D240 are discontinued for Land Rover's 2021 model year, the brand announced a short while ago. They are replaced by the D200 (200PS and 500 Nm) and D250 (249PS and 570 Nm) versions of JLR's 3.0-litre straight six mild hybrid diesel.
The PHEV powertrain from the Range Rover, Range Rover Sport and others such as the Jaguar F-Pace is another novelty for the 2021 model year. Called P400e, it has 297 kW (404 PS) and 640 Nm (472 lb ft) 2.0-litre four-cylinder petrol engine and 105 kW motor. The battery's capacity is 19.2 kWh and maximum range in EV mode is 47 km (27 miles).
A petrol V8-powered Defender should be announced soon. Prototypes have been photographed with four tailpipes and registration plates which denote a 4,999 cc V8 as the power source. At first this made no sense as JLR's supercharged V8 was due to go out of production as Ford closes its powertrain plant in South Wales. However, there was a 'lift and shift' operation from Bridgend to a JLR facility in Wolverhampton earlier this month. It is now thought that the supercharged V8 will remain in production until 2023-2025.
In the USA, there are two Federalised Ingenium gasoline engines: a 296 hp 2.0-litre and a 395 hp 3.0-litre. The Defender was new for the country's 2020 model year but due to COVID-19, the first customer deliveries (110 only) were delayed until late May. The same applied in the UK and other European countries. Chinese market deliveries commenced in July.
We should expect a life cycle of at least 10 years for the Defender.
Discovery line
It's been around since late 2014 yet there is much life remaining in the Discovery Sport. The latest derivative to be added is the P300e, a plug-in hybrid.
Available to order since April 2020, initially only in the UK, the PHEV is powered by a 200 PS 1.5-litre three-cylinder petrol engine driving the front wheels and an 80 kW motor positioned on the rear axle. The transmission is an Aisin eight-speed automatic rather than the ZF nine-speed gearbox of other Discovery Sports. The 15.1 kWh battery pack is supplied by Samsung. Maximum range in EV mode is claimed to be 38 miles while the WLTP-rated CO2 average can be as low as 36 g/km.
The next Discovery Sport likely won't be in production until JLR's 2024 or 2025 model years. That means one more facelift for L550 in 2022 and an eventual decade-long life cycle. At the moment, it isn't yet known if the architecture for the future L571 will be PTA or MLA.
The L462 Discovery remains a disappointment in terms of worldwide sales. JLR plans to remedy that situation soon by announcing a makeover, a raft of new engines and the addition of a plug-in hybrid. The big SUV hasn't so much suffered from love-it-or-loathe-it looks but more that it is considered less attractive than its boxier, long-lived predecessor. The controversial positioning of the registration plate on the tailgate should be altered as part of the facelift, while there will be a major update for the infotainment system.
A second facelift for the Discovery should happen in 2023, and either before then or at the same time, a fully electric variant will be added. The fourth generation model is due in 2026.
Range Rover line
JLR's long life cycles means the Range Rover Velar is yet to have a facelift; not that it needs an update, the looks still being highly admired even after more than three years of production.
What did change recently was the engine offerings, a revised portfolio having been announced only a few days ago, shortly after similar updates and a facelift for the Jaguar F-Pace. The highlights are the addition of a petrol plug-in hybrid and JLR's straight six engines replacing the former Ford V6 units. All engines are turbocharged and linked to an eight-speed ZF automatic transmission sending torque to both axles. The line-up has become:
D200: 204 PS & 430 Nm 2.0-litre four-cylinder diesel
D200: 204 PS & 430 Nm 2.0-litre four-cylinder mild hybrid diesel
D300: 300 PS & 650 Nm 3.0-litre six-cylinder diesel
D300: 300 PS & 650 Nm 3.0-litre six-cylinder mild hybrid diesel
P250: 250 PS & 365 Nm 2.0-litre four-cylinder petrol
P340: 340 PS & 480 Nm 3.0-litre six-cylinder mild hybrid petrol
P400: 400 PS & 550 Nm 3.0-litre six-cylinder mild hybrid petrol
The MY2021 update also extends to interior revisions, including a new steering wheel and gear selector. There should be a mild facelift for model year 2022, that being the only round of styling changes before a second generation Velar arrives in 2025.
Series production of L461, the third generation Range Rover Sport, should commence in England in September 2021. It will use MLA, the same modified version of JLR's Pla/D7u architecture as the fifth generation Range Rover.
Launching a few months ahead of the RRS, the next Range Rover will be another key new model for 2021. Due to be in production around mid-year at the Solihull plant, L460 will introduce the Modular Longitudinal Architecture (MLA). One of the key differentiators compared to D7u is the potential for full electrification. Sources indicate that a Range Rover EV is coming but it won't be launched next year.
Reports for many other manufacturers' future models are grouped in the OEM product strategy summaries section of just-auto.com.
Future platform intelligence
More detail on past, current and forthcoming models can be found in PLDB, the future vehicles database which is part of GlobalData's Automotive Intelligence Center. That includes Land Rover vehicles not included in this report.
This was the third of three features in a series which examined the current and future models of Tata Motors' passenger vehicle brands. The first one looked at the Tata brand, with Jaguar the topic of the second report. The next OEM to have its future models strategy explored will be Ford Motor Company.