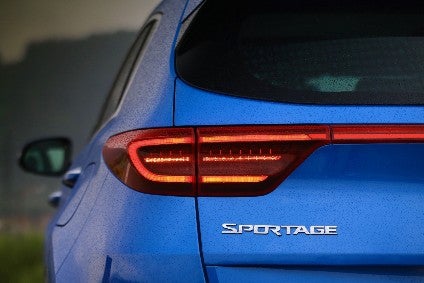 WLTP changes made for a strange September, with Opel-Vauxhall Europe's number one ahead of BMW, Mercedes and Ford with Volkswagen plunging to fifth. Of all the brands in the top ten, Kia, in ninth place ahead of Hyundai, was the only one to post higher sales. That wasn't due to a fluke month either, it was thanks to multiple new models and a freshened Sportage in particular.
Sportage – Kia's global best seller
The QL series Sportage will have been in production for three years as of next month. Hyundai Motor Group updates its models more frequently than many mass makers so it's not unusual for Kia to have already released a facelifted Sportage. And why would it not do so, with the C-SUV segment just about the most crowded and competitive of all size classes?
In many countries, and that includes the UK and all of Europe, this is the brand's best seller, plus it's the brand's global number one. Numbers have dipped in 2018 (the CY2017 total was 131,000) but Kia reckons that's down to stock levels having been run down some months back as dealers got themselves ready for a relaunch with the updated car. Europe wide, Sportage deliveries numbered 84,621 cars for the year to the end of September of which the total for the British market was 28,795 (CY2017 in UK, registrations fell just short of 40,000 units).
Record Jan-Sep in Europe
Kia Motors Europe (KME) recently told us it had achieved a record share of the regional market over the first nine months. What it didn't state in relation to the 3.1 per cent share and 385,818 vehicles is that it's been faring very well indeed whilst Hyundai's fortunes have gone the other way. In September, and I used ACEA data to discover this, Kia sold 49,602 vehicles compared to only 47,012 Hyundais. Let's see what happens in the final quarter though, as all makes get back on an equal footing after the WLTP changes which have been affecting availability of multiple models. Also, year to date, the total is 425,854 for Hyundai Motor Europe so it remains well ahead of KME.
Britain being Kia's number one EU market, what happens here has a major impact on KME's results. As we know, the market dropped by 20.5 per cent in September yet not all brands suffered double digit declines. Kia in fact was up four per cent, its year-to-date total reaching 78,726 vehicles (Hyundai: 75,798). This brand has come a long way in a relatively short time: it isn't that far behind Nissan (85,200) or Toyota (85,742).
As is so often seen when brands break out of the minor league and go mainstream, the recipe is usually nothing more than consistent, determined progress. Making the cars ever more appealing yet not diluting what was already great (the famous seven-year warranty) are two big parts of how Kia has been able to make so much progress. The cars also genuinely seem to only get better after a mid-life facelifts too – more refined and usually more attractive.
New styling, new engines
The designers haven't messed too much with the looks of the Sportage although anyone with the outgoing model will immediately notice the fresh look for the headlights, lower part of the front end, different alloy wheel designs and some adjustments at the back end in addition to the new C-shaped tail lights. It's a good facelift and there have been changes to the engine line-up as well.
The big news is a diesel mild hybrid powertrain. This features a 0.46kWh 48-volt lithium-ion battery and a Mild-Hybrid Starter-Generator (MHSG). By electronically controlling the starter-generator using the inverter, the system switches between two modes: 'motor' and 'generator'. Connected by a belt to the crankshaft, under acceleration the MHSG provides up to 10kW of electric assistance in 'motor', reducing engine load and emissions. In 'generator' mode, the system harvests kinetic energy during in-gear deceleration and braking. This it feeds back into the batteries.
A DC/DC converter allows the 48V battery to connect to the on-board power supply, allowing a smaller and lighter 12V battery for the car's ancillary electronics. The adoption of the MHSG also means the starter motor has been downsized as it's used primarily just for cold starts at low temperatures. Charge from the 48V battery helps to start the 2.0-litre engine in other conditions.
The facelifted Sportage, along with the mild hybrid powertrain, were announced to the media in May ahead of the worldwide sales release in the third quarter. Another change was the 1.7-litre diesel being replaced. Its successor is HMG's 1.6-litre CRDi which produces 115 or 136PS. Cars with the second of these engine are available with all-wheel drive and a seven-speed double-clutch transmission. There is also a 130PS 1.6-litre petrol engine or a 174PS turbo of the same capacity, each one being fitted with a particular filter due to the introduction of Euro 6d Temp rules.
Each of the lowest output 1.6-litre engines is a bit on the slow side (0-60 takes 11.1 seconds for the 130PS petrol and 11.4 for the 115 diesel) but each does at least offer strong value, pricing starting at GBP20,305 and GBP20,900 respectively) for the '1' trim level. The 3 model grade had been linked to the former 1.7-litre diesel so it's been eliminated, leaving 4, Gt-Line and GT-Line S as the other choices. You can now pay as much as GBP35,140 for a Sportage, which is the cost of the Mild Hybrid 2.0-litre. This is the only variant which has an eight-speed automatic gearbox, a seven-speed DSG being an option for other engines and a six-speed manual specified as standard for most.
The verdict
The Sportage isn't quite as agile a handler as the VW T-Roc but it's better than it had been even though the ride remains a little on the firm side. Kia claims quicker responses from what is a new rack-mounted electrically-assisted steering system and you can notice that. So all in all, a useful update and including the addition of some new safety tech and convenience features means higher pricing seems justified.
Will this model remain Kia's best seller? In Britain and also in all of Europe, the company thinks the new Ceed range will gradually take over, becoming number one in 2020. That could well happen, as the Sportage ages at the same time and yet this latest update might help to lift the total number of retail sales in 2019. What seems certain is that KME's Slovakian factory will be kept busy making both these model lines.