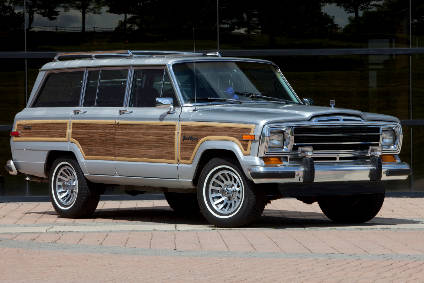 The penultimate feature in the series concerning the future model plans of FCA' passenger vehicle brands is an analysis of what's ahead for Jeep.
Having observed the Indian market success of the Renault Kwid crossover, FCA is said to be considering the potential for a global sub-Renegade model. If an A segment SUV is given the go-ahead it would likely share a platform and mechanicals with the Trekking version of Project 170, the next Panda.
The little Fiat is due to reach European markets in 2018 or 2019 so a baby Jeep would be as far off as 2020. The Panda will be manufactured in Italy at Pomigliano d'Arco so that would be the most logical place to produce a mini-Jeep. However, Kragujevac is presently having troubles producing anywhere near capacity numbers of the 500L and 500L Living MPVs and FCA has spent a lot of money on the Serbian plant. Putting another SUSW architecture model into that low-cost factory could be a clever move.
The littlest Jeep could end up being quite a big deal. Such a vehicle would also potentially be very successful in Brazil and India: it could be made there too.
Project B-SUV/530 (and 521 for Brazil's localised model), which became the Renegade, has been in production since mid-2014. The first plant was SATA in Italy, otherwise known as Melfi. The car is also built in at Goiana in the northeastern Brazilian state of Pernambuco, in China at Guangzhou and will enter production at Tata Motors and FCA's JV Ranjangaon factory in the Indian state of Maharashtra by 2018.
The Renegade, currently the smallest Jeep, was revealed at the Geneva motor show in March 2014 and is built by FCA Italy alongside its twin, the Fiat 500X. The latter replaced the Suzuki-based Fiat Sedici. Fiat announced the build location and a euro 1bn refit for its Melfi plant in December 2012. This would be the only factory to build this Jeep, Fiat stated at that time. The Renegade's US market debut was at April 2014's New York auto show. It went on sale in North America during December 2014, for the 2015 model year and it has been hugely successful.
The Jeep entered production at Melfi first, followed by the Fiat 500X. Fiat's media release of 20 Dec 2012 said that Melfi would be able to build up to 1,600 vehicles a day via three shifts. The plant can manufacture up to four different vehicles on the same line. Renegade production commenced in June 2014. Melfi is said to have 280,000 units of annual capacity for the 500X and Renegade, with the Jeep taking up roughly 150,000 units of that. The architecture is SUSW ('Small Wide'), as introduced by the Fiat 500L. Both front-wheel drive and four-wheel drive variants are available.
Meanwhile, production of the first Brazilian-made Renegade at Goiana was originally due to start in late 2014 but on 31 March 2014 Sergio Marchionne stated "Start of production at the new Pernambuco plant is expected during the first half of 2015. Initial production capacity will be 200,000 vehicles per year with models based on the Small Wide architecture that will strengthen our offering in the mid-size passenger car segment". The site has an integrated supplier park, as well as product engineering and testing facilities. Up to 300,000 engines and 400,000 gearboxes per annum can be made on-site. The Renegade was the first vehicle to be built at Goiana.
The model built in China is via a GAC FCA joint venture. Chrysler told the media in April 2014 that three Jeep models would be made in Guangzhou from late 2015, but did not name them. According to a curiously worded statement, "GAC Fiat is establishing a manufacturing branch in Guangzhou". Given the short space of time between April 2014 and the end of 2015, the "manufacturing branch" was suspected to be an existing GAC facility, not a new plant. GAC FCA has one production plant but this is in the city of Changsha and it makes Fiat cars.
As expected, the plant in question for Jeep production turned out to be a GAC facility which is now part of the GAC FCA joint venture. Renegade production commenced at this plant in April 2016. It is located within the manufacturing base of the GAC Group's passenger vehicles in the Panyu District, Guangzhou. The factory has the production capacity to build 160,000 vehicles a year.
After Indian build commences, the next news for the Renegade should be the announcement of a mid-cycle styling update. That should take place in 2018 with the replacement model to be launched in mid to late 2021. Renegade 2 will use SUSW Evo, an update of the current model's platform.
In the size class above the smallest existing Jeep is the new Compass. It replaces not only the outgoing model but the Patriot too. This rival for the Nissan X-Trail/Rogue had been due to go on sale in North America and Europe in early 2013 but the start of production was delayed many times. Production finally commenced in September 2016 with the first plant to build this model being Goiana. Cars for North America will be sourced from Mexico with build set to commence at Toluca during the first quarter of 2017.
Production in India will commence in mid-2017. FCA spent the equivalent of US$280m to lift the capacity of the JV plant which it operates with Tata Motors in Ranjangaon, some 50km from Pune. The Compass will be the first Jeep to be made there. Cars for RHD European markets will come from India, and LHD cars from Brazil, the head of Jeep Mike Manley told journalists at the LA auto show in November.
GAC FCA, meanwhile, will manufacture the Compass in China. In June 2014, GAC Fiat Automobile broke ground in the south China city of Guangzhou for its second assembly plant. The 4.2 billion yuan factory will be where the Compass is made, with initial capacity said to be 160,000 vehicles per annum. In China, the main rival will of course be the hugely successful Haval H6.
The US should be the Compass' largest market. There, it will challenge the segment leading Toyota RAV4 and Honda CR-V as well as the Ford Escape, Chevrolet Equinox and Nissan Rogue. In Europe, where FCA said the Compass will be available from the second half of 2017, the Nissan Qashqai, VW Tiguan, Peugeot 3008, Renault Koleos and other big sellers are to be the key competitors.
North America's Compass had its premiere at the LA auto show in November, as did the 2.4-litre engine, which is standard in the region. Front-wheel drive variants will be available with a six-speed manual transmission. There will be two four-wheel drive systems and that also means both six-speed and nine-speed automatic gearboxes will be available for these. A rugged Trailhawk variant will be part of North America's model range.
The Compass will likely have a seven year lifecycle, so a facelift is due to appear from around March-June 2020 with the replacement model expected for release in the second half of 2023. US production of the now previous generation Compass will cease in a few days' time and the same applies to the decade-old Patriot.
The D-SUV Cherokee, which is one of the Jeep brand's best sellers worldwide, is built mainly at Toledo North in Ohio. This replacement for the Liberty/Cherokee had its global debut at the New York auto show in March 2013. Limited production started the following month but the ramp up was delayed several times as a software glitch concerning the then-new nine-speed transmission was sorted out. Chrysler began to ramp up again from October 2013.
The transmission is supplied from the ZF Transmissions Gray Court plant in South Carolina. The same nine-speed unit goes into Land Rover's Range Rover Evoque and Discovery Sport models.
The model name switched to Cherokee for all markets, with the exception of China: the previous vehicle was the Jeep Liberty in North America. The Chinese market name is Zi You Guang, with that model having been built in Changsha since October 2015. This is the same GAC FCA plant which produces small numbers of the unsuccessful Fiat Ottimo and Viaggio models.
The standard US market engine for the Cherokee is the Tiger Shark 2.4-litre MultiAir four-cylinder unit (184hp), with a 3.2-litre version of the Pentastar V6 (271hp) optional.
There are three 4×4 systems: – Active Drive I with one-speed power transfer unit (PTU) – Active Drive II with two-speed PTU and low range – Active Drive Lock with two-speed PTU, low range and locking rear differential.
The Cherokee is due to be facelifted for North America's 2018 model year, with the China-built car having an equivalent update a year later. Each should be replaced in 2020 and 2021 respectively.
US production of the next Cherokee will not be at Toledo North. Instead, the vehicle will switch to Belvidere in Illinois. The reason for this is the conversion of FCA's Toledo manufacturing complex to body-on-frame vehicles: the next Wrangler series will be made there. Before then, production of the existing Cherokee will also shift out of Toledo North and into Belvidere. This is expected to take place in March 2017. Toledo North will then be converted to body-on-frame production. This should be completed by September 2017.
JK72 and JK74 are the existing Wrangler and Wrangler Unlimited, two vehicles which are getting to the end of their lives after long production runs. They use the same body-on-frame platform as the 1996-2006 TJ model. North American sales started in October 2006, the model having had its debut at that year's Detroit motor show.
These old-school Jeeps were launched with a standard 205hp 3.8-litre pushrod V6 but for some markets, a 2.8-litre four-cylinder turbo diesel, supplied by VM Motori, followed. These diesel versions of the Wrangler and Unlimited debuted at the Paris show in September 2006. The Unlimited, which has four doors and a longer wheelbase, was new for North America's 2007 model year. It has since become the best selling bodystyle.
For North America's 2012 model year, Chrysler gave the Wrangler and Unlimited a far more powerful gasoline engine. This was also the first pairing of the Group's 3.6-litre Pentastar V6 with a manual gearbox. The old four-speed automatic was also ditched for the 2012 model year. The manual is a six-speeder, while the auto has five speeds.
A Wrangler powered by a then-new 3.0-litre V6 had its global debut at the Chengdu motor show in August 2013, going on sale five months later. This addition to Chrysler's Pentastar family produces 230hp. For the moment, it is sold only as China, as the engine capacity places the vehicle below a tax threshold.
Even though replacement models are due to enter production next year, FCA is said to be planning to keep building the current Wrangler and Unlimited into the first quarter of 2018.
In July 2013, there were reports attributed to unnamed suppliers which stated that the replacements had been delayed from 2015 to mid-2018. Then in March 2014, Sergio Marchionne appeared to state in a press conference that a new Wrangler could be launched in early 2015. Just one month later, Mike Manley, the head of Jeep, told an investors' gathering at FCA in Auburn Hills that the Wrangler would be replaced in 2017. The model is now reportedly due to appear next July.
A pick-up bodystyle will be added for the Wrangler replacement, with such a model to be possibly sold as the Jeep Gladiator from the 2019 model year (August/September 2018). This would be a link to multiple pick-ups sold with that badge since the early 1960s as well as a concept from 2005.
The Wrangler, Unlimited and Gladiator may well be available with a diesel engine in North America (i.e. not just in Europe and other markets which have a preference for this fuel). They should also have ZF's eight-speed automatic and most likely a new 2.0-litre turbo engine which will be manufactured at Trenton Powertrain in Michigan.
In June 2014, Mike Manley stated in an interview that the next Wrangler would have its own platform. Speaking at the Paris motor show four months later, Sergio Marchionne told the media that this vehicle might shift plants. This would be due to the possibility of the vehicle being largely constructed with some aluminium panels on a new unibody architecture. However, just weeks later, it appeared that the JL series Wrangler's would have a body-on-frame chassis but be fitted with smaller capacity gasoline engines plus aluminium body panels. All of this will be needed in order to meet future CAFE fuel economy standards.
In September 2015, FCA told staff at its Toledo plants that the next Wrangler would be built there but that the replacement for the Cherokee would move elsewhere. There are two plants at Toledo Assembly. The smaller South facility builds the body-on-frame Wrangler, while the other site, Toledo North, makes the unibody Cherokee. FCA intends to convert North to ladder frame vehicle production.
Suppliers have reported that their customer wishes them to prepare for annual combined production of 350,000 Wrangler series models. The current shape Wrangler is reportedly set to remain in production at Toledo South into the first quarter of 2018. Confirmation of production of the next Wrangler at Toledo North came in July 2016 and six months prior to this, FCA told the media that there would also be mild hybrid and hybrid powertrains.
Alcoa is said to be supplying aluminium panels for the 2018 model year Wrangler. These vehicles will reportedly use Alcoa's C6A1 high form alloy as well as the company's 6022 alloy sheet for the hood/bonnet and door panels. A951, a pre-treatment aluminium sheet bonding technology, is also said to be part of the supply deal.
The Wrangler and Unlimited should have facelifts in 2021 and be replaced in 2027, with the pick-up to lag those dates by around a year.
WK2, the fourth generation Grand Cherokee, was new for North America's 2011 model year. Series production of this five-seater SUV started in May 2010 and North American market sales the following month. The vehicle shares much with the Mercedes-Benz R-Class, as well as what were originally known as the GL-Class and M-Class.
The Grand Cherokee was the first to use a range of Chrysler-developed V6 gasoline engines originally referred to as Phoenix but now known as Pentastar. The model's base gasoline engine in all markets with the exception of China is a 290hp 3.6-litre Pentastar.
The other gasoline engines are a 360hp (268kW) 5.7-litre V8 or a 6.4-litre V8. The latter is for the SRT8 variant. This debuted at the New York auto show in April 2011 and went on sale across North America from July 2011 (2012 Grand Cherokee SRT8). Its original power output was 465hp (347kW) but this rose to 475hp (354hp) for the 2015 model year.
A 241kW 3.0-litre V6 diesel, which is supplied by VM Motori, debuted in the Grand Cherokee at the Geneva motor show in March 2011. The Grand Cherokee diesel was originally available in Europe and elsewhere, but not in the USA. The previous generation model was withdrawn from the US market in 2009 due to low sales. The 3.0-litre engine then premiered in an updated Grand Cherokee which was revealed at January 2013's Detroit Auto show. In North America, it is branded as an 'EcoDiesel' and produces a claimed 240hp.
The 2014MY Grand Cherokee gained a styling update and an eight-speed automatic gearbox for both V6 and V8 variants (including the high performance 6.4-litre SRT, which previously had the old five-speed auto transmission).
A Grand Cherokee powered by a then-new 3.0-litre V6 had its global debut at the Chengdu motor show in August 2013. This addition to Chrysler's Pentastar family produces 230hp and is sold only as China, as its capacity places the vehicle below a tax threshold. The Jeep Wrangler is the only other FCA US model to offer this engine.
The 2016 Grand Cherokee had some changes, most of them centred on the vehicle's powertrains. Two additional variants premiered at the New York auto show in March 2016. These were the 2017 Summit and the 2017 Trail Hawk.
A Grand Cherokee powered by the 6.2-litre Hellcat V8 will then be added from July 2017 the head of Jeep, Mike Manley, told the media in April 2016. Four months later when he spoke at the LA auto show, Manley named this variant ('Track Hawk') and stated in an interview that it would be revealed at the New York auto show.
WL, the fifth generation Grand Cherokee, should use an evolution of the fourth generation's Mercedes-Benz W164 architecture. This next model should have its world premiere at the 2018 New York auto show before going on sale in the fourth quarter of CY2018 for North America's 2019 model year.
As well as updates of the current model's V6 petrol and diesel engines, and the petrol V8, FCA's Hellcat supercharged V8 should again be available in a special SRT Track Hawk variant. This was shown in prototype form at a dealer event in Las Vegas in August 2015. FCA told the assembled dealers that the Track Hawk would have a 0-60mph time of 3.5 seconds.
This Grand Cherokee is yet another example of FCA continuing with its strategy of keeping vehicles in production far longer than its rivals do, and indeed, in contrast to what the former Chrysler Corporation did. The GC was once on a six-year lifecycle but the current model will be eight when it is replaced.
FCA is said to be keen to build generation five at Belvidere in Illinois. This is part of a major realignment of its North American production plants. GC V should gain a facelift in 2022 and continue in production until around 2026. There is a chance that WL might be based on an adaptation of the Giorgio architecture but if that happens, production will likely be delayed until 2019.
A model, or indeed even two models which would be larger than the GC are said to be under development, though there are stories which claim both delays and potential cancellation. The latter seems unlikely, given the potential profitability of even one large SUV similar in size and style to the Cadillac Escalade.
The then Chrysler Group revealed plans for such a model at the Detroit auto show in January 2011. The Grand Wagoneer, a revival of a dormant model name from Jeep's history, had been due for release in 2013 but has been endlessly delayed.
This big SUV will effectively be the replacement for the long-discontinued Jeep Commander: the Grand Cherokee is not available with seven seats, while the group's only big seven-seater SUV is Dodge division's Durango.
There may also be a Jeep Wagoneer: the name was mentioned by Sergio Marchionne during a press conference in January 2016. Production of both models was due to be at FCA's Warren Truck plant but this is looking increasingly unlikely on the grounds that there would have to be expensive retooling for what would be low volume vehicles. It may well be that a contract manufacturer builds these XL- and XXL-sized SUVs as rivals for the Escalade and extended length Escalade ESV.
Speaking to the media in June 2016, Mike Manley appear to suggest that the Wagoneer and Grand Wagoneer could be upscale derivatives of the next Grand Cherokee. Manley then stated at the Paris motor show three months later that he could see the Jeep brand pushing up as high as US$130,000-140,000 with a future luxury model, which has confused matters. Adding to the uncertainty, as recently as November, there was a report out of the US claiming that the Grand Wagoneer had been cancelled but it contained no quotes from suppliers or from FCA itself. In theory, such large, heavy vehicles would be likely to have an aluminium platform, so FCA may push them back to 2020 while such an architecture is developed. Yet as this company has proved time and again, it is full of surprises so something such as having Ford make one or more large Jeeps based on the next Lincoln Navigator platform shouldn't be ruled out. Who would have thought a new, rear-wheel drive Fiat 124 Spider would be developed, and built in Hiroshima by Mazda?
Summary
Even without the Wagoneer and/or Grand Wagoneer, Jeep continues to be on course for global production and sales records. The Compass is predicted by Mike Manley to become the brand's best seller in 2018 but the genius of Jeep's management and product planning is having such a strong spread of vehicles in multiple size classes. By the mid-2020s, and perhaps even before then, this SUV specialist brand could well be making up to two million Jeeps a year.
Future model plan reports for other manufacturers can be viewed in the OEM product strategy summaries section of just-auto.com.
Future product program intelligence
More data on vehicle lifetime and future product plans is available in PLDB from QUBE.