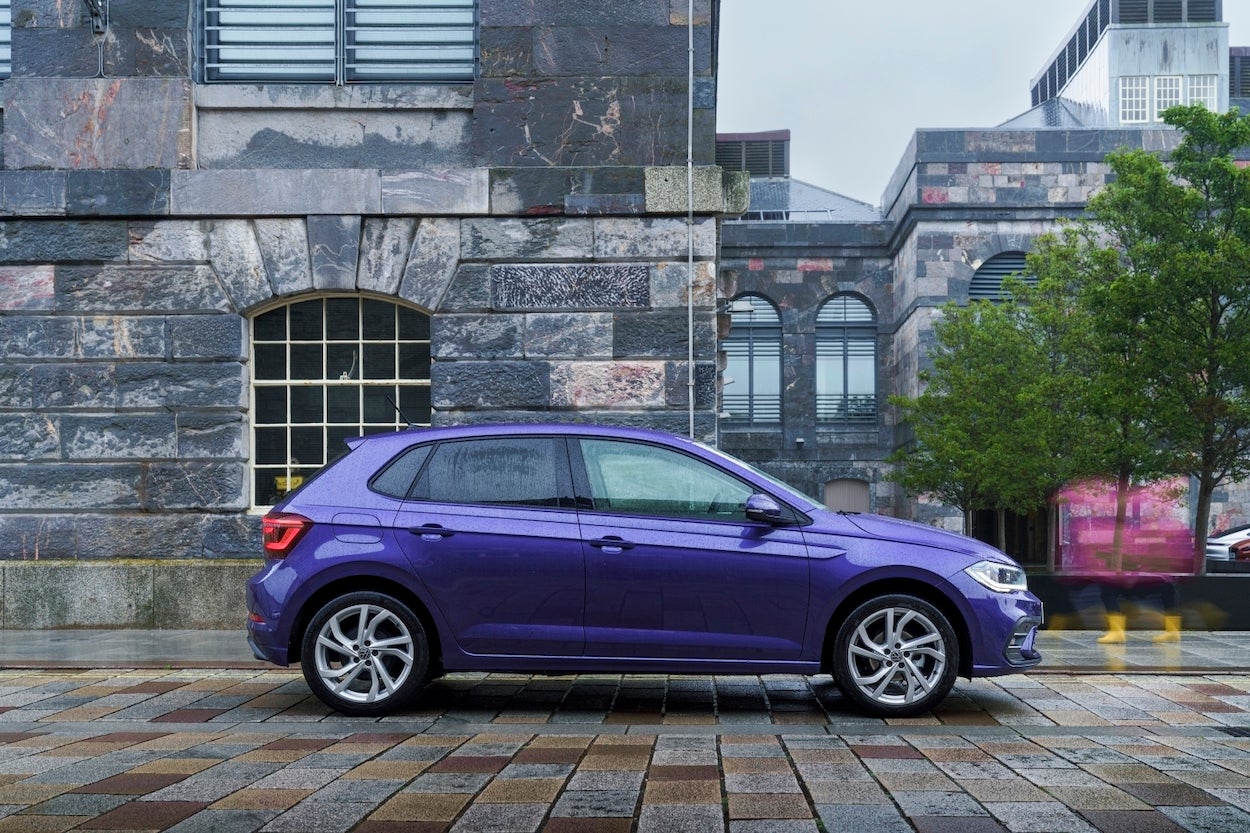 Volkswagen doesn't radically change big selling cars, particularly for mid-cycle refreshes. So it is that the Polo's new look brings it into 2022 with a lot of the original from 2017 retained.
Is purple a 2020s colour? I think of it as belonging to the 1960s and early '90s so it's probably due another evolution. The Polo delivered to me for a test drive was certainly an eye catching shade.
Mixing new and classic tech
In the Style model grade, there's even some brightly painted metal in the interior. Not much, but those violet flashes on the rear doors were enough to remind me how just about every surface in most cars is covered in plastic, fabric or leather.
Style trim is one up from the base Life model grade, positioned below R-Line, with the GTI at the top of the range. So even in what we might have once called SE, a rung above S, there are several other appealing features which are vanishing from so many cars: a flip-out ignition key (i.e. no push button start/stop), a handbrake and a lighting dial which you turn for headlights and pull for fogs.
Who would have thought many of us would be nostalgic for such things? They worked so well and delivered an impression of high-quality and durability; why change them? Some of it's down to squeezing suppliers and some of it's tech-led. Another delight was finding a spare tyre under the boot floor in the press tester. That alone would make me happier about the ownership experience, with run-flats an even better proposition than a so-called 'Mobility Kit'.
Head-turning looks
Not everything old-tech or analogue is better though: Style doesn't get you a reversing camera. Instead it's beeps and lines on a monitor, and for more than twenty one thousand pounds, is that really good enough?
As for things which have changed, there are new front and rear ends with LED lights, a digital cockpit, air conditioning operated by the touchscreen and online infotainment systems.
Volkswagen hasn't gone for the full virtual experience in revising the touchscreen and infotainment system, this still having one physical dial for volume and another for radio station/track changes.
HVAC controls are no longer buttons and dials which are easily navigable by feel. They're still low down ahead of the gear lever but have become digital sliders and soft-touch virtual buttons. As with the Golf and all ID models, eyes are diverted from looking ahead for potentially dangerous seconds.
Added inflation
There's no question that one other change is a genuine improvement and that's an additional airbag for every Polo. Positioned on the side of the seat backrest, it inflates toward the centre in the event of a collision, protecting the driver and front passenger.
The usual sturdy feel is there for every interior component that the fingers come into contact with, from the precise action of the damped glovebox as it shuts, to the steering column wands, door latches and the weight of each of the four doors, tailgate and bonnet.
Happily non-haptic
Something else which adds appeal is carpeting of a higher specification than when this generation was launched at the end of 2017. Criticism of obvious cost-cutting apparently does get listened to in Wolfsburg.
The digital gauge cluster offers up a variety of read-outs, the display being changed via buttons on the steering wheel. Also, these are real not haptic, so again, more precision and what you select works on the first press.
For those who are none too keen on that annoying-wiggle-to-horrid-wrenching which spoils so many Volkswagen Group vehicles, in this one it's switched via one of the steering wheel buttons. The bad news is you have to be in the right setting and then the wretched Lane Assist returns when the ignition is turned off. Cancelling is something which must be done every time the car is started.
Seat facings are a material like neoprene and there's also an appealingly soft fabric on parts of the door trims to break up what would otherwise be hard, dark plastic. That visible painted metal on the inside of the rear doors looks really good against the dark grey.
The central cubby box is a decent size even with a handbrake right in front of it. Yes, an electric switch can mean a bigger stowage space but not always. The two cup holder wells which are part of the same module need a more generous diameter, something that's been an issue since this generation first appeared.
No TDI and no hybrids either
While there are certain revisions to the engine line-up, there are still no hybrids, plug-in hybrids or even mild hybrids. And no TDI either, which is a terrible shame. Volkswagen has instead made a 1.0-litre turbo standard for all, with the exception of the GTI which retains its 152 kW (207 PS) and 320 Nm 2.0-litre four-cylinder turbo.
Outputs for the 999 cc three-cylinder unit which powers almost all Polos are either 80, 95 or 110 PS. The as-tested model had the middle one and if I had to sum it up, it's best to say the 110 alternative is worth paying more for. Power isn't the issue, it's lack of torque, which in the 95 PS engine is a mere 175 Nm (129 lb ft).
Five- or seven-speeds
Volkswagen clearly knows there is a lack of muscle issue as the manual transmission has just five speeds. Giving it a sixth would be a frustrating waste of time as you're already holding onto gears in spite of Shift advice illuminating as a message within that digital cockpit. Shift from fourth to fifth as is recommended and progress often drops off. But staying out of top results in more fuel being used. Again, what a pity there's no diesel. All 110 PS versions have a standard seven-speed DSG, as does the GTI. All manuals are five-speeders.
Acceleration is better than it feels, with 0-62 mph taking 10.8 seconds and top speed is 116 mph. Consumption for this 4,074 mm long and 1,172 kg car varies between 42.2 and 54.3 mpg but really, most owners probably won't be in the 50s too much. The fuel tank holds 40 litres and while we're on capacities, boot space is 333 or 351 if the shelf is removed.
Segment-leading, in some ways
To answer the question in the headline at the top, the updated Polo certainly does lead the B segment field in certain ways. Anyone who buys a VW for that feeling of solidity will find it here, and arguably more so than in the pre-facelift model.
Dynamically, the little Volkswagen comes second or third to the Fiesta and isn't as entertaining as the Ford or certain others in the class such as the Suzuki Swift or Peugeot 208. That comes down to suspension tune and steering response, even if the Polo does very well in terms of comfort. And there's the key to this model – it's built for the majority, with the GTI available for enthusiasts. Volkswagen really understands what the market wants and in that context, the updated Polo delivers.