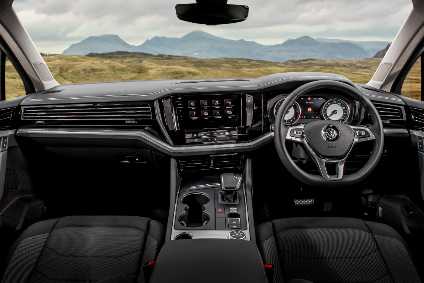 Launched in Beijing in March 2018, the third-generation Volkswagen Touareg boasts a minimalist cockpit and huge dual-screen to keep you connected while on the move. Continuing just-auto/AIC's review of interior design and technology trends, we take a closer look at how VW's high-tech flagship compares to its predecessor.
VW's SUV range, led by the Touareg, consists of the T-Roc, Tiguan, Tiguan Allspace, Atlas (US) and its sister model Teramont (China). Touareg sits on the Volkswagen Group's flexible modular longitudinal matrix which is used for high end models with engines and gearboxes installed longitudinally.
At first glance, the Touareg is imposing and unmistakable with its wide, boxy front grille and integrated headlights. The exterior bristles with status-enhancing chrome, reflecting the styling preferences of its largest customer target group in China.
Size-wise, the Touareg is a massive car from whichever angle you approach it. Compared to the last version, it is slightly wider (+44 mm) and longer (+77 mm). This five-door, five-seater, five-metre long car offers a 1,051 mm load length and load capacity of some 810 litres (+113 litres) with the seats up or 1,800 litres with the seats flipped forward, just enough to haul a student's end-of-year paraphernalia back home for the summer. Kerb weight is just over two tons.
Digital cockpit
Once seated in the throne-like, easy driving position, the eye is drawn to a large, curved touchscreen which VW calls Innovision Cockpit. The 12-inch digital instrument cluster merges with the Tesla-esque 15-inch thin-film-transistor central touchscreen to form a digital infotainment unit. This piece of flashy kit represents the nerve centre of the interior, an interactive interface in which the information and settings of all essential comfort, assist and infotainment systems converge in one matrix. True, it does take a little time to work your way through the menu and fathom things out. But no more so than a new smartphone.
The Innovision Cockpit includes App Connect, four USB ports (two at the front as interfaces for the infotainment system including charging function and two at the rear with a charging function only) and a WiFi hotspot to enable up to eight devices to be connected simultaneously.
In the seating department, the plush, powered front leather seats offer a pneumatic massage function with no fewer than eight programmes available to find the ideal seating position. The position of the rear seats can be shifted by 160 mm fore/aft to create more space in the rear if required. Meanwhile, the angle adjustment of the rear seat backrests is also variable in three stages, and by up to 21 degrees. There is more than enough room in the back for three six-footers to sit comfortably without invading each other's space.
Storage-wise, there are plenty of felt-lined cubby holes to stash bits and pieces, including a decent size glovebox and deep-ish centre console.
Head-up display
While head-up displays (HUDs) have been in cars for more than 20 years, OE fitment rates have been slow and gradual. But the Hud market is predicted to flourish as more cars are being equipped with advanced driver assistance systems (ADAS) and drivers are demanding graphically rich data, visual alerts and greater levels of connectivity.
HUD technologies fall into two camps: Combiner and Windscreen. A combiner HUD uses a screen to reflect an image to the driver, while a windscreen HUD has images projected directly off the windscreen.
The Touareg incorporates a windscreen HUD that displays information on speed, road signs, warning signs, speed limiter, road junction detailed map, sat-nav info, automatic distance control, cruise control system, lane assist and lane change assist. The display itself has a virtual screen size of 217 x 88 mm making it the largest display of this type offered by the automaker to date.
Night vision
It is not often that we come across cars with night vision. So it was a pleasant surprise to see that the Touareg has this on offer.
Statistics indicate that around 30 per cent of severe road accidents occur at night, although less than 30 per cent of all journeys are undertaken during night time. Night vision systems enable the driver to see objects beyond the range of the headlights at night or in poor visibility conditions.
Night vision can help improve driving safety by enhancing the driver's ability to detect potentially dangerous situations beyond the range of the headlamps. During night-time driving, when a disproportionate number of collisions occur, certain situations such as a person changing a tyre on the side of the road, or an animal in the roadway, may not be visible with the naked eye until it is too late.
The Touareg uses an infrared camera to detect people or animals in front of the vehicle at night or in low-visibility conditions. The system can detect objects within a 250-metre range, beyond the headlights' scope and present on the HUD.
Advanced driver assistance systems
In the ADAS department, Touareg comes equipped with a number of technologies as standard, including: night vision (thermal imaging camera); traffic jam and roadwork lane assist; front cross traffic assist; active all-wheel steering; and a new roll stabilisation system with electromechanically controlled anti-roll bars.
VW's Trailer Assist including Park Assist is worthy of note as seen on YouTube. Linked with the rearview camera, this technology helps the driver reverse with a trailer or caravan attached. The optical display visualises actual and possible steering angles in the instrument cluster. Reverse steering is automatic, with direction controlled via the mirror adjustment switch which acts as a joystick, while the driver controls the pedals and keeps a good look out. A powered swivelling towbar can be activated by pushing a button on the sidewall of the boot.
Voice recognition
Voice recognition is seen by some as the answer to eliminate many controls that have traditionally been manually operated. Voice can play an important part of a multimodal HMI solution for inputting information or for cutting through layers on the menus by requesting a function directly. Traditional voice control was centred on a set of fixed commands with catatonic responses which required some level of driver training prior to operation of the system. With the advent of the new low power, high-performance microprocessors, smarter voice command engines linked into the HMI logic are now available. Even natural language and grammatical analysis are becoming more achievable.
Voice recognition looks set to play a bigger role as cars gradually become more autonomous. In the latest Touareg, all major features for navigation, telephone and radio can be operated using speech. It needs to hear "Hello Volkswagen" before each request. This kind of natural voice control is possible because the input voice signals are processed and recognised via the cloud, thanks to the car's built-in eSIM. Voice control also works offline, albeit in a simpler mode.
Ambient lighting
Not so long ago, car interior lighting, in general, consisted of central and side headliner lights, complemented by low-level ambient lighting located mainly in the cockpit area. Job done. Today, the accent has changed, thanks to widespread use of LEDs enabling personalisation of car interiors. The Touareg follows the trend with its ambient interior lighting.
Standard ambient light zones dotted across the cabin include front and rear door openers and pulls, glove compartment, reading light and roof module, footwell and luggage compartment, door trays and stowage area of the centre console and cup holder. Using the ambient light, the atmosphere on board the Touareg can be personalised via 30 different light colours whose brightness can also be adjusted.
On the road
More understated and less flamboyant than its rivals, this practical, roomy family car is packed with connected technology to keep everyone content while on the road. While the curved dual-screen is intuitive to operate, we still prefer to adjust the HVAC using dials rather than poke and prod while on the move. Its 3.0 V6 TDI with 286 PS generates a punchy torque peak of 600 Nm from only 2,250 rpm, shifting from a standstill to 62 mph in just over six seconds. VW states it can offer 42.8 mpg on the combined cycle which was not far off our real world experience. A test route that took us across town and country felt smooth, quiet and refined. But there again, for just under sixty grand (including options) we would expect nothing less.