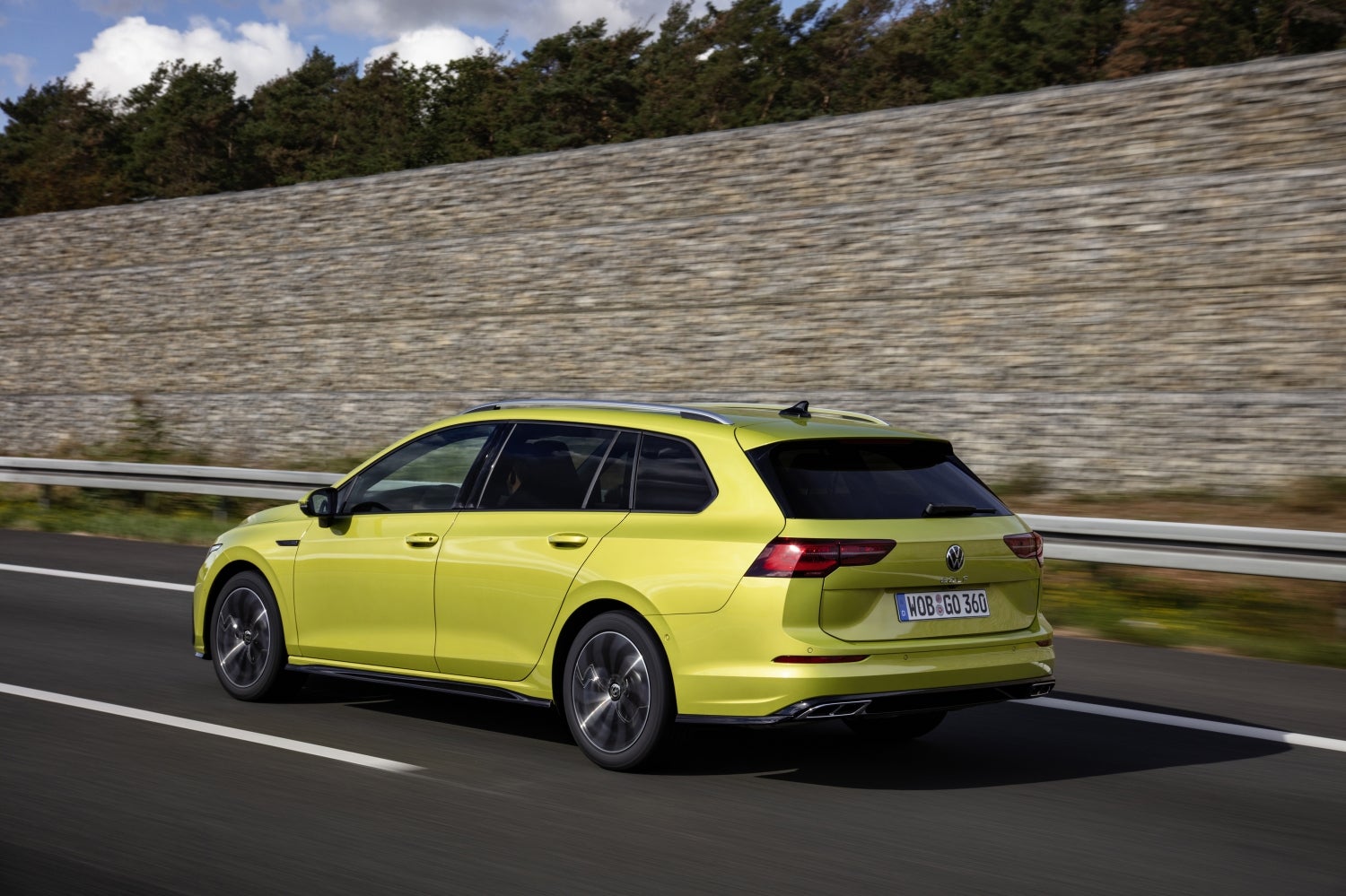 Size-wise, the latest generation Golf estate is 4,633 mm long with a wheelbase of 2,686 mm (respectively a 349 mm and 66 mm increase compared with its predecessor). It is 1,789 mm wide and 1,455 mm high (without roof rails). In comparison, the current four-door Golf is 4,284 mm long and boasts a wheelbase of 2,619 mm. Other than that, the height and width of both Golf versions are identical.
The net result means that five passengers can be accommodated in comfort. The extra space is noticeable most of all in the rear: The maximum legroom increases from 903 to 941 mm. The luggage compartment provides 611 litres of stowage space (6 litres more compared with the Mk 7). When loaded up to the roof with integrated luggage net partition up to the front seat backrests, the volume increases to 1,642 litres (an increase of 22 litres).
Infotainment
The desire for a spacious interior, something always equated with luxury, is prompting interior designers to use new combinations of electronics and mechanical functions to modify or move pre-existing systems like heating/cooling and audio facilities. In terms of controls, touchscreens offer space-saving possibilities, but designers are faced with the problem of distracting the driver's attention. The latest generation of Golf appears to have struck the right balance.
The central ten-inch touchscreen with a web connection is paired with a second driver display located on the other side of the steering wheel and joined by a reconfigurable instrumentation cluster.  While it is not a seamless panel, it does a good job of presenting driver-critical information and infotainment.
Compared with the previous generation, many of the interior buttons and switchgear have been removed, replaced with sliders and touch panels for all of the main functions. Some of these functions can also be controlled via voice recognition and/or steering wheel controls.
Beneath the central touchscreen is a strip of touch-sensitive pads to control the radio volume and cabin temperature. And lower down are positioned slimmer, slick air vents that further accentuate the minimalist cockpit.
Marking another first in class for this Golf Estate – driver information such as speed or navigation instructions are also shown in an optional head-up display.
Connectivity
On the connectivity front, car-to-car wireless communication features for the first time on a Volkswagen. Car2X enables the car to exchange information between other vehicles and the traffic infrastructure. It uses an EU-standard network valid for all automakers so that vehicles from different brands can exchange data about hazards on the road ahead, such as broken-down vehicles, traffic jams or approaching emergency services. There are strict EU rules in place concerning this data, allowing it to be sent anonymously and not captured or stored by anyone.
All Golf Estate models are equipped as standard with an infotainment system providing access to mobile online services. Using Volkswagen's We Connect system as an interface, compatible Samsung smartphones are capable of functioning as the Golf's 'key' via the We Connect app. Via their mobile phone, owners can unlock, lock and start the car. No mobile network connection is required to use the smartphone as a mobile key. Owners just need to place their smartphone near the door handle, in the same way as the keyless locking and starting system Keyless Access opens the vehicle. Once inside, putting the smartphone in the centre console (in the storage compartment with an interface for mobile phone) allows the car to be started. In due course, says VW, it will also be possible to send the mobile key function to friends or family so that they can also use their smartphone as a key.
Ambient lighting
Golf Estate comes with mood lighting that can be set to one of ten different colours in the entry-level Life trim and no fewer than 32 colours in higher-spec Style and R Line versions. The selected colour illuminates the decorative trim across the dash, door trim and cubby spaces, front footwells and central storage compartment. The digital instruments and infotainment system also take on the selected background colour. Along with the individual colours, pre-configured lighting profiles can be selected by simply touching a 'mood menu': for example, 'Infinity' for a warm orange or 'Desire' for a cool blue shade.
Level 2 driving automation
Having debuted in 2019 on the Passat, Travel Assist now features on the Golf enabling Level 2 driving automation that can accelerate, brake and steer for you on motorways.
The feature combines the functions of existing systems such as adaptive cruise control (ACC, see below) and the lane assist lane-keeping system. The system now recognises kerbs and grass verges in addition to painted lines on the road. It is activated using the multifunction steering wheel while for legal and safety-related reasons drivers must permanently monitor the system – meaning that they must have at least one hand on the steering wheel. Thanks to capacitive sensor technology in the steering wheel, the driver just has to touch the wheel. If the system calculates that they have let go for more than 15 seconds then visual and audible warning signals kick-off plus a braking jolt to act as a warning to regain control. The driver must react by this point and touch the steering wheel, otherwise Emergency Assist is activated and the car is brought to a stop.
The carmaker's third and latest generation ACC function is now predictive, automatically adjusting speed for permanent and temporary speed limits, as well as slowing for junctions and corners. It is fed by both GPS and road sign recognition. This means the system calculates the position of the Golf based on route and GPS data from the navigation system to lower its speed before reaching bends, roundabouts, junctions, speed limits and built-up areas. At the same time, ACC accesses the Dynamic Road Sign Display via the front camera and adjusts the speed as soon as a limit has been detected.
On the road
Three trim levels are offered in the UK, starting with Life, through Style to R-Line designation.  Our Life press review provided a firm ride on 17-inch wheels.  Powered by a 1.0-litre turbocharged petrol unit with a six-speed manual gearbox, it averaged 46 mpg compared to the official combined test cycle of 51.1 mpg.
Although the latest incarnation has sprung a few surprises in terms of the all-new dash layout, infotainment and levels of connectivity, it remains a reassuringly solid and safe bet. Replacing the sea of buttons with a central touchscreen makes for a sparse, minimalist dash. Above all, the Golf Estate Mk8 is still just as spacious, practical and well thought through with more than enough kit to keep the family happy and justify the base price of £24,575.
Built in Wolfsburg, Germany, approximately 30 percent of Golf Estate sales are via retail channels, with around 70 percent fleet – broadly in line with the hatchback. The most popular in the range is the Life 2.0 TDi 115 PS with a six-speed manual gearbox. Rival models include the Peugeot 308 SW, Ford Focus Estate and Vauxhall Astra Sports Tourer.