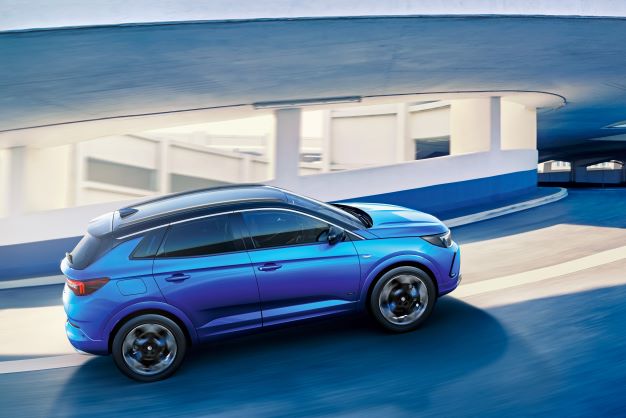 Inside story
Grandland incorporates Vauxhall's Pure Panel digital instrument display. An integrated display contains both the digital instrument panel and the central touchscreen. The design helps reduce the need for multiple buttons and controls, allowing drivers to maintain concentration on the road.
The Pure Panel is available in two formats, depending on trim level. Entry versions feature a 7-inch digital instrument panel with a 7-inch central touch screen. Premium versions feature a 12-inch digital instrument panel along with a 10-inch central colour touchscreen. The central air vent outlets have been merged into one on the centre console, giving the dashboard a clean appearance.
The rest of the cabin is cloaked in a rich mix of materials, touches of brushed chrome and plenty of hi-tech equipment. The upmarket textiles cover the door-card inserts, headliner, windscreen pillars and dashboard inlay. There are also powered and heated wing mirrors and an (optional) panoramic roof.
The 60:40 split folding rear seats come with a ski-hatch that allows long items to be loaded through the centre seat without the need to fold either side of the rear row. A removable hard load space cover protects items in the boot from view and acts as a shelf for smaller items.
Other cubby holes include a decent-sized glove box and space underneath the centre armrest, deep enough to hold a water bottle. There are two cupholders in the front area while the centre console can be turned into a handy 1.7-litre storage compartment. A sunglasses holder by the interior mirror adds practicality and further oddment stowage space is provided by the relatively narrow front and rear door pockets.
Further back, a hands-free power tailgate provides easy access to the boot, which provides 514 litres of space in petrol and diesel variants, extending to 1,652 litres when the rear seats are folded. Plug-in Hybrid-e variants feature a 390-litre boot which extends to 1,528-litres when folding the rear seats.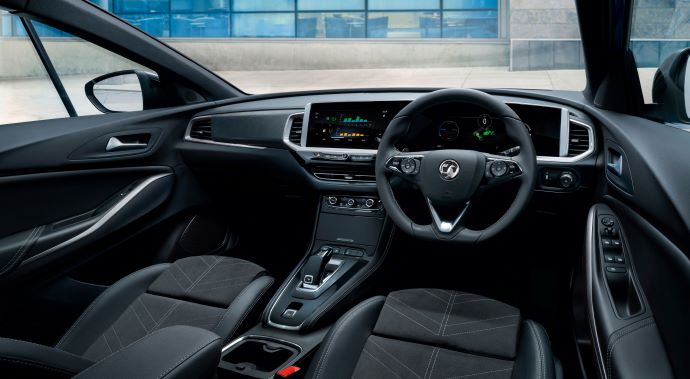 Seating
The front seats have been certified by AGR (Aktion Gesunder Rücken or 'Campaign for Healthier Backs') and support good posture. The ergonomic seat designs are unique in the segment and provide a range of adjustments and electro-pneumatic lumbar support.
Three trim levels are available on the Grandland petrol and diesel versions (Design, GS Line and Ultimate) and two trims for the PHEV (GS Line and Ultimate). Design variants feature black fabric seat trim inserts and black fabric side bolsters. GS Line models come with black fabric seat trim inserts with black premium leather effect side bolsters, while Ultimate variants feature black Alcantara seat trim inserts and black premium-effect leather side bolsters.
Heated windscreen
Way back in the 1980s, some automakers discovered the benefit of laminated glass as a way of introducing new functionalities in glass. It started with antennae: a fine metal wire was embedded in the PVB by use of a heated needle before final lamination and provided radio reception through the windscreen. Shortly thereafter came the defrosting system in the rear window by use of heating wires. A system similar to the antennae was used to embed tiny tungsten wires in the PVB, allowing the vehicle maker to offer an aesthetic solution for defrosting the rear window. Mercedes-Benz was the first user of this technology which eventually migrated to windscreen. Vauxhall also offers heated windscreen technology on several models, including Grandland.
Other comfort and convenience features include dual-zone climate control, rain-sensitive wipers, powered front and read side windows, and a frameless interior auto-dimming rearview mirror.
Infotainment and connectivity
On the connectivity front, all Grandland models come standard with Apple CarPlay and Android Auto, Bluetooth connectivity, DAB radio, hands-free calls via the steering wheel, and SMS readout and reply functionality.
Through Vauxhall PureConnect, the sat-nav system provides real-time traffic updates and route adjustments. Live Navigation Plus services available via Vauxhall Connect give drivers additional information including fuel prices and nearby charging locations, local weather forecasts and parking information when on the move. Vauxhall Connect SOS also forms a part of the PureConnect system, with the SOS e-call technology automatically alerting emergency services in the event of an accident. Vauxhall Connect SOS can be activated manually by pressing the button near the rearview mirror.
The central touchscreen also displays key information about the electric powertrain, including a 'powerflow display' to help the driver understand the state of charge and distribution of energy from the engine and battery. The e-Save function allows drivers to specify a level of battery capacity to be preserved while driving, to ensure it can complete a later part of its journey. Drivers can access remote functions such as locking and unlocking the car via their smartphone or pre-condition the cabin.
A wireless smartphone charging tray is located on the base of the centre stack. USB sockets are also available for both front and rear passengers and the rear of the centre console is available with a 230V power outlet to charge mobile devices.
Advanced driver assistance systems
The front end features a single smooth panel that runs between the LED headlights. It houses the new Griffin logo, sensors and radar for the driver assistance technologies. Through PureSense, the Grandland comes with an array of advanced driver assistance system (ADAS) technologies, including automatic emergency city braking, adaptive cruise control, speed limiter, forward collision alert, speed sign recognition, driver drowsiness alert, side blind-spot alert, front and rear parking distance sensors, lane departure warning with lane-keeping assist, reversing camera and night vision.
On the road
The Grandland is built on Vauxhall's Efficient Modular Platform 2 (EMP2) – a multi-energy platform that supports both electrification as well as petrol and diesel powertrains, which are manufactured at the Eisenach facility on the same line. Drivers can choose between petrol, diesel, or plug-in Hybrid-e powertrains. Plug-in Hybrid-e models are capable of up to 39 miles in all-electric mode.
On balance, the PHEV-e GS Line that we took out and about comes with a generous list of standard equipment, clever safety technology and an intuitive infotainment system. Its comfortable drive is partly thanks to NVH refinements, suspension set up and a cabin filled with dense, soft materials. Rival models include Kia Sportage, Nissan Qashqai and Peugeot 3008.