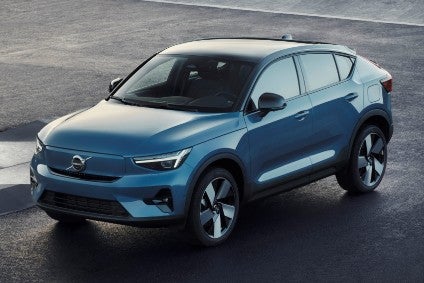 Run your eye down the latest sales charts for the world's larger markets and one name stands out. Volvo has found the recipe for gains even in those countries and regions where every other brand is in the doldrums. Can it keep this run of good fortune going, and just as importantly, will it be able to make strong profits from all the EVs which it says are coming?
Across the European Union and its regional neighbour markets, Volvo alone has had a great first two months, its share of EU-EFTA-UK sales now at 2.8% compared to 2.1% for the equivalent period of 2020. Every other medium to large brand has by contrast fallen, all three of the German mass-premium suffering double digit declines. BMW, Mercedes and Audi remain well ahead as you'd expect yet Volvo has closed the gap to its far larger rivals.
The story is the same in China, where even though February was the eleventh straight month-on-month gain for the market, it should be noted that Volvo's numbers were up by a whopping 2,700% to 7,497 locally made passenger vehicles. And the US? A decent performance there too, sales rising by 17% to 9,164. Worldwide, the company claims a 29% year-on-year surge for the first two months, to 110,383.
Electric-only in 2030
"To remain successful, we need profitable growth. So instead of investing in a shrinking business, we choose to invest in the future – electric and online," Håkan Samuelsson, the chief executive, said earlier in March. "We are fully focused on becoming a leader in the fast-growing premium electric segment."
The brand's initial EV was a low volume version of the C30 built for a few years from 2010 and it was quite some time after that until the arrival of model number two, another liquid fuel Volvo which was converted to run on ions. This, the XC40 Recharge, is doing very well in many European markets, as is the entire XC40 range, which in February became the marque's global best seller, a title which used to belong to the XC60.
What other electric cars and SUVs are coming next then? One of them, the C40 Recharge, has just been announced, although production won't start until October. Volvo even plans to sell this coupe-crossover in the USA so it will be interesting to observe how that goes in a market where most brands' EVs are still taking some time to be nationally accepted.
With Geely and Volvo's CMA as its basis, the C40 Recharge is 4,431 mm long and shares a 78 kWh battery and two-motor drivetrain with the XC40 Recharge P8 and Polestar 2. Volvo estimates a WLTP maximum range of around 420 km but official numbers are yet to be announced. Ghent (Belgium) is the only plant to have been confirmed as a build location but it's possible that the model might also be made in China. And as for the likely manufacturing life cycle, that should end in around 2028/2029 with a facelift and new battery pack in 2025/2026.
The company has dropped coded suggestions that some of its cars might not have direct replacements – the S60 would be one of the obvious ones to disappear at the end of its life cycle in 2025 if not earlier. Having said that, should demand for electric sedans in this size class take off next year, the firm will have to look again at its strategy and put a four-door vehicle into the segment where Tesla's Model 3 has swept all before it. There is even an argument to say that the S60 could be phased out early and an 'S60 Recharge' fast-tracked for launch in the US-China-Europe. Even if such a project were given the green light today, such a car wouldn't arrive until 2024 at the earliest though.
Returning to SUVs, a large one designed to compete with the likes of the BMW X7 and Mercedes GLS is said to be on the way, due for launch in the second half of 2023. The provisionally named XC100 will use SPA 2. This architecture, plus a production line at Volvo's South Carolina factory, will be shared with the third generation XC90 which lands later this year.
There should also be either a PHEV or fully electric variant of the XC100. Expect both six- and seven-seat layouts and a length of 5.2-5.4 metres. Volvo told the media in May 2020 that future SPA 2 models will be available with LiDAR supplied by Luminar. And with the statement made last month that all combustion-engine vehicles will be gone by 2030 – and that obviously includes hybrids and plug-in hybrids – the XC100 will likely only be in production for six years. However, an EV version would probably remain until perhaps 2030 or 2031.
Another crossover, albeit a much smaller one, could arrive in 2025. The proposed XC20 would use SEA, the brand new Geely-Volvo electric-only architecture. Given that development will probably not yet have started properly, few other details are known at this stage.
Reports for many other manufacturers' future models are grouped in the OEM product strategy summaries section of just-auto.com.
Future platform intelligence
More detail on past, current and forthcoming models can be found in PLDB, the future vehicles database which is part of GlobalData's Automotive Intelligence Center. That includes the many Volvo models not mentioned in this report and data concerning their proposed replacements.
This is the fourth of five reports on the future vehicles of Geely's brands. Maple, Geometry and Geely itself were first; followed by Lynk & Co; then Proton and Lotus. A look at what's coming for Polestar will conclude the series.