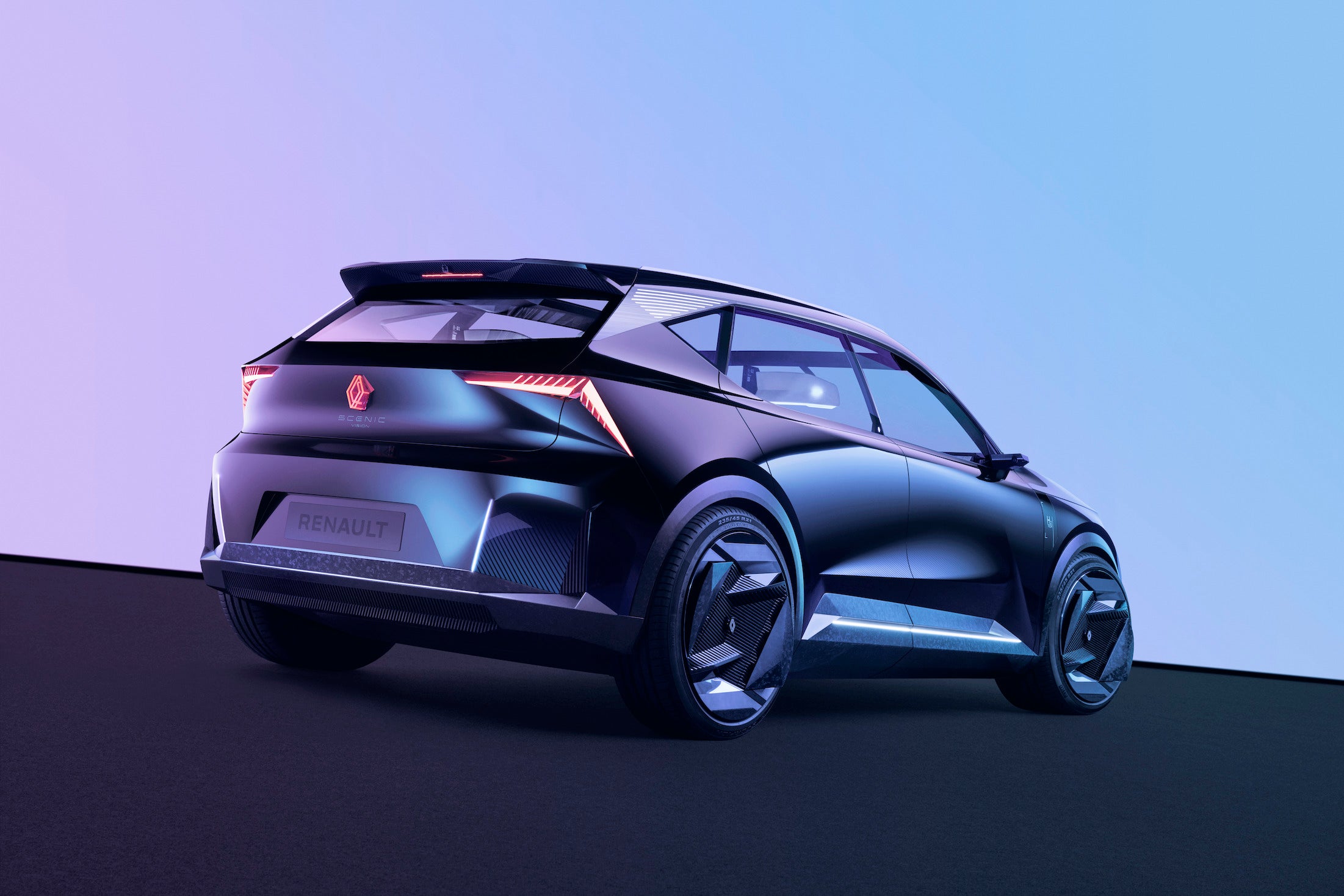 Covid, the semi-conductors shortage, the partial sale of Korean operations to Geely, a withdrawal from China and a sudden stop for Russian production – it's been an eventful couple of years for Renault Group.
As well as putting plans in place to deal with the difficulties, Renault has kept its focus on Europe, preparing the ground for a major offensive in EVs while also become ever stronger in hybrids.
This report, the first in a series, examines next generation models for the Renault brand.
Renault
The 5, a long-ago small hatchback, is to return, it was announced in January 2021. A week later the group's chairman Jean-Dominique Senard said the car would be manufactured in France at the Georges Besse plant in Douai. Production of the Talisman at this factory ended in February (2022) and build of the Espace is also due to cease.
Unlike the original 5 and its Super-Cinq replacement, this one will be electric and have five rather than three doors. The 'Renault 5 Prototype' showed some guidance for how a production model might look. This model will also serve as the Zoe's replacement.
The 5's CMF B-EV architecture will also be used by Nissan, Alpine and Dacia with the first vehicle to arrive in 2024, Renault-Nissan stated in a January 2022 presentation about the Alliance's future EV strategy.
Another retro-themed small EV which Renault hopes will become a big seller is due to arrive in 2025, five years before the brand becomes electric-only in Europe. To be a reinvention of the 4/Quatr'elle, the '4ever' (rumoured model name) will be a small crossover sharing much with the 5. The life cycle may be as long as ten years.
Launched just over a year ago, the Kiger is also a small car but in this case it's ICE-only and a special model for India. Renault developed the 3,991 mm long SUV mainly for the local market where it offers the choice of 72 kW and 96 Nm non-turbo 1.0-litre or 100 kW and 160 Nm 1.0-litre, three-cylinder turbocharged petrol engines.
The life cycle will probably be seven years although as the basic vehicle is fairly aged, it might only be around for three-six years. The Nissan Magnite and Renault's Kiger are part of the same project. Each is manufactured at the Alliance's Oragadam plant in Tamil Nadu.
A successor for the Clio isn't due until 2026 and there is a chance that this model will be launched in electric-only form. However, as with today's model, there might also or instead be a hybrid powertrain at first.
Renault's existing Clio E-Tech has a 1.6-litre engine and two small electric motors – one of which is a starter-generator – connected to the gearbox, while the electrics are 12 V not 48 V. This and other powertrains will likely be updated in 2023 to coincide with a mid-life facelift.
Also due for some styling changes in 2023, albeit later in the year, is the Captur, its life cycle being due to continue until 2027. Unlike the Clio, this small SUV can also be ordered as a PHEV.
The Captur E-Tech Plug-in features a turbocharged 1.6-litre four-cylinder petrol engine and two motors. The capacity of the battery pack is 9.8 kWh, the top speed in EV mode is 135 km/h and the maximum range (WLTP) is 50 km. The standard transmission is a CVT.
It's too early to say how Renault will replace the Captur but it's within the realms of possibility that its next generation could be EV-only.
The Mégane E-Tech Electric is the brand's newest model.
Build commenced in early 2022 at Douai. The vehicle's world premiere took place at the Munich IAA in September 2021. Customer deliveries in LHD European markets started during the second quarter but it will be September before cars reach the UK and other RHD regional countries.
The 4.2 m long crossover is a competitor for the larger VW ID.3, along with the Nissan Leaf, Citroen e4 and others in the C-EV class. The fourth generation Mégane five-door, which remains in production, is 4,359 mm long.
There are two motor options: 96 kW (130 hp) and 250 Nm or 160 kW (218 hp) and 300 Nm. As for the battery pack, Renault says it weighs 395 kg and is only 110 mm thick (1,960 mm long and 1,450 mm wide). The chemistry is lithium-ion NMC (Nickel, Manganese, Cobalt) and LG is the supplier.
Battery choices are 40 kWh for a range of 300 km or 60 kWh for a range up to 470 km (WLTP cycle, depending on each version). The 40 kWh one has eight modules of 24 cells each, distributed over a single layer whereas the 60 kWh pack consists of 12 modules of 24 cells each, spread over two layers.
The Kadjar name vanishes when the replacement arrives later in 2022. The 4.51 m long Austral (development code: HZH), revealed in March, is mainly for Europe and will be built at the Palencia plant in Spain.
The architecture is CMF-CD3, an evolution of the Alliance's CMF-C/D. As for engines, there will be two non-hybrid choices when deliveries commence:
1.3-litre 12 V four-cylinder TCe E-Tech (mild) Hybrid, front-wheel drive, 140 PS with manual transmission but 160 PS as an automatic, 136 g/km of CO2
1.2-litre 48 V three-cylinder TCe E-Tech (mild) Hybrid, front-wheel drive, 130 PS, 123 g/km of CO2
As for the Austral E-Tech Hybrid, this features the Alliance's 1.2-litre three-cylinder petrol engine and two motors. One of these can power the vehicle with the secondary one being a high voltage starter-alternator. The latter fires the engine and charges the battery. There are two versions, combined power being 160 PS or 200 PS.
The market launch is due to take place in the fourth quarter and the life cycle should be seven years, meaning a facelift in 2026.
Renault will launch a new Scénic in 2024 but rather than again being an ICE-powered monospace/MPV, this one will be an electric SUV. It will be around the same size as the Austral but should offer seven seats. A preview, in the form of the (hydrogen-fuelled) Scénic Vision, was revealed in May: see the image above.
RKM (formerly RSM)
Renault Group stated in March that it had begun the process of phasing out the Renault Samsung Motors name, replacing it with Renault Korea Motors (RKM). At that time, the French company held an 80.1 per cent share of the car maker with Samsung Card having the remaining 19.9 per cent. Samsung stated in 2021 that it would dispose of its entire holding. Then in May, Geely announced its intention to buy 34.02 per cent of RKM.
There are currently three Samsung models, South Korea being their main market. Two were launched in 2016 – the SM6 and QM6 – with the XM3 added in 2020. The third of the three is the same vehicle as the Renault Arkana while the SM6 is a rebadging of the former Renault Talisman. As for the QM6, this is a slightly altered Renault Koleos.
Models which use Geely Group's CMA as their basis are due to be in production at RKM's Busan factory from 2024. These will likely be both sold domestically and exported with Renault branding. Build of the QM6 and SM6 should end at the same time but the XM3 will probably continue until 2027.
Reports for many other manufacturers' future models are grouped in the OEM product strategy summaries section of Just Auto.
Future platform intelligence
More detail on past, current and forthcoming models can be found in PLDB, the future vehicles database which is part of Global Data's Automotive Intelligence Center.