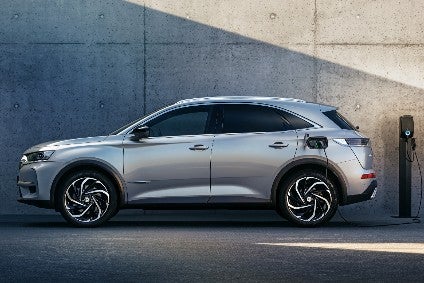 DS Automobiles remains a troubled division of Groupe PSA. Sales have slid to minimal levels in China and in May were only 4,192 for all of Europe. Things might be about to improve though, with the 7 Crossback starting to find relative favour in EU countries and deliveries of the 3 Crossback commencing. But what to do about China?
First the good news. The 7 Crossback, which has been around since November 2017, seems to be finding its feet at last. European deliveries reached 10,002 for the year to the end of April, with that month being a relatively strong one for this pricey crossover, sales numbering 2,572, a year-on-year surge of 63 per cent. Compare that with a mere 105 wholesales in China during May according to CAAM. And that's not for the 7, it's for the brand. DS volume was down by 80.5 per cent last month with year to date volume for locally built vehicles being just 818 units.
Many will be wondering how soon it might be until Changan Auto and Groupe PSA bow to the inevitable and abandon this brand. But then what would they do with the CAPSA joint venture factory in Shenzhen which was set up with an annual capacity of 300,000 units?
DS models for European countries are built at two PSA plants in France: Mulhouse and Poissy. While you couldn't call the brand a stand-out success in EU markets, at least the parent firm had the sense to create what few models that DS has out of shared sets of powertrains and platforms and then build them in factories which make Peugeots and Citroëns. In theory, that would also make it relatively easy and inexpensive if, say, Groupe PSA merged with FCA and decided to kill DS in favour of making Alfa Romeo the combine's sole global premium make. At the moment though, the official line out of Paris is that DS simply needs time and more models for it to become the success which its parent keeps insisting it can be.
With the 4 and 5 gone and the 3 now in the last months of a long production life, it falls to the 3 Crossback and 7 Crossback to keep DS going in Europe until more models arrive in the 2020s. At least the rate of sales decline has slowed, finally. ACEA data for May reveal that market share remains at 0.3 of a per cent with volume falling by 7.5 per cent, an improvement over April at least. For the year to the end of May, the brand's sales fell by 13.0 per cent to 18,130. That's half the total which Jaguar managed and more than four thousand units fewer than Lexus.
Cars
The 3 and 3 Cabriolet are no longer DS' most popular models, their combined European deliveries having fallen to 3,088 vehicles for the year to the end of April. These cars won't be around for too much longer, their official replacement being the just-launched 3 Crossback, a five-door crossover. Production of the 3 and its sliding roof derivative will cease during the coming months.
Once the 3 is gone, DS will no longer be offering cars. Will that always be the case? Even though the likelihood that it would succeed in the market seems marginal, there have been whispers of a D/E segment sedan as a range topping model for China. If the DS 8 does appear, logic suggests it would be based upon the Peugeot 508 L.
Crossovers/SUVs
The 3 Crossback has only been in production since April, so Europe-wide sales volume of 828 vehicles by the end of that month suggest that this model might become a success. The platform is CMP, which means that the car is front-wheel drive only. It can be thought of as DS' version of the just-announced Peugeot 2008 and the Citroen C3 Aircross. As such, the engine line-up is similar:
100PS 1,199cc three-cylinder PureTech petrol
130PS 1,199cc three-cylinder PureTech petrol
155PS 1,199cc three-cylinder PureTech petrol
100PS 1,499cc four-cylinder BlueHDi diesel
130PS 1,499cc four-cylinder BlueHDi diesel
The 3 Crossback's mid-life facelift should take place in late 2022 with its replacement due in 2025.
The obvious gap between the 3 and 7 Crossbacks should be filled be a DS 5 Crossback, a 4.4m long crossover which would also serve as a successor for the DS 5. Such a vehicle could be launched as soon as 2020. It would be based on EMP2 and likely manufactured in France and possibly China too.
The 7 was the DS brand's first SUV for European markets and an attempt by Groupe PSA to take on the Audi Q3, BMW X1, Mercedes-Benz GLA, Range Rover Evoque, Jaguar E-Pace and other models in the C segment. Its public debut was at the 2017 Geneva motor show, with sales in Europe commencing from the fourth quarter of that year. Its UK release followed from March 2018 with China's locally built model premiering at the Beijing motor show during April 2018 and becoming available for delivery later that month.
The 7 Crossback shares Groupe PSA's EMP2 platform with the similarly sized Peugeot 3008 and Opel/Vauxhall Grandland X.
There are six powertrains:
130 horsepower 1.5-litre four-cylinder diesel
180 horsepower 1.6-litre four-cylinder diesel
130 horsepower 1.2-litre three-cylinder petrol
180 horsepower 1.6-litre four-cylinder petrol
225 horsepower 1.6-litre four-cylinder petrol
300 horsepower 1.6-litre petrol-electric plug-in hybrid with two motors (see Electrified section below)
The DS 7 should also be Groupe PSA's first autonomous drive (AD) passenger vehicle. Level 2 came first, in 2018. This is so-called 'hands-free' driving and includes Connected Pilot and automatic parking. Two years later, Level 3 is set to feature in a PSA vehicle, which again should be the DS 7. This means that the car drives itself in traffic jams and at higher speeds too. Level 4 and Level 5 are not scheduled to happen until 2025 or later.
PSA says its AD vehicles will feature what it terms its New Electronic Architecture. This modular, scalable system comprises radar, LiDAR and associated components. NEA is due to reach production in 2020 linked to the EMP2 platform. That should mean it will debut in the DS 7 Crossback.
It's possible that there could be an attempt to compete with the Volvo XC90. This 'DS 9 Crossback' would therefore be around 4.7-4.9m long, supplementing the 4,570mm DS 7.
Should a DS 9 Crossback be approved for development and production, there would also be a petrol-electric plug-in hybrid. Such a vehicle would be called the DS 9 Crossback e-Tense. The earliest that such a model would likely appear would be in the early 2020s.
BEV and PHEV
The brand's CEO Yves Bonnefont stated in April 2018 that DS would by 2025 be selling only petrol-electric or electric vehicles in the French market. This is also expected to apply to most other European countries. Under Groupe PSA's electrification strategy, smaller vehicles have EV derivatives while larger models are or will be offered with petrol-electric PHEV powertrain options.
A BEV version of the new 3 Crossback is to be one of two electrified DS models which will soon be in European dealerships (October). The vehicle was previewed in prototype form at the Paris Mondiale de l'Automobile in October last year. Its model name is 3 Crossback E-Tense. The range is claimed to be "more than 300 km / 186 miles of autonomy – WLTP (Worldwide harmonized Light vehicles Test Procedure)".
Power is quoted as being 100kW (136PS) with 260Nm from the single motor. The 50kWh battery pack is mounted under the boot and cabin. As for charging, DS says it takes five hours for a full charge with a Wallbox of 11kW and 80% of the battery in 30 minutes with a 100kW public fast charger (9 km per min).
The forthcoming 7 Crossback E-Tense is to have combined outputs of 300 horsepower and 450Nm from a 1.6-litre petrol-electric plug-in hybrid with two motors. The engine's output is 200PS (147kW) and each motor produces 109PS (80kW). The front produces 337Nm of torque with the rear one having an output of 166Nm. An eight-speed Aisin automatic gearbox is standard.
The range from the 13.2kWh battery pack is claimed to be 50 kilometres/31 miles (WLTP cycle, corresponding to 60 kilometres/37 miles in NEDC) up to a speed of 135km/h or 83mph.
The E-Tense, the only 7 to have four-wheel drive, will be the first PSA vehicle sold with the company's new plug-in hybrid drivetrain. Sales are to commence in September. The public premiere for a pre-production example was at the Paris motor show in October 2018.
Reports for many other manufacturers' future models are grouped in the OEM product strategy summaries section of just-auto.com.
Future product program intelligence
More detail on past, current and forthcoming models can be found in PLDB, the future vehicles database which is part of QUBE.
The next and final brands to be covered in the Groupe PSA series will be Opel and Vauxhall.