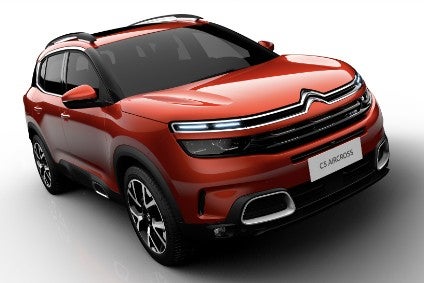 For a long time, Citroën was in trouble in many European markets. No longer. Its French market sales in particular are surging, which will come as a relief to parent firm Groupe PSA. In common with DS and Peugeot though, things are not so good in China.
With a year on year gain of 23 per cent for home market sales in May, the double chevron logo brand has added cause for celebrations in this, its 100th anniversary year.
Buyers are responding to the distinctive looks of Citroën's newest models, including the C5 Aircross, a crossover which competes in a segment which has never been a major one in France. The C3 (35,889) and C3 Aircross (21,911) remain the marque's top two models there but with year to date deliveries of 13,502, the larger model is ahead of the rival Renault Kadjar.
At a European level, Citroën's volume was up by 8.9 per cent to 295,756 passenger vehicles for the year to the end of May (ACEA) and by 13.5 per cent during May itself. If only the news from China was as good. There, retail sales have plunged by 43 per cent to only 24,306 units, the brand ending April way down in 39th position and likely to have been pushed further down in May once data by marque have been released.
Until Dongfeng and Groupe PSA can agree a realistic plan to properly address the issues which are bedeviling not only Citroën but DS and Peugeot too, it's hard to see when things will change for the better for all three brands in China. If pricing and image issues can be steadily worked out, there is at least much potentially strong fresh future product available.
Cars
Will there be a successor for Europe's now five years old C1? As with its Peugeot 108 brother, at the moment, PSA isn't saying. Six months ago, the group and Toyota Motor Europe, the company's partner in a city cars manufacturing joint venture, said the JV which builds the Aygo, 108 and C1 would be wound up. It is not clear how long TME will manufacture the existing three cars for and whether or not there will be replacements for any of them.
In January 2017, Groupe PSA announced a deal with New Delhi-based CK Birla Group for a return to the local market via a JV. This will mean production of Project SC21, a B segment vehicle for Citroën at a Hindustan Motors plant.
The car's architecture could be CMP, which is for smaller Groupe PSA and Dongfeng Motor vehicles. Another possibility is that Groupe PSA will instead ship the tooling for the (soon to replaced) first generation Peugeot 208 to India. This model uses the much older PF1 architecture and is manufactured in France, Slovakia, Brazil and China.
The popularity of the C3 in many European markets is a lot of the reason for the brand's strong comeback. The existing generation of this little hatchback has been around since the fourth quarter of 2016 so a facelift is less than a year away, that being likely for the first half of 2020. The replacement should appear in 2023 and unlike the current car, this one will be based on CMP. That means there should also be an electric C3.
Right now, Citroën has no entry in the traditional C hatchback segment of the European market, the C4 having gone out of production in 2017. Now it appears that the third generation C4 has been merged with a replacement for the C4 Cactus. It could use the EMP2 platform but the model name is not yet known. However, some now say that the project has been rethought and that the car(s) will use CMP so that fully electric derivatives can be part of the range of models.
This car would be expected to enter production at Villaverde in 2021. Mystery surrounds the identity of a future second model for the Madrid plant, however. Unions agreed to the May 2017 elimination of the second shift after PSA promised that another "high volume" model would be built there from 2021. Groupe PSA pledged to spend €144m prepping the plant for this car. The second vehicle would be either a PHEV (if EMP2 is the platform) or EV (if instead it is CMP) version of the C4 Cactus.
China's Dongfeng Citroën JV should have a direct replacement for the C4 sedan but possibly not until 2020 as it did not start selling its current C4 until the fourth quarter of 2015. PSA may also build a C4 Cactus successor in Brazil during the early 2020s. It makes the current model at a plant in Porto Real.
It seems strange that PSA would be investing in a segment of the European market which many brands have been pulled from but nonetheless, a third generation of the C5 is said to be under development and may arrive as soon as next year. Like the Peugeot 508, this model will likely be a fastback and probably an estate too. Expect PHEV variants of each.
The C6, a model exclusive to China, has been a disappointment for its maker, Dongfeng Citroën. This big sedan has been around since October 2016 but it's unclear how long production will last given how unpopular the model remains. The car is closely based on Dongfeng's Fengdu Aeolus Fengshen A9, which at almost 5m from end to end is almost as long as its name.
Crossovers/SUVs
The brand's smallest crossover is the C3 Aircross. This replaced the C3 Picasso during the fourth quarter of 2017, embracing the European market trend which has seen MPVs succeeded by crossovers or SUVs. Even though Citroën classes the vehicle as an SUV, drive is to the front axle only.
This remains one of Citroën's best performers, in Europe at least, even in the face of a wide array of challengers. There are no scheduled major changes due this year or next but a facelift should happen in 2021, some three years before the second generation model arrives.
The second generation C4 Aircross is a crossover for China. It was previewed by a concept which had its global debut at the Shanghai motor show in April 2015. PSA stated that its platform was EMP2 and that it was 4.5m long. As well as having a different spelling – 'Aircross' versus the first generation 'AirCross' – the production model, at just 4,270mm long, is a smaller vehicle.
The C4 Aircross looks different to the concept from 2015 but not radically so. It is effectively a 12cm longer version of the C3 Aircross with a unique body and a lengthened wheelbase. The vehicle's world debut was at the Beijing motor show in April 2018. The Chinese market name is Yunyi. There should be a round of styling tweaks in 2022 and then a replacement in 2025.
For its third generation, the C5 evolved into a crossover, the C5 Aircross. This model had its world premiere at the Shanghai motor show in April 2017. The car would be manufactured in China from the second half of 2017 and in France from late 2018, Citroën announced on the eve of the Shanghai show. In the PRC, it supplemented the C5 sedan.
Another assembly location for the C5 Aircross was announced in February 2018. Naza Corporation's factory in Gurun (Malaysia) was named as the base for assembly of certain EMP2 architecture models including this Citroën and the Peugeot 3008. The plant in question has an annual capacity of 50,000 units.
Given that this model had been available in China for quite a while before it appeared in European countries, Dongfeng Citroën will likely launch a facelifted C5 Aircross in early 2021. The next generation would then be due in 2024.
MPVs
The current, third generation Berlingo had its public debut at the Geneva motor show in March 2018. There are five-seat (M) and extended wheelbase, five- or seven-seat (XL) bodies. Each of three second-row seats folds flat and in XL variants, the third row seats can be removed.
Groupe PSA created a bespoke architecture for the Berlingo and other models in this programme, the Peugeot Rifter, Opel/Vauxhall Combo Life and Toyota Proace Verso. This comprises an update of the previous platform with elements of the newer EMP2. All of these vehicles should be facelifted in 2023 and again in 2026, then replaced in 2029.
The SpaceTourer is the brand's largest MPV. It is part of a three vehicle joint venture, the other two models being the Peugeot Traveller and second generation Toyota Proace. All are manufactured at the SEVEL nord plant in the French town of Lieu-Saint-Amand/Hordain which is close to Valenciennes. There is also assembly at the Kaluga plant in Russia.
PSA and TME revealed all three models at the Geneva motor show in March 2016. Each is available as an MPV for private buyers and as a Shuttle for business users. Up to nine occupants can be carried. The Proace, SpaceTourer and Traveller share powertrains and a platform.
These were the first vehicles for a modified version of PSA's EMP2 architecture. This has the front part of that platform but the rest was developed especially for the SpaceTourer, Proace and Traveller. Different front and rear axles mean that loads of up to 1,400kg can be carried by LCV variants. The platform's modular design allows for two wheelbases (2.92m and 3.27m) as well as two rear overhangs (0.80m and 1.15m). The combination allows for 3 body lengths: XS at 4.60m with the shorter wheelbase, M at 4.95m and XL at 5.30m with the longer wheelbase.
The LCV versions of the Traveller and SpaceTourer are the Peugeot Expert and Citroën Jumpy. All of these models should have successors in 2024.
Electrified
The E-Mehari, a 3.8m long four seat convertible, was revealed to the media in December 2015. It went on sale in selected markets from April 2016. This fully electric model is meant to revive memories of the Citroën Méhari, an open-topped car in the style of the Mini Moke.
The range is claimed to be 200km. Bollore is the supplier of the 30kWh lithium polymer battery cell pack, and the car is closely related to the Bolloré Bluesummer. PSA builds both models at the Rennes plant in Western France. The bodywork is thermoplastic.
The E-Mehari can be fully recharged in eight hours via a 16 amp socket. The car hasn't been as popular as had been hoped but still, there should be a facelift in 2020 and probably a new battery pack too. A replacement seems unlikely.
The E-Elysée, a plug-in version of the C-Elysée, had its world premiere at the Beijing motor show in April 2016. The prototype was claimed to have a range of up to 250km and capable of being fast-charged in 30 minutes (6.5 hours in normal charging mode). The production model was due to be manufactured by Dongfeng Citroën but these plans now appear to have been shelved. It may be the case that the partners will instead launch an E-Elysée as part of a potential next C-Elysée range from 2020.
The C5 Aircross Hybrid, which is to be a plug-in petrol hybrid, goes on sale in the fourth quarter. It will join an eventual line-up of other EMP2-based PHEVs which will include the DS 7 E-Tense 4×4, Peugeot 3008, Peugeot 508, Peugeot 508 SW, Opel Grandland X and Vauxhall Grandland X. There will be two versions of the PHEV system, with a two-motor option producing around 300PS and sending drive to both axles or a single-motor delivering around 250PS for front-wheel drive applications.
Reports for many other manufacturers' future models are grouped in the OEM product strategy summaries section of just-auto.com.
Future product program intelligence
More detail on past, current and forthcoming models can be found in PLDB, the future vehicles database which is part of QUBE. Various current and future Citroën models not listed in this report can instead be found there.
The next brand to be covered in the Groupe PSA series will be DS, to be followed by Opel and Vauxhall in the final report.