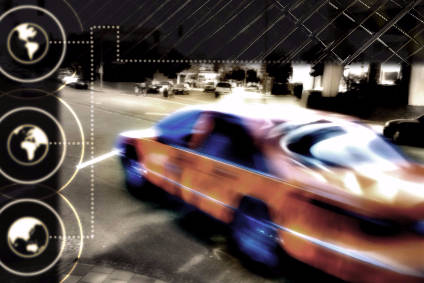 With the end of the pandemic seemingly in sight as a slew of vaccines produce encouraging results from phase-3 trials, GlobalData has taken a look at the leading OEMs and assessed which are best placed to recover quickly from the coronavirus induced slowdown.
Aside from a dose of good fortune a company's success is invariably linked to a variety of factors which tend to either fall into the tactical or strategic categories. As even the best-laid plans can often go awry, it is necessary to add to the mix how well those plans are executed and how they rate in comparison with competitors.
To derive the strategic and operational measures GlobalData's alternative data sets – jobs, patents, deals, filing sentiment etc – were used alongside more traditional measures of automotive performance. All data utilised is available through the Automotive Intelligence Center.
Top of the pile for operational leadership was revealed to be Tesla, followed by GM, Toyota and Hyundai. Strategically the highest rated OEM of those assessed was demonstrated to be VW, with Toyota, Tesla, Ford and GM in pursuit. The overall chart is shown below.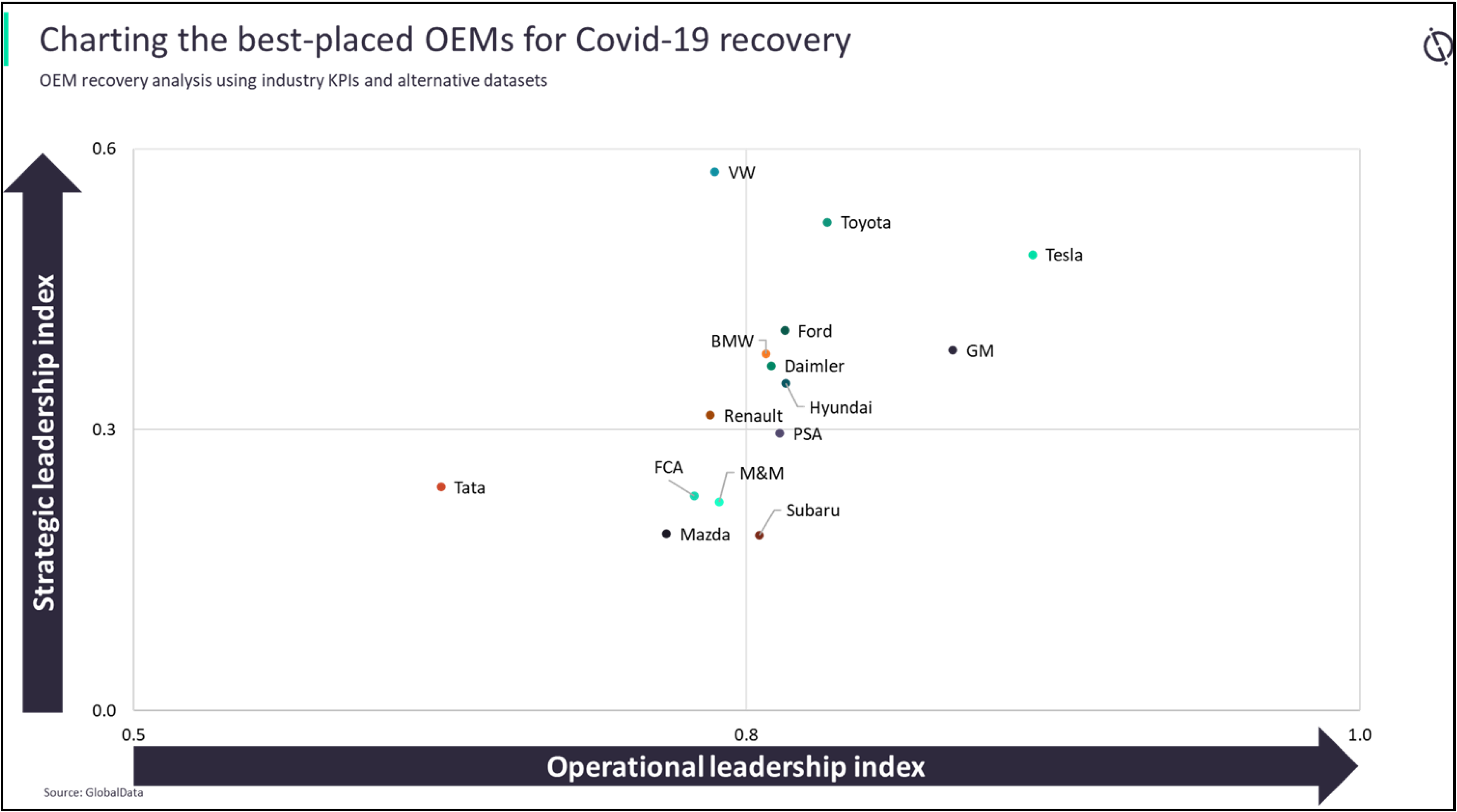 The study utilised four indices for the operational measure and five for the strategic measure. Each of the contributing indices were given equal weighting in the overall operational and strategic scores.
The operational indices covered the following performance areas for the OEMs:
Sales footprint alignment: measuring how OEMs compare on where they sell versus forecast regional sales growth in 2021 taking GlobalData's latest sales forecast. An OEM's sales by geography in 2019 – the latest full year data available – is indexed and then weighted on where we forecast topline growth to be most pronounced in 2021. For example, we expect Europe will see the biggest sales growth in 2021 which will be most beneficial to an OEM like PSA which derived over 70% of its sales from Europe in 2019.
Margin resilience: this is based upon an OEM's reported operating margin for calendar year Q2 and Q3 of 2020. Tesla is the most highly rated in this dimension due returning a significant operating margin in both quarters
Capacity utilization: based upon GlobalData's light vehicle production forecast. Subaru, increasingly capacity constrained at its Japanese and US operations, and Mazda both scored highly in this index.
Financial sentiment: using GlobalData's filing analytics database, which uses natural language processing (NLP) artificial intelligence techniques to scan annual, quarterly and earnings call transcripts for 88 companies in the automotive sector. Each document is then scored based on the language used to gauge internal and external sentiment for company performance. The index derived was smoothed so as not benefit companies receiving a high rating in just one quarter. General Motors was the most highly rated company on this basis, followed by Tesla and Ford.
The strategic indices covered the following performance areas for the OEMs:
Jobs: using GlobalData's job analytics dataset which assesses hiring activity for 174 companies in the automotive sector. Open job postings can be seen as a proxy for strategic intent and confidence by company stakeholders in the company's future. In this index Tesla outperforms its competitors by a fair distance due to a combination of the growth areas it is investing in and its global capacity expansion plans. Its next nearest rival in this dimension is currently BMW.
Patents in EVs: using GlobalData's patents database a search was performed on electric vehicle patents and the assignee company was determined. In this dimension Toyota was found to be the leading company in an area that is sure to be a market inflection point as the sector begins to exit the Covid-19 induced slowdown. Toyota's nearest rival in electric vehicle patent intensity was revealed as Volkswagen.
SUV share: again, use was made of GlobalData's light vehicle production forecast. SUVs are a phenomenon as their popularity surges irrespective of market. How invested an OEM is in SUVs, using the segment's forecast share of 2021 production is a useful proxy for positioning in this market. In this dimension, upstart EV maker Nio was found to be the leading protagonist, but it was excluded from the final overall index due to a lack of data in other indices. Of those companies making the final cut Mahindra & Mahindra was found to be the leading player, closely followed by Tata Motors (including Jaguar Land Rover). The next best placed OEM in the segment is judged to be Mazda
CASE deals: leveraging GlobalData's deals database from its starting date a search was carried out on mergers, acquisitions and strategic partnerships where the CASE (connected, autonomous, sharing and electrification) themes were judged to be motivating factors. CASE is at the heart of the auto industry's response to the technological disruption, new entrants and opportunities that the new business models present. As many of the requirements to address CASE sit outside the core competencies of established auto participants deal activity in this area is taken as proxy for strategic readiness for CASE. In this area, Volkswagen was found to be ahead of the competition with Tesla, GM and Honda hot on its heels. Examples of recent deals by VW in this dimension include: the commercial vehicle division, TRATON, taking a stake in TuSimple, an autonomous vehicle technology supplier; Audi partnering with FAW in China for EVs, and VW forming a connected vehicle technologies JV with Aeris the US telecoms company
Average volume per platform: high-volume platforms and the scale advantages they confer on OEMs have long been a KPI for the industry. There should be no surprise here that VW leads the rankings derived from GlobalData's light vehicle production forecast for 2021. VW was the original instigator of high-volume platform strategies back in the early 1990s when former CEO Ferdinand Piech declared that there would be just four future platforms utilised across the OEM's four marques at the time. That strategy has been imitated many times by competitors but VW remains out in front according to GlobalData metrics. Its leading competitors in this KPI in 2021 will be Hyundai and Ford according to GlobalData's analysis.
The positioning of each of the OEMs for which data was available for at the time of publication is shown in the table below, together with the sources used for the indices.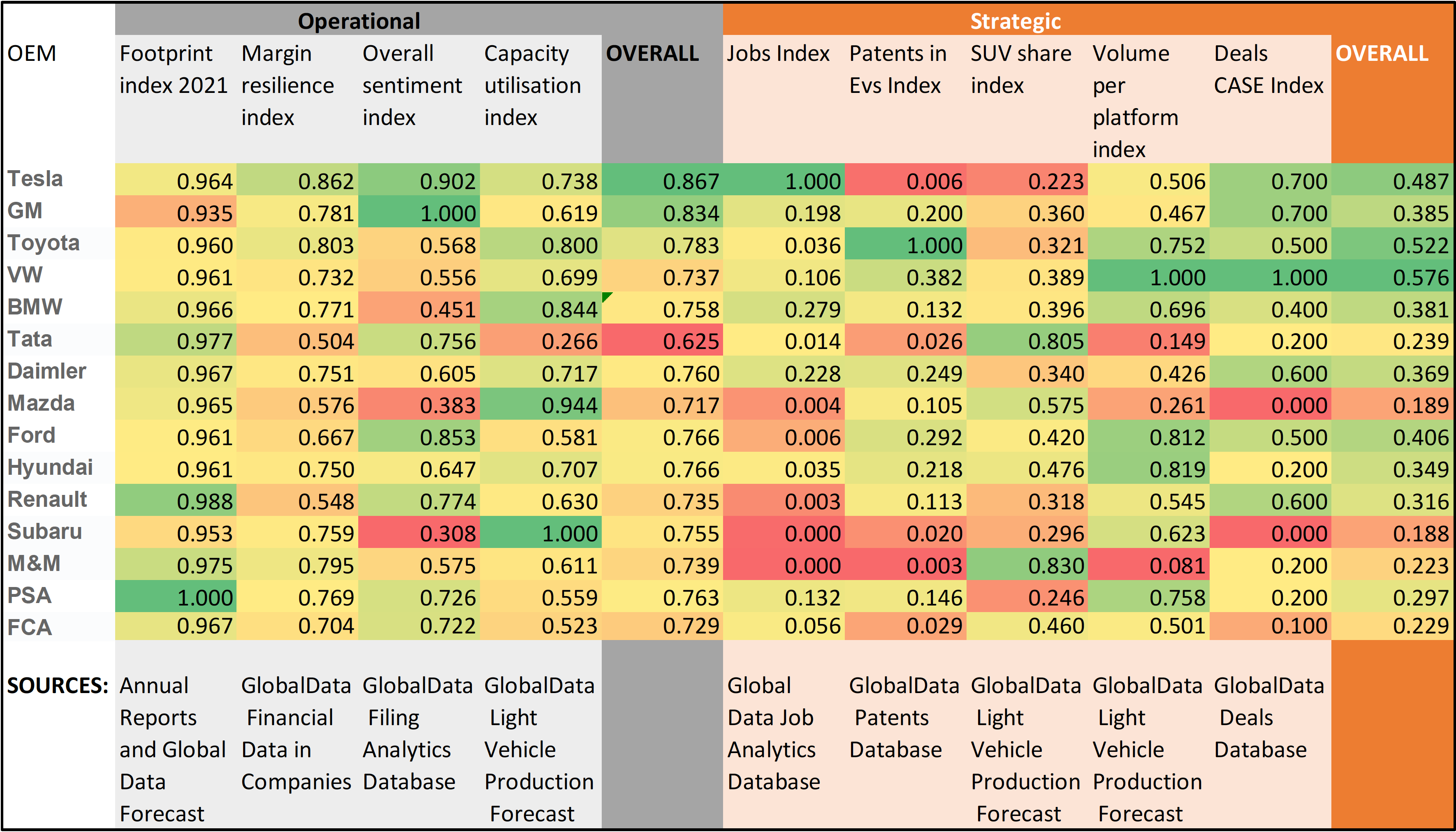 This article first appeared on GlobalData's research platform, the Automotive Intelligence Center