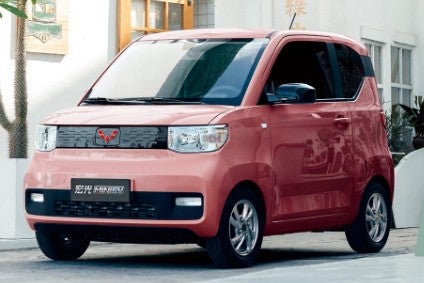 Exceedingly strong in light commercials, SGMW 's Wuling brand is also a force to be reckoned with in MPVs. The division is also beginning an expansion from the functional vehicles of the past and present, as witnessed by a series of concepts which have hinted strongly at what's coming for Wuling in the 2020s.
Electric
Preliminary details of a small, four-seat electric car were announced in March, four months before Chinese market sales commenced. The Mini EV is 2,917 mm long, 1,493 high and 1,621 high, with a 1,940 mm wheelbase. The motor's output are just 20 kW and 85 Nm, with the standard battery having a capacity of 9.2 kWh or 13.8 kWh for an optional one. Weight is claimed to be 665 kg (9.2 kWh) or 705 kg (13.8 kWh battery). The JV 's Baojun's brands' various micro-EVs are closely related to this one.
One interesting detail about the Mini EV is the interior layout. The car has a bench rear seat where the boot would be so to carry cargo, the seatback has to be flipped forwards. That also means that rear occupants' heads are very close to the back window.
The Rongguang Electric Vehicle was announced by the SAIC GM Wuling joint venture in April. It went on sale in China during the following month in passenger and van forms. SGMW says the range is 300 km (250 for cargo vans) and that The "Rong Guang electric vehicle has the same dimensions as the model powered by a standard internal combustion engine". The battery pack has a capacity of 42 kWh. Due to the age of the non-EV Rong Guang, the EV likely won't be in production for too much more than one year.
The 2020s: more MPVs and a sports car?
SGMW revealed plans for three additional vehicles at a special event in April, with each shown as a sketch. One of these, a small crossover, was called Cetus. It is due for launch in China and potentially certain other countries later in 2020.
The other vehicles were a rugged SUV called Ursa and Sirius , a sports car. All three were painted red in the sketch. The Ursa would have its sales launch in 2021, the JV announced, with the Sirius to follow in 2022. Then last month, a prototype called Hong Guang X was exhibited at the Chengdu motor show: it looked near-identical to the sketch of the Ursa.
The Hong Guang X may be coming soon but it will be preceded by another model called Victory. This we know as back in May SAIC GM Wuling revealed a new logo for Wuling and displayed a disguised MPV at the same event. The word 'Victory' could be seen as a model name on the tailgate. Chinese market sales of this six-seat model are due to commence in September. Then just a few days ago, the name and certain other details were confirmed but images of the exterior have yet to be seen.
Next year we should also see the replacement for Wuling's second generation Sunshine, a highly successful microvan and MPV series. The related Rongguang and Rongguang S models will probably be facelifted at the same time and then replaced in 2023. More details of these and other Wuling vehicles can be found in PLDB.
Reports for many other manufacturers' future models are grouped in the OEM product strategy summaries section of just-auto.com.
Future platform intelligence
More detail on past, current and forthcoming models can be found in PLDB, the future vehicles database which is part of GlobalData's Automotive Intelligence Center.
This is the second of seven features exploring the passenger car brands of General Motors , including its Chinese JV with SAIC and Wuling Motors . First came an exploration of what's ahead for Baojun, while next will be Chevrolet cars & pick-ups, then Chevrolet crossovers & SUVs, GMC and Hummer, Buick, and Cadillac.