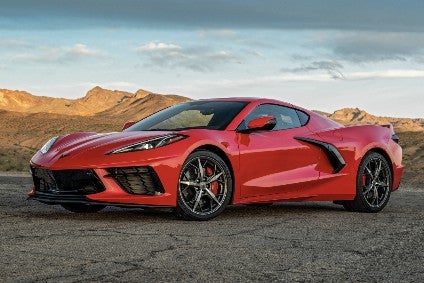 Chevrolet's best sellers in its two largest markets couldn't be more different, the Monza sedan being in great demand from buyers in China while Americans show no sign of falling out of love with the SILVERADO pick-up (and multiple SUVs). Due to these factors and the success of Chevy small cars in Brazil, GM will continue developing and expanding what is one of the most diverse arrays of models offered by any automotive brand.
Cars
The latest generation of a GM small car for lower income markets was a world debut at Auto Shanghai in April 2019, the Onyx being part of the SAIC GM joint venture.
The car's GEM (Global Emerging Markets) architecture is related to VSS-F, which is General Motors' global front-wheel drive platform. GEM is a lower cost, less sophisticated version. While GM do Brasil was the 'home room' for GEM and its Chevrolet models, PATAC in China is responsible for engineering Buick vehicles which use this architecture.
Brazil's Onix was announced locally in September 2019. Unlike the previous model, which was South America's best selling vehicle, both five-door hatchback and sedan are called Onix. Previously, the four-door had been called Chevy Prisma. Now it is the Onix Plus.
GM began making the Onix in Mexico in December 2019 and offering it locally from the following month for the 2020 model year. The car made at San Luis Potosi is also exported to certain other countries in The Americas, but not to Canada or the USA.
Facelifted versions of China and Brazil's locally made cars will likely arrive in 2023 and successors in 2026.
GM China revealed the Monza at the Guangzhou motor show in November 2018 and began selling it in March 2019. This 4.6 m long sedan which is closely related to the Buick Excelle GT, is offered with 1.0-, 1.3- and 1.5-litre three-cylinder petrol engines, and since May, mild hybrid variants too. With H1 retail sales of 55,398 units, this is China's most popular Chevy. The car is due a facelift in the second half of 2022 and to be replaced in 2026.
The next generation Camaro will be based on GM's VSS-R, this architecture being for all global RWD-AWD models. The current model's life cycle had been expected to be seven years, although it could instead run to eight or even nine, in which case the next model may not appear until 2023 (or later). That would put it about 12 months later than the launch of the next Ford Mustang which is expected for the 2023 model year.
GM may be planning to launch an electric Camaro too, a teaser video released in February seems to suggest. Some believe that Lansing (Michigan), which is where the existing model is manufactured, may be retooled in 2023/2024 to become an EV-capable plant.
The C8 (eighth generation) Corvette coupe was announced by General Motors in April last year but production didn't get underway until February due to a strike by the United Auto Workers. Convertible build was supposed to be added in April but this only began last month.
The Stingray coupe and Stingray convertible, both new for the 2020 model year (there are only minor changes for 2021: see PLDB), are heavier, longer (4,630 mm) and much wider but slightly lower than the C7, while luggage space is also down on the prior Corvette. Nonetheless, Chevrolet says the two boots/trunks can accommodate two golf bags and have a combined capacity of 12.6 cubic feet. A roof panel in the coupe can be removed to make the car a targa and stored in one of the boots.
The only engine so far is LT2, a 6.2-litre pushrod V8 with claimed outputs of 369 kW (495 hp) and 367 Nm (470 pound-feet) of torque when the performance exhaust option is specified. TREMEC supplies an eight-speed dual clutch transmission. There is no manual gearbox alternative. A range of other future powertrains – including a 5.5-litre biturbo hybrid – can be found in PLDB, along with expected dates for the mid-life facelift and replacement model.
Pick-ups
Not all Chevy pick-ups are large, the Montana being the best example of that. The third generation of this small pick-up is due to be announced later this year, with Brazil as ever being the main market and exports of a Tornado-badged model for Mexico expected to continue. The new model should be slightly larger and based upon the GM-SAIC GEM architecture.
The auto show debut for the latest generation Silverado took place at the NAIAS in January 2018. This would have meant a short lifecycle (five years) for the outgoing Silverado 1500 and its GMC Sierra 1500 twin but these trucks remained in production for a time as cheaper models.
The 1500 Crew Cab, which is 41 mm longer than before, is manufactured in Silao (Mexico) and Flint, Michigan. The Regular Cab & Double Cab are built at Fort Wayne, Indiana.
The Silverado and Sierra were the first vehicles for GM's T1xx architecture. The truck has a roll-formed, high-strength steel bed floor. Unlike Ford's rival F-150, aluminium is not used for the frame. The lighter material is limited to hinged panels (doors, hood/bonnet and tailgate) but all fixed ones (fenders/wings, roof and bed) are steel.
GM offers the Silverado with a 3.0-litre six-cylinder diesel. The engine's General Motors RPO (Regular Production Option) code is LM2, with the Silverado and Sierra GM's first models to be available with it. The Duramax-branded in-line six is manufactured at GM's Flint Engine Operations. Originally to be new for the 2019 model year, the engine was held over until the 2020 model year due to delays with EPA certification, it was stated in May 2019.
The bigger selling powertrains are General Motors' 5.3- and 6.2-litre pushrod petrol V8s. These are manufactured at Tonawanda Powertrain. One of the amazing things about these OHV designs is that up to seven of the eight cylinders can be shut down in certain conditions. The fewest number of cylinders which the previous 5.3- and 6.2-litre V8s could only run on was four. GM calls this cylinder deactivation technology Dynamic Fuel Management. This replaced Active Fuel Management.
All three engines (3.0-litre diesel, 5.3-litre gasoline and 6.2-litre gasoline) are linked to a ten-speed Hydra-Matic automatic transmission. In addition the I5 diesel and gasoline V8s, there is also now a 'Tripower' 2.7-litre four-cylinder gasoline unit which produces 310 hp and 348 lb ft. The Tripower (RPO code: L3B) is linked to an eight-speed automatic transmission and fitted as standard for RST and LT model grades.
As with the previous generation truck, the current one is sold in Mexico as the Chevrolet Cheyenne, 'Silverado' being the base trim level there.
Both Silverado and Sierra should have revised interiors – similar to the new Tahoe, Suburban and Yukon – for the 2021 model year and facelifts for the 2022 model year. Replacements are due towards the end of CY2025.
Plug-in hybrid and battery-electric versions of both the Silverado/Cheyenne and GMC Sierra are said to be under development. The gasoline-electric trucks will likely arrive in 2021 with the EVS to follow in 2022.
Reports for many other manufacturers' future models are grouped in the OEM product strategy summaries section of just-auto.com.
Future platform intelligence
More detail on past, current and forthcoming models can be found in PLDB, the future vehicles database which is part of GlobalData's Automotive Intelligence Center.
This is the third of seven features exploring the passenger car brands of General Motors, including its Chinese JV with SAIC and Wuling Motors. First came an exploration of what's ahead for Baojun, then Wuling, while next will be Chevrolet crossovers & SUVs, followed by GMC and Hummer, Buick, and Cadillac.