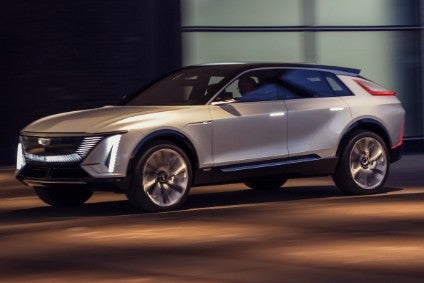 The ELR lasted a little more than two years, too-high pricing being the main reason why the brand's first electrified car was axed in 2016. Now though as battery chemistry advances, General Motors is pushing Cadillac into the era of more affordable models, only this time with full electrification. And apart from the Escalade, change is coming for the marque's model names too.
Cars
The CT5 is one of the brand's newest vehicles, this sedan having been an addition for the 2020 model year. Measuring 4,924 mm, it replaced the ATS-L in China as well as the ATS and CTS in North America. The first cars were delivered to US buyers in December 2019.
The V-Series, available in North America since early 2020, is powered by a 265 kW (355 horsepower) biturbo 3.0-litre V6. A ten-speed automatic gearbox is standard, as is a limited-slip differential.
A CT5 Blackwing will be new for the 2021 model year. It is unclear from the little that Cadillac has said about this variant if it will have a special engine or just a body kit and lowered suspension. A six-speed manual transmission will be standard.
All versions of the CT5 are due to have a facelift in 2023 and the model name may change to a word either at that time or possibly earlier. A replacement wouldn't arrive until the 2027 model year with that car becoming an EV.
The larger CT6 is one of only a small number of Cadillac cars. Introduced in 2016, this big sedan has around another two and a half years of production remaining. Build in the US ceased in February but SAIC GM's Pudong plant in Shanghai continues to manufacture the model, including a plug-in hybrid variant. If there is a successor, like the replacements for the CT4 and CT5, this will be an electric car.
SUVs
A 4.4 m long SUV to compete with the likes of the BMW X1, Mercedes GLA and Audi Q3 is thought to be coming in 2021. At one time the model name would have been XT3 but now it will be a word which ends in iq. China should be the main market, with production taking place via the SAIC-GM joint venture. Build in North America is not a certainty. The architecture should be VSS-F.
Replacements for the Escalade and long-wheelbase Escalade ESV became available in August. While the previous editions had a solid axle with five-link location and coil springs, the 2021 model year Escalades have independent rear suspension.
Cadillac's two biggest SUVs are part of a family of vehicles, the standard Escalade being closely tied to the Chevrolet Tahoe and GMC Yukon, while the ESV shares much with the lengthier Chevy Suburban and GMC Tahoe XL. As with the other long-wheelbase models in this GM family, the Escalade ESV is significantly lengthier than the previous generation.
Fresh features include a large curved Organic Light Emitting Diode (OLED) screen and an AKG sound system with up to 36 speakers and three amplifiers. What Cadillac calls 'Super Cruise' automatic cruise control also features. This enables hands-free driving on more than 200,000 miles of compatible highways in the United States and Canada, using LiDAR map data, GPS, a driver attention system and a network of cameras and radar sensors. The system also includes automated lane changing.
Buyers have the choice of two engines, each linked to GM's 10L80 ten-speed automatic gearbox:
277 horsepower (207 kW) and 460 lb-ft (623 Nm) 3.0-litre Duramax-branded in-line six-cylinder diesel (LM2)
420 horsepower (313 kW) and 460 lb-ft (623 Nm) 6.2-litre gasoline OHV V8 – GM engine code L87
There is either a '600' or '600D' badge on the tailgate. This is meant to show a rounded down torque figure in Newton metres. If and when GM adds its L84 5.3-litre V8, the badge would be 500. A PHEV powertrain might be headed the Escalade's way too.
These big SUVs are likely to remain the eventual sole exceptions to Cadillac's newly announced naming system.
Electric
There is a big sedan in Cadillac's future but unlike previous entrants in the 5m+ long class, this one will be an EV. As pricing will start at around 200,000 US dollars, volume will be low. The model name – Celestiq – was announced in March. The start of production is likely to be three years away.
According to General Motors' annual sustainability report – released in July – Cadillac will eventually offer four electric SUVs or crossovers as well as a single 'statement vehicle' which is believed to be the Celestiq.
One of the four should be an Audi Q4 e-tron-sized model, so around 4.6 m long. Launch timing is unclear but the 2023 model year is rumoured. The architecture will either be BEV2 or BEV3.
All Cadillacs apart from the Escalade will have names which end in the letters i and q (e.g. Lyriq and Celestiq) and GM has filed to register Symboliq and Optiq in multiple countries. So far at least, it isn't known what the Q4 e-tron-sized SUV will be called.
GM has however confirmed the name of a larger electric crossover-SUV for the Cadillac line-up. The rear-wheel drive/all-wheel drive Lyriq will be available in China in 2021/2022 but not until late 2022 in the USA. Production will be in both countries.
This vehicle, previewed by a concept of the same name revealed online only weeks ago, will be a competitor for the Jaguar I-Pace, Audi e-tron, Mercedes-Benz EQC, BMW iX3, Polestar 2 and higher end versions of the Tesla Model Y.
Aside from the long wheelbase and short overhangs, on the inside, Cadillac's plug-in SUV will be distinguished by a 33-inch wide and 5-inch high piece of glass across its dashboard, this display being divided into three zones.
The Lyriq will be based on General Motors' BEV3 architecture, a platform developed especially for fully electric vehicles. The EV1 was the sole model for General Motors' first generation EV architecture, with the second generation platform having been developed for the Chevrolet Bolt. BEV3, which can be front-, rear- or all-wheel drive, will become a mainstream architecture with multiple vehicles for several GM brands to be based upon it.
What GM is branding its Ultium battery pack will feature. The company told the media in March that the cost will be below US$100 per kilowatt-hour and offer a driving range of up to 400 miles on a full charge. The packs will be assembled in Ohio as part of a JV with LG Chem.
Reports for many other manufacturers' future models are grouped in the OEM product strategy summaries section of just-auto.com.
Future platform intelligence
More detail on past, current and forthcoming models can be found in PLDB, the future vehicles database which is part of GlobalData's Automotive Intelligence Center. That includes the Cadillac vehicles not included in this feature.
This is the seventh of seven features exploring the passenger car brands of General Motors, including its Chinese JV with SAIC and Wuling Motors. First came an exploration of what's ahead for Baojun, then Wuling, Chevrolet cars and pick-ups, as well as the same brand's crossovers and SUVs, then GMC and Hummer, followed by Buick. The next OEM to have its future model plans looked at will be SAIC.