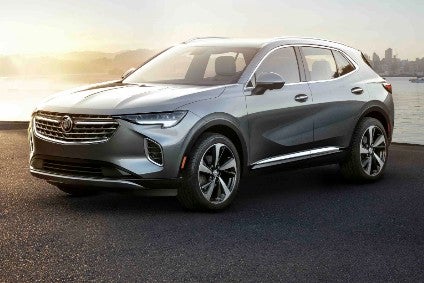 Buick continues to be General Motors' number one brand in the world's largest market. Whereas in North America this will soon be a division selling only SUVs once imports of the Opel-built Regal end, in China, there are cars, MPVs and EVS in addition to multiple SUVs. What's more, GM and its partner SAIC have no intention of slowing down the pace of additional model launches.
SUVs
The Encore and Encore GX were both revealed to the media on the eve of the Shanghai motor show in April 2019. They use different architectures: while the 4,295 mm long Encore is based on SAIC and GM's GEM (Global Emerging Markets, a low-cost platform), the 4,463 mm Encore GX uses General Motors' own VSS-F.
In North America, the first generation Encore continues to be available, while the larger GX is an additional model. GM confirmed in May 2019 that the Encore GX would be new for the 2020 model year in North America and due on sale there from early 2020. As for engines, there are two choices:
102 kW/137 horsepower & 220 Nm 1.3-litre gasoline turbo (code: L1H), CVT/front-wheel drive only
115 kW/155 horsepower & 236 Nm 1.3-litre gasoline turbo (code: L3H), CVT/front-wheel drive or nine-speed automatic/all-wheel drive
These SUVs should be in production until mid-2026 after a facelift and powertrain updates in 2023.
Buick recently announced North America's 2021 Envision. Built in the PRC, the second generation of this SUV would be sold there as the Envision S, GM China stated in June 2020. That's because the original continues for the Chinese market as a cheaper alternative.
There had been speculation that the replacement would be manufactured in the US – Fairfax (Kansas) specifically – but it remains an import for North American markets.
Although it is larger than China's first generation Envision, the new Envision/Envision S shares much with the Cadillac XT4. Power is via General Motors' 2.0-litre LSY engine, linked to a nine-speed automatic transmission. Front-wheel drive is standard and AWD optional. Power and torque are said to be 237 horsepower and 258 pound-feet. Official outputs for the Chinese market are 174 kW and 350 Nm.
Sales in the USA, Canada and Mexico are set to commence in early 2021, Buick division stated in May. For the first time, the brand's upscale Avenir model grade will be available too. Life cycle details and other data for the Envision/Envision S can be found in PLDB.
E2YB is the project code for a future SUV which could be called Envision GX in both China and North America. This seven-seat model can be thought of as a larger Envision/Envision. See PLDB for more details, such as launch timings and platform.
Confusingly, the name of a special model for China was already used in North America for a larger crossover. The Enclave, announced to the media in November 2019, is Buick's first locally made seven-seater. This 4,981 mm long SUV shares much, including a wheelbase dimension, with the 5,050 mm long Cadillac XT6.
The Enclave (model code C1UB-S) is powered by GM's LSY engine. This 2.0-litre petrol turbo, which produces the same claimed 174 kW and 350 Nm as in the Envision S, is linked to a nine-speed automatic gearbox.
It is not yet known if this model will also be built in North America but if it is, the model name may not necessarily have to change. Some believe that the existing Enclave (code: C1YB), launched in 2017 for the 2018 model year, will instead become the Enclave GX when it is facelifted in a year's time. The replacement is due in 2024.
Electrified & Electric
SAIC and GM's Buick Velite 6 model range consists of three cars for the Chinese market. One of these is a plug-in hybrid and the other two are EVs:
Velite 6 (PHEV), launched in December 2018, range of up to 700 km or 435 miles on battery and range-extending 1.5-litre petrol engine
Velite 6 MAV (EV), launched in April 2019, 35 kWh battery pack, 301 km or 188 miles NEDC maximum range
Velite 6 Plus MAV (EV), launched in October 2019, 52.5 kWh battery pack, 410 km or 210 miles NEDC maximum range (battery & 110 kW motor shared with Chevy Menlo)
The Velite 6 came first, with the Velite 6 MAV revealed at the Shanghai motor show in April 2019. Deliveries of a production run of 5,000 vehicles for EV card, a car-sharing company, commenced straight away. The 6 Plus MAV then went on general sale in October 2019.
Last month, GM China stated that it would soon be launching a revised version of the Velite 6. Now, the PHEV has a range of up to 780 km of which 60 is when the car is in EV mode. The updated model premiered at the Chengdu motor show. There should be facelifts for all three cars in 2022 and depending on consumer trends in electrification, replacements for the PHEV and EVs or only the EVs in late 2025.
Announced in June and revealed at the Chengdu motor show last month, the Velite 7 is a 4,264 mm long crossover powered by a single motor which produces 130 kW. The NEDC rated maximum range is 500 km (310 miles). Sources indicate that a model closely linked to this one could be also be made in the USA, potentially at Orion Assembly. It might not necessarily be a Buick though, as there are indications that Chevrolet might be given this model. The Chinese market original should have a facelift in early 2024 and be replaced in the second half of 2027.
The Velite 8 (provisional name) is to be a 4.7-4.9 m long electric crossover for North America and likely China too. It should be closely related to a similarly sized model for Chevrolet. See PLDB for more details.
Reports for many other manufacturers' future models are grouped in the OEM product strategy summaries section of just-auto.com.
Future platform intelligence
More detail on past, current and forthcoming models can be found in PLDB, the future vehicles database which is part of GlobalData's Automotive Intelligence Center. That includes the Buick SUVs, MPVs/minivans and cars not included in this feature.
This is the sixth of seven features exploring the passenger car brands of General Motors, including its Chinese JV with SAIC and Wuling Motors. First came an exploration of what's ahead for Baojun, then Wuling, Chevrolet cars and pick-ups, followed by the same brand's crossovers and SUVs, then Hummer and GMC. The subject of the final feature will be Cadillac.