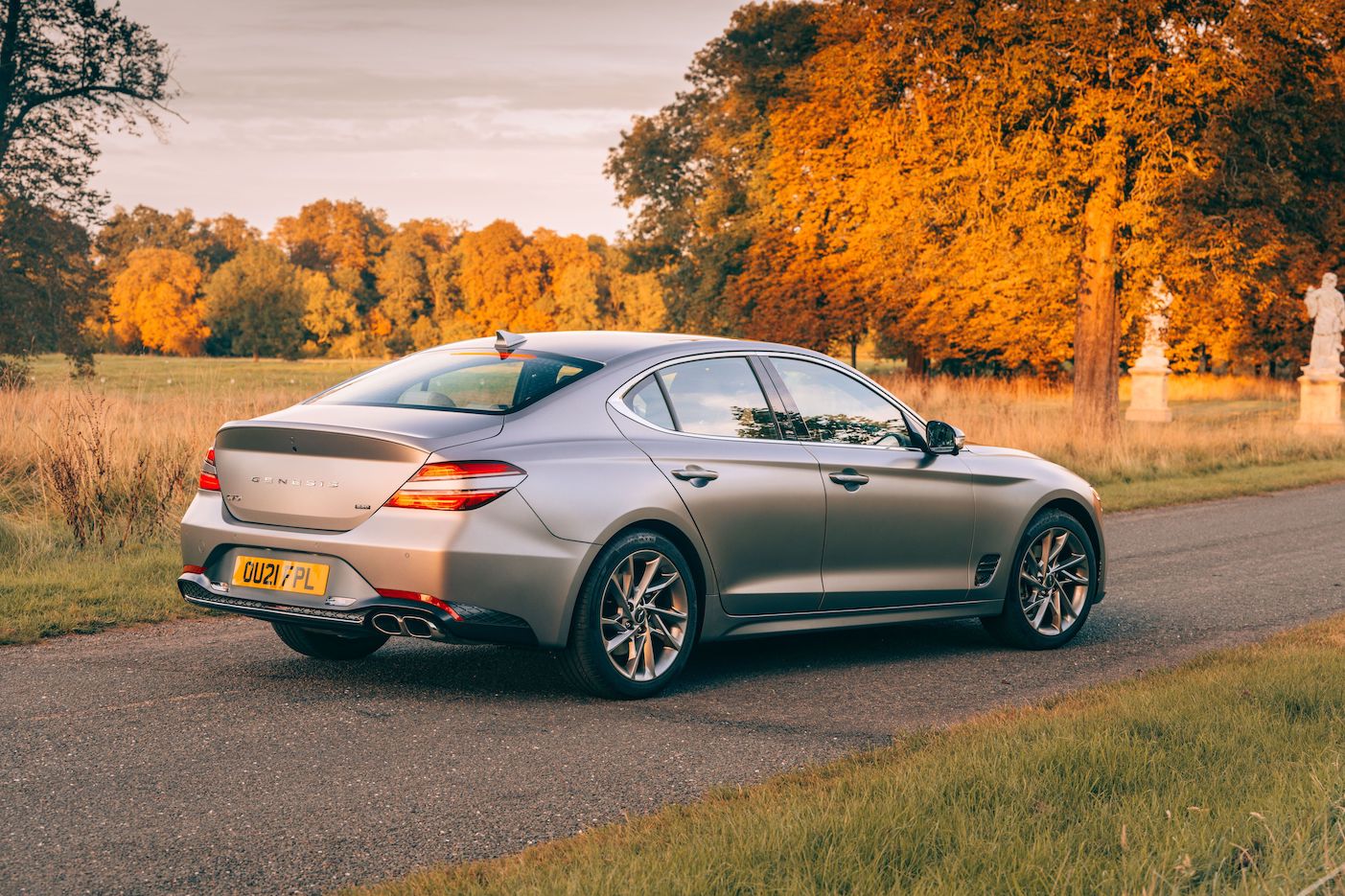 With only The Big Two ahead of it in the home market, Genesis is now outselling (in order) Mercedes, BMW, GM Korea, SsangYong and Renault Samsung.
Big in Korea…
The sales total for 2021 reached 92,967 cars and SUVs at the end of August: more than enough to place the brand third behind KIA (367,546) and Hyundai (404,018). Plus, the lead over Mercedes has been extended to 32,000 vehicles.
…and America
Things are also good in the USA, where year-to-date deliveries hit 29,453 on 31 August. The 266 per cent gain over the same period of 2020 isn't entirely meaningless either, even allowing for Covid, additional models and the chips shortage. One factor, and seeing how rapidly Genesis is catching Lincoln, is the decision not to give up on cars.
What about Europe?
It will take many years for the parent company to measure Genesis' success in Europe. The brand is only just getting started, with the UK, Switzerland and Germany the first three countries. So far, combined volume is under 1,000 vehicles but we're only in the initial months of a regional roll-out.
Two sedans are part of the push, Hyundai seeing that its needs to show Genesis has much to offer. There's also a pair of SUVs, an estate and an electric version of the larger sedan coming soon. An e-crossover arrives in 2022.
Lexus has proved that it is possible to deliver good volume if the models, customer service, technology and pricing are right. That has taken decades. Also, others continue to struggle or have failed: Jaguar, Alfa Romeo, DS, Maserati, Cadillac and Infiniti come to mind. Still, Volvo has broken through, and Tesla too.
Mentioning the US-based EV specialist is especially relevant as Genesis' management says it won't be launching any new ICE-powered models from mid-decade onwards. The petrol-powered cars and SUVs are much needed today – for the US in particular and certain ones could in theory find success in China.
Electrification
The one major oddity is a lack of any form of electrification: not even mild hybrids. That's because Genesis intends to jump straight to EVs. Images of the first of these, the GV60 (think Model Y) are out but full specifications are yet to be announced.
This crossover is a medium-sized model, with the G70, G70 Shooting Brake, GV70, G80 and GV80 above it. The 70s are meant to compete with the BMW 3 Series saloon and Touring plus the X3, with the 80s up against the 5 Series and X5.
I'm not sure why the newly announced eG80 is also known as the Electrified G80. Nor is it clear why the electric-only GV60 isn't called eGV60. Well, there won't be ICE versions of the crossover as it's on a dedicated electric platform. Perhaps in time, the ripples in this sometimes odd badging system will be ironed out.
Three EVs for Europe
Genesis held a media presentation earlier this month in which the division's future strategy was stated: eight electric models by 2030 and every vehicle launched after 2025 to be either a fuel cell EV or a battery EV. We know about the GV60 and eG80 but there's another electric model coming next year and it will be sold in European markets.
Here's how the line-up could look within 12 months:
GV60 (electric crossover)
G70 (diesel and petrol sedan)
G70 Shooting Brake (diesel and petrol estate)
'GE70' (name and body TBC but possibly an electric sedan or hatchback)
G80 (diesel and petrol sedan)
eG80/Electrified G80 (electric sedan)
GV80 (diesel and petrol SUV)
new G90 (ICE sedan, RS4 project code, to be revealed by the end of 2021)
Once the EVs begin to appear, the brand will have quite a good mix of models, although it's a shame there apparently won't be an electric version of the G70 or G70 estate.
G70: the background
While adapting these cars' platform to be EV-compatible has been done for the larger eG80, the G70 is being launched in Europe with ICE options only.
The car itself dates to 2017 with the facelifted model launched in the Korean market just under a year ago. All cars are built at one of the multiple plants within Hyundai's vast Ulsan manufacturing base, production likely to last until 2023/2024.
Engines & transmission
Originally, there were three turbocharged engines: 254 hp 1,998 cc four-cylinder petrol, 202 hp 2,199 cc four-cylinder diesel and 365 hp 3,342 cc V6 petrol.
The changes announced in October 2020 saw engines become 185 kW (252 PS) and 353 Nm (260 lb ft) 2.0-litre, 272 kW (370 PS) and 510 Nm (376 lb ft) 3.3-litre V6 and 149 kW (202 PS) and 441 Nm (376 lb ft) 2.2-litre diesel.
There are also slightly more powerful versions of the petrols: 188 kW for the 2.0-litre Sport and 274 kW for the 3.3-litre Sport. Hyundai-Kia-Genesis' own eight-speed automatic gearbox is standard for all cars in Europe and we're offered the choice of the four-cylinder petrol and diesel engines only.
An estate just for Europe
Genesis revealed the G70 Shooting Brake online in May confirming that it would be available in the brand's newly announced European markets but not in North America.
The public premiere was at the Goodwood Festival of Speed in July with sales due to start soon. Length is 4,685 mm and the wheelbase (2,835 mm) is identical to the sedan's.
The driving experience
The four-door car I drove this week felt for all the world like an XE and that's a big compliment. It has a more distinctive appearance than the Jaguar though, Genesis' new two-lines theme making the facelift effectively a major one, such is the contrast to what went before.
Handling is great, roadholding just as good (AWD is optional) and in the diesel version I sampled, road noise is far from intrusive. And I had arrived at the driving event in an EV.
The cabin feels like that of a luxury car with nice touches everywhere: hardly any tough-feeling plastics; lots of attention to detail (e.g. the grille's diamond pattern repeated on the pedals); safety-first for the HVAC controls (i.e. real buttons); and soft-touch fabric for the headliner, insides of the glovebox and armrest cubby box.
Who will buy a Genesis?
Genesis' sales boss Jonny Miller is ex POLESTAR (and Volvo before that), so knows all about start-up brands and is also primed for the first electric cars when they arrive in 2022. He sees the typical buyer being either a self-made high-income earner and/or young families seeking a vehicle which is strong on comfort and safety.
The brand slogan – It's About Time – is a play on words as Genesis employs personal assistants who will deliver a test drive car to a potential customer's home or office. The same person takes care of servicing for an owner and ensures that there is a courtesy car at such times. The customer may also choose to take a subscription rather than buy the vehicle. As for showrooms, there are only a few of these at present.
So how will Genesis do? It's hard to say right now and probably we won't see much in the way of convincing volume until the first EVs are available. Plus it's very early days for general awareness of the name.
Conclusion
As an opening shot, the G70 shows that Hyundai understands exactly how a luxury car should look and feel. If the after-sales package lives up to Genesis' promises, customers keen to end an unsatisfactory experience with their existing car/dealer and jump brands could be in for a treat.