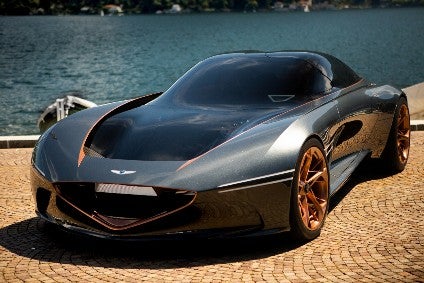 It started as an experiment. Would Hyundai succeed as a maker of high priced cars outside its home base? Too soon to say would be the most accurate answer. That's if sales volume of at first Hyundai Genesis cars and now Genesis cars is the only measure of success.
The original Hyundai Genesis, a large sedan since replaced by the Genesis G80, did well for a time in the US and Canada. Then came the bold move to create a luxury division. Soon after, the market for sedans began to slide in North America.
HMG's luxury make is still waiting for its first crossover or SUV. Dealers in North America are counting the days until they finally have one such model as brand sales keep on falling.
US sales halve
Hyundai Motor America has stopped reporting deliveries for the brand. Nor does Genesis USA do so. The most recent publicly available data show that in 2018, sales halved, plunging to 10,312 from 20,594. The range is small, consisting of three cars. The G90 is very expensive, the G80 is six years old and competes in a segment where not even mighty Lexus finds favour. The G70 is one bright spot but it's pretty much holding the fort solo.
An SUV which would appeal to those who might otherwise consider a Volvo XC90, Lincoln Aviator or Acura MDX has the potential to turn things around. Plus, since Nissan's extraordinary decision to first let the Infiniti QX70 become old and then, discontinue it, an established premium brand has left the door open for a new one to enter and take its customers. If Hyundai can fast-track a smaller SUV and possibly a larger one too, then Genesis has a shot at rebuilding sales; maybe even getting back above 20,000 units a year in 2020 or 2021.
Tricky times in Korea too
In South Korea, things are in some ways very different to the brand's experience in the USA and yet, alarmingly similar too. There, registrations are high as Genesis appears to be thriving. In January, the brand outsold Renault Samsung and in so doing took position five in the sales charts behind Hyundai, Kia, SsangYong and GM Korea. Even though in February Genesis fell to sixth, it remains the country's number one luxury make ahead of Mercedes-Benz. Look closer though and things are not what they seem.
Mercedes ended the first two months of 2019 with registrations down 31 per cent, to 9,407, while Genesis' decline was a less dramatic 17 per cent, to 9,417. Yes, there was only 10 vehicles in it. As with the US and Canada, Hyundai's upscale brand needs some SUVs and a successor for the G80. This car remains the number one model, yet registrations are down by 39 per cent for the year to date, to 4,352 units, due to the G80's lack of popularity. By contrast, the G70 is doing well against the Mercedes C-Class, Audi A4 and BMW 3 Series, its sales reaching 2,718 vehicles over the first two months of the year.
The XL sized and high-priced G90 is also performing well in South Korea, its total being 2,347 for the year to date. In February, the largest Genesis (960) even outperformed the Chevrolet Trax (920), Kia K9 (906), Kia Stonic (823) and SsangYong Rexton G4 (811). Until a new G80 arrives in the second half of 2019, along with what is expected to be called the GV80, an SUV, Genesis seems likely to lose more traction to the Germans.
Below is a look at the current model range plus what can be expected into the 2020s.
Cars
The G70, a 4.7m long sedan, has been available since late 2017. The car is closely related to the Kia Stinger though it does not share that model's hatchback body style. The US, South Korea and to a lesser extent Russia and a collection of states in the Middle East are the main markets.
This model offers the choice of up to three turbocharged engines: 254hp 2.0-litre four-cylinder petrol, 202hp 2.2-litre four-cylinder diesel and 365hp 3.3-litre V6 petrol. Rear-wheel drive is standard, and all-wheel drive is optional.
The next news for the G70 should be a facelift in 2021. The life cycle is due to end in 2024 and at the moment, there is no confirmed replacement planned. Hyundai may instead move away from this segment or even turn the second generation into an EV, depending on how buyer preferences for sedans of this size evolve.
The second generation G80 is expected to go on sale in South Korea, its first market, in the final quarter of 2019. The car should be based on an update of the existing model's RWD/AWD architecture. It should also be the first one from Hyundai Motor Group to be available with HMG's Theta 3 and updated Lambda 3 engine families.
Theta 3 is said to be a 2.5-litre four-cylinder unit producing 300PS, while the next generation of the Lambda will be a 400PS 3.5-litre V6 – at least for Genesis models. Each of these petrol engines has two turbochargers. With the introduction of Theta 3 and Lambda 3, the normally aspirated 3.8-litre V6 and biturbo 3.3-litre V6 will be phased out. There should also be 48V electrics although it is not yet known if this applies to all engines. As yet, there is no mention of a PHEV or a diesel option.
As it has been two years since a two-door car was available, some believe that HMG has changed its mind over returning such a model to the line-up. Originally expected in 2020 and to be called GC80, a replacement for the former Hyundai Genesis Coupé (Hyundai Rohens Coupe in China) is now said to have been put back until 2021 while SUVs are prioritised.
Genesis' largest model is the G90, an XL-sized sedan available in two lengths: 5,205mm standard or 5,495mm long-wheelbase. This successor for the Hyundai Equus sold in the company's home market and China was announced in December 2015. In South Korea, it was originally called Genesis EQ900 but in export markets it has always been the Genesis G90. That name went global to coincide with a major facelift revealed in RK four months ago. The restyle is the main news for the 2020 model year in Canada and the US, the updated car having had its regional debut at the Montreal auto show in January.
The successor should go on sale worldwide during 2023. Today's V8 might be phased out at that time too. HMG's 400PS 3.5-litre Lambda 3.5-litre V6 will likely continue though and there should also be a PHEV four-cylinder powertrain. The plug-in hybrid option will almost certainly also be available at launch or added soon after in the Chinese market. Hyundai is still formulating firm plans for the brand's push into that country.
Crossovers/SUVs
The provisionally named GV70, the smaller of at least two crossovers and SUVs, should be launched in 2020. Expect petrol and PHEV petrol-electric powertrains for this SUV which will be aimed at the Lexus NX, Volvo XC40, Audi Q3 and so on.
The larger GV80 (name not yet official) will probably make its world debut next month at the Shanghai and New York auto shows and be on sale in Q3. We have already had a preview of how this big SUV may look thanks to the GV80, a concept which premiered at the New York auto show in April 2017. That vehicle had a fuel cell powertrain.
The series production version of Genesis' first SUV will likely be available with HMG's new 2.5-litre four-cylinder (Theta 3) and 3.5-litre V6 (Lambda 3) petrol engines. As noted above, each has two turbochargers and 48V electrics. Expect a plug-in hybrid also.
Electric
Hyundai is said to be planning a battery-electric sedan which is being developed with many of the same components as will feature in a related Kia EV. The Kia – as preview by the recent KED13 revealed at the Geneva motor show – will come to market first, company insiders say. The model name could be GE60.
The GEV70, a battery-electric crossover to take on the Jaguar I-Pace, Audi Q4 e-tron, Tesla Model Y and others in the premium-priced D-SUV segment is probably going to appear in 2021 just ahead of the GE60. Details of this model remain sketchy for now but that situation will shift later in 2019 as more information comes to light from insiders and suppliers. See PLDB below for relevant details.
Reports for many other manufacturers' future models are grouped in the OEM product strategy summaries section of just-auto.com.
Future product program intelligence
More detail on past, current and forthcoming models can be found in PLDB, the future vehicles database which is part of QUBE.
This was the second of three features which look at the present and next generation models for Hyundai Motor Group brands. After this one and an earlier examination of what's coming and when for Hyundai Motor's passenger vehicles, the series will conclude with a focus on Kia Motors.