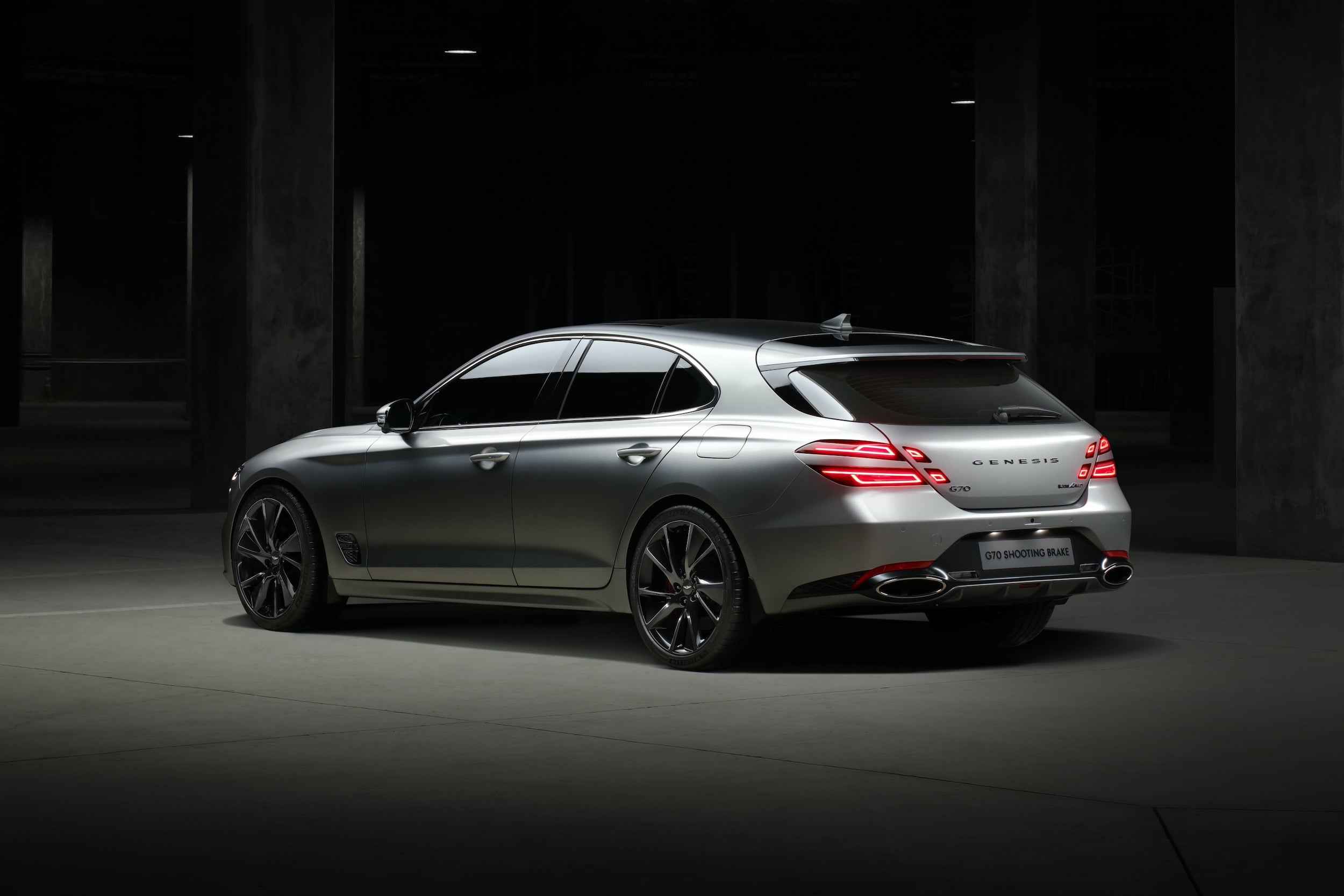 There have been a few models from Korea's only premium brand in my driveway during the last six months. Each has caused neighbours who know what my job is to enquire what the tailgate word G E N E S I S means. Then, is it any good and how much does it cost?
The opportunity
Nobody has scoffed when I explain what this brand is; instead, people listen and make a mental note of the novelty of benefits such as a personal concierge available. Many don't appear to be feeling the love for their Mercedes, BMW, Audi and Volvo dealers, or their Tesla outlet. Even though they really like their car. Seems as though there's an opportunity. For both premium brands to reconnect with customers and for new ones to entice some of these people away.
Enter the G70 Shooting Brake. Throughout 2018 and 2019, there had been rumours that an estate version of the brand's challenger for the BMW 3 Series saloon was coming. Such a car was announced online in May 2021, Hyundai's luxury division stating then that it would be available in the first three European targeted markets.
Going global?
The public premiere happened in July last year at the Goodwood Festival of Speed. Having originally stated that the wagon would not be available in the US, Canada and South Korea, earlier this month that was apparently reversed. And while Genesis HQ is yet to confirm this, it would make sense.
The present generation G70 has been around since the third quarter of 2017, a dramatic facelift bringing it in line with the looks of newer Genesis cars taking place in October 2020.
With the US having been the largest market, the updated sedan debuted for that country's 2019 model year. The car has been quite successful there too, as well as in Korea.
As for those three European countries, the lack of any electrification has been one reason why registrations in Switzerland, Germany and Britain aren't anything special.
Still, the G70 in both four- and five-door forms is a worthy opponent for the 3 Series, A4, C-Class (and Lexus ES in North America and China), along with certain other lower volume alternatives such as the S60, V60, XE and Giulia. In Europe, it's more a case of the BMW, Audi and Benz, plus the Volvo estate in a few markets.
Looks over luggage
The length of the S.B. is 4,685 mm and the wheelbase (2,835 mm) is identical to that of the sedan. You only need to look at the estate's profile to realise that this isn't a car designed to hold lots of luggage, even if it does manage an additional 40 per cent. Handily, the rear seat backs split 40:20:40.
The Shooting Brake is instead for those who need some extra cargo capacity but don't want to be in something which says 'default German brand car'.
The tailgate, with its inset extra lights, is probably the most fascinating part of the exterior. I say that even with a front end that includes a highly distinctive grille as well as the brand's two-line headlights. Genesis vehicles have their own distinct style and the Shooting Brake is especially attractive. From every angle.
Luxury feel
Opening (and closing) the boot is done via the usual key remote or via a dashboard button. The seats flip readily and there are so many genuine luxury touches, one of which is thick carpet. That might seem a small detail yet wagon owners will be experiencing that plushness as they open the cargo bay more than saloon buyers do.
Hands cannot also help but touch what is especially soft leather seat facings. That applies equally to the steering wheel's cover, which incidentally comes with heating. In fact all versions of the G70 have what must be best-in-class levels of standard equipment. Another thing which makes an impression is a fantastic sound system.
Four driving modes
Its maker has specified non-digital controls for the heating and ventilation, or at least they're real press on-off switches, adding to the feel of a vehicle designed by and for actual humans. You also get a phone charging pad, a good-sized cubby, switches with a satisfying action to them plus four modes for the dynamics settings: Eco, Comfort, Sport and Sport+.
The instrument cluster changes according to which mode has been selected and like pretty much every Genesis, there are two big circular displays. Mostly, one is the speedo and the other the tacho but flick the indicator stalk and depending on the direction you intend to move in, one of the circles switches to a view of what's in that lane.
A few quibbles
The lane sentinel is eye catching and an excellent safety feature. Would that so many of the other things which assail and annoy drivers in many new cars were as useful. The S.B. has all these things too, but at least you can switch a lot of them off and they stay that way. Who wants to be chimed in and out of their car, for example?
The dreaded steering wheel yanking isn't too bad in the G70 but unfortunately it needs to be deactivated every time, something you don't have to tolerate in a 3 Series Touring. The driver also gets good communication about what's going on at the front axle too even if there will eventually be understeer a fair bit back from the limit.
Some suggested improvements for any eventual successor would be soft surfacing on the backs of the front seats plus those two or three people in the rear need more space for their legs and heads. At least the door trims are beautifully soft and pleasingly shaped. One other thing: run flats or a spare tyre please.
Will the German OEMs be worried?
It's quite the relaxing yet mostly-fun-when-pushed car, the G70 Shooting Brake. Plus I cannot emphasise enough how genuinely premium all Genesis models seem to be. And you can't say that about every other high-cost alternative model. All that's needed now is for Genesis to become better known in its newer markets.
The all-wheel drive test vehicle was powered by a 179 kW and 353 Nm 2.0-litre turbocharged four-cylinder petrol engine. The transmission is HMG's own eight-speed torque converter automatic. Zero to 62 mph takes a stated 6.9 seconds, top speed is 146 mph, CO2 emissions are a combined 212.4-217.4 g/km and Combined consumption is 29.5-30.2 mpg. Pricing is from GBP35,250.