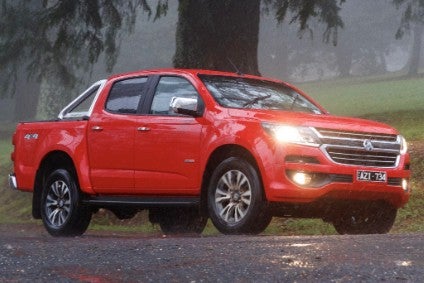 Once the number one make in Australia, Holden now mostly dwells in position number nine. In August, sales dropped by 18 per cent, almost double the market average. Had Subaru sold just 17 more cars, Holden would have been pushed into tenth place. A new Trax is set to land locally in 2020 but other than this small SUV, the future product cupboard is looking fairly bare, at least in the short term. 
The current generation Colorado has been available in Australia and New Zealand since June 2012 so it's no wonder that sales have been sliding throughout 2019. Built alongside its Chevy Colorado twin at GM's Rayong plant in Thailand, there are single cab, space cab and crew cab bodies.
A facelifted model was announced by Holden in August 2016 and there will probably be another restyle later this year. The next Colorado could be as far off as 2022.
In July 2016, Isuzu announced to the media that its collaboration with GM on the development of midsize pick-up trucks made in Thailand had ceased. Earlier the same month the Japanese company noted that it had agreed a supply deal with Ford for the next generation Ranger, which means the end of the Ford-Mazda AutoAlliance light truck JV in Thailand. GM is therefore going it alone in developing the next generation of such models for the Chevrolet, GMC and Holden brands.
Holden's smallest SUV is the Trax, which has been around since the third quarter of 2013. It comes down the same production line as the all but identical Chevrolet Trax at GM Korea's Bupyeong plant. A facelifted model went on sale in Australia and New Zealand during the first quarter of 2017. The next generation has already been revealed as a Chevy and this should be in Holden dealerships during the first half of next year.
The Equinox replaced the Captiva, a C/D segment which was discontinued in late 2015. It went on sale in Australia and New Zealand during late 2017. Two turbocharged petrol engines were available from the start of sales: a 127kW and 275Nm 1.5-litre and a 188kW and 353Nm 2.0-litre. A 1.6-litre diesel was added in May 2018. A facelift is expected in mid-2021, with a successor due in late 2025. This should be on GM's VSS-S architecture.
The Colorado 7, a version of the body-on-frame Chevrolet TrailBlazer, would be launched by GM Holden in early 2013, the company confirmed in November 2011. The Colorado 7 premiered at the Sydney motor show in October 2012, before going on sale two months later. A facelifted model released in Australia in October 2016 changed names to TrailBlazer. A second facelift seems likely towards the end of this year, with the replacement probably due in 2022.
The Acadia was added to the SUV range during the fourth quarter of last year. It is built alongside the GMC Acadia at the Spring Hill plant in Tennessee. In Australia and New Zealand this 4.9m long long model is a rival for the Toyota Kluger and available only with a petrol V6. The 3.6-litre engine produces 231kW and 367Nm. Front- and all-wheel drive variants are offered.
The GMC original had been facelifted and receives powertrain updates for the 2020 model year, but because Holden's equivalent already had the nine-speed automatic gearbox and quite a different front end, no changes are expected any time soon. The GMC original should be replaced in 2023 but Holden's Acadia is by no means guaranteed to go to a second generation as so far, sales have been disappointing.
Holden's range of cars has been cut and cut, to the point where it no longer competes in the A, B and E segments. The Astra is therefore now the smallest model, while the Commodore dropped down to the D segment, switching to a front-wheel drive platform at the same time.
GM Europe's Gliwice plant in Poland began building the current Astra five-door for Holden in October 2016. A sedan was added in May 2017 but this was short-lived. The four-door Astra was in fact a different vehicle to the hatchback, being a version of the South Korean market's locally made Chevrolet Cruze. Holden was the only GM division to rebadge GM Korea's sedan. Production of the Holden Astra sedan came to an end in May 2018 which is when GM Korea stopped building all vehicles at its Gunsan plant.
An Astra Sportwagon arrived in New Zealand and Australia during December 2017. It was supplied by Vauxhall Motors' Ellesmere Port factory in northwest England but imports ceased during the first half of this year. Unless Holden takes the decision to axe the hatchback, a facelifted model should land in showrooms in the coming months. There will be revised engines too as per the updated Opel Astra which has just premiered at the Frankfurt motor show.
Any potential Astra successor sourced from Groupe PSA would appear in 2022 but GM seems way more likely to instead supply Holden's two markets with a rebadged Chevy Cruze from either China or South Korea. If indeed the Astra is even replaced, which could be doubtful given the sales performance of the current car.
The best illustration of how the preferences of car buyers in Australia have changed is the case of the Holden Commodore. Once a very successful large rear-wheel drive sedan and wagon model range, everything changed in early 2018 when GM began selling the smaller, front- and all-wheel drive five-door hatchback and wagon. Buyers haven't been too interested in either. There are several reasons for this, including the perception that FWD-based vehicles are not as good for towing, the lack of a V8 engine option, the explosion in popularity of SUVs and pick-ups (utes) and a curious indifference to the Holden brand from younger generations.
Both body styles are built in Germany by Opel at its Rüesselsheim plant and apart from badges and six-cylinder engines, the Commodore is the same car as the Opel/Vauxhall Insignia.
There are three engines:
191kW & 350Nm 2.0-litre four-cylinder petrol turbo, front-wheel drive, nine-speed auto
125kW 2.0-litre four-cylinder diesel turbo, front-wheel drive, eight-speed auto
230kW & 370Nm 3.6-litre V6 petrol, all-wheel drive, nine-speed auto
235kW & 381Nm 3.6-litre V6 petrol, all-wheel drive, nine-speed auto (VXR)
The bi-turbo 3.6-litre V6 from the previous Commodore and Opel Insignia OPC/Vauxhall Insignia VXR will not fit under the car's bonnet, both Opel and Holden PR staffers have told the media, which is the official reason for the naturally aspirated engine. The VXR, which is closely linked to North America's Buick Regal GS, was announced by Holden in July 2017.
Given the lack of major interest in the existing model, GM seems likely to discontinue the Commodore once Opel stops building the current car. There might be a facelift before then as Opel and Vauxhall are due to launch a revised Insignia in 2020. It does look as though overall, Holden could by the early 2020s be a small brand which sells the Colorado and a small range of SUVs. The Corvette will also be offered for the first time in Australia and New Zealand with right-hand drive via Holden dealers. That has added to the speculation which surfaces from time to time that General Motors might have plans to phase in Chevrolet and phase out the long-lived Holden brand early in the 2020s. Whether that would achieve much is debatable.
Reports for many other manufacturers' future models are grouped in the OEM product strategy summaries section of just-auto.com.
Future product program intelligence
More detail on past, current and forthcoming models can be found in PLDB, the future vehicles database which is part of QUBE.
This was the eighth and final feature in a series which examined future models for the passenger vehicle divisions of General Motors. Aside from Holden, brands covered included Baojun and Wuling, both of which are co-owned by General Motors, SAIC and Liuzhou Wuling Motors. These were followed by Chevrolet cars, Chevrolet SUVs and pick-ups, GMC, Buick and Cadillac. The next OEM to have its future models strategy explored will be SAIC.