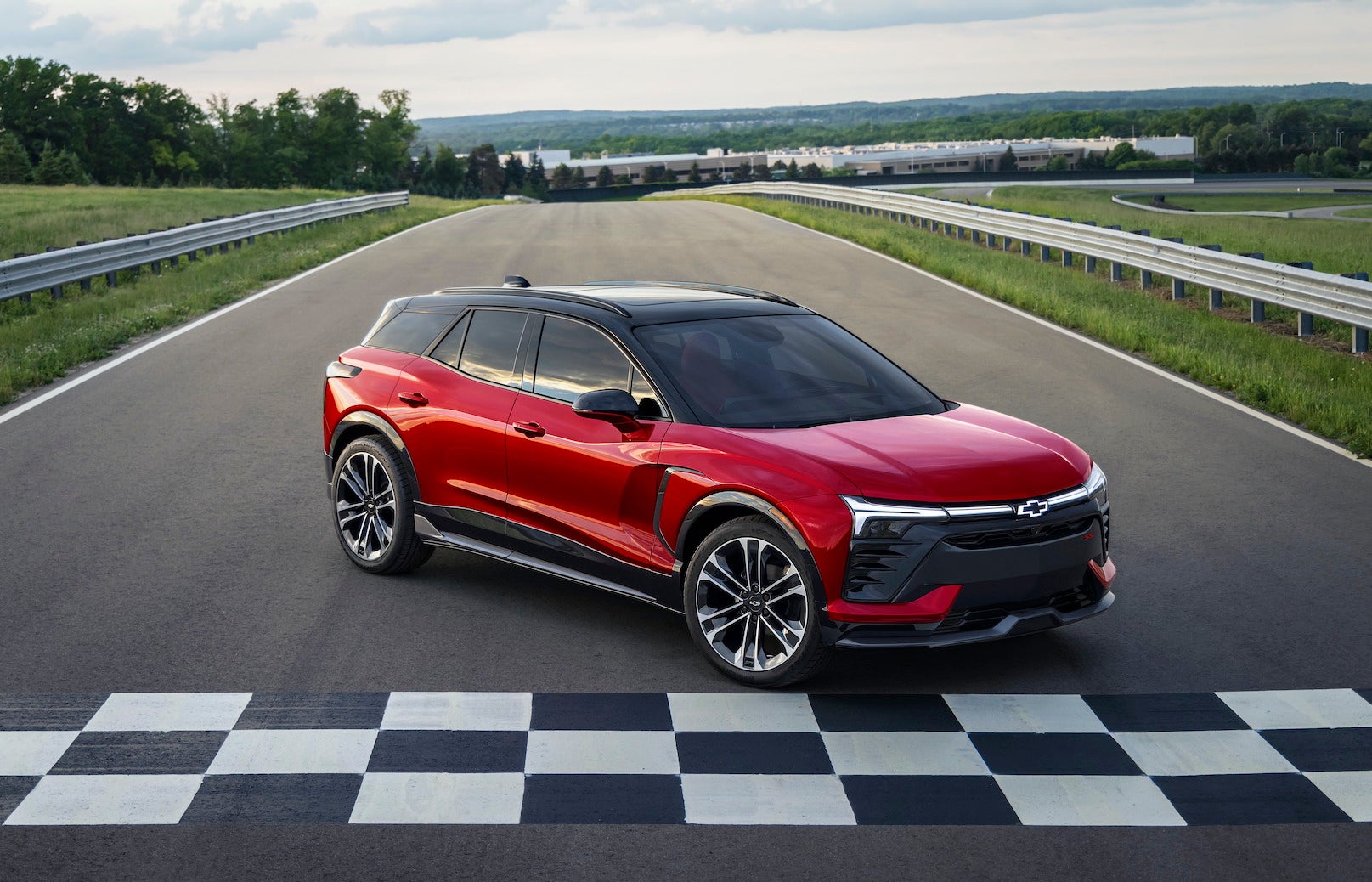 Suddenly, at least in North America, it's all change for GM's number one brand as the EV revolution gathers speed.
After a potential battery fire risk caused an extended production stoppage for the Bolt and Bolt EUV, Chevrolet really needs a couple of home runs with its next EVs. Will the forthcoming Silverado EV, Blazer EV and other electric models offer what it takes to tackle Tesla?
Crossovers and SUVs
An electric version of Chevy's big-selling Equinox is coming, Mark Reuss stated during an October 2021 investor presentation. GM's president has further stated that indicative pricing would be around the US$30,000 mark. No launch date was revealed but speaking at an online presentation in January, CEO Mary Barra stated it would be in 2023.
The Equinox EV should offer a first taste of how the next generation ICE-powered Equinox will look when it launches in 2024 or 2025. That model will use a different platform, however.
Mary Barra also stated at the start of this year that a larger model, the Blazer EV, would arrive in North American markets during spring 2023 for the 2024 model year. That has subsequently been delayed until "summer 2023".
GM is aiming the Blazer EV at the Ford Mustang Mach-e with a high performance SS variant targetting the Mach-e GT. And as with the Mustang and Mustang Mach-e, other than the name, there is no connection between the Blazer and the Blazer EV.
Unusually, there will be front-, rear- and all-wheel drive variants. Choices are as follows:
1LT – FWD (available from Q1, 2024)
2LT – FWD or optional AWD (Aug '23)
RS – FWD, RWD or AWD (Aug '23)
SS – AWD (Oct '23), two motors, combined outputs of 415 kW (557 hp) & 878 Nm (648 lb ft)
PPV (Police Pursuit Vehicle) – as per SS but available with RWD as well as AWD
General Motors is yet to announce comprehensive specifications – this information will be added as it is released. The architecture is known though, this being BEV3.
For the moment, there is no word on whether or not the Blazer EV will also be manufactured in China but it seems likely. US build will be at Factory Zero, the renamed D-HAM (Detroit-Hamtramck) plant in Michigan.
Ford took a lot of flak for leveraging the Mustang name when it launched the Mach-E. But the petrol-powered pony car is in a cheaper segment than GM's own world-famous sports car. Creating an electric hatchback and calling it a Corvette is therefore an even trickier challenge than what Ford faced.
Why not an e-Camaro SUV instead? It seems that General Motors believes there will be more money to be made from an electric Corvette five-door fastback. Also, the Camaro name might be mothballed once production of the existing coupe and convertible ends in 2025.
The Corvette e-SUV will likely be sized somewhere between 4.6 and 4.9 m long. GM's second generation Ultium batteries should feature along with multiple Ultium Drive-branded motors. Build is expected to be at the Lansing Grand River plant in Michigan, commencing in 2025.
Pick-ups
A battery version of the Chevy Silverado was confirmed by General Motors in April 2021. The premiere, originally scheduled to take place at CES '22, still happened that January but was instead online due to worries over COVID infections. The prototype's physical debut happened in February 2022, just a few weeks after CES, at the Chicago auto show.
The Silverado EV will initially be manufactured at Factory Zero. Production starts in 2023, with Orion Township/Assembly, another Michigan plant, due to boost build commencing in 2024. Annual production capacity for the electric Silverado and its GMC Sierra EV twin will be a combined 600,000 trucks, GM says.
Official details include up to 664 horsepower with more than 780 lb-ft of torque (in Wide Open Watts mode on RST model grade) and standard DC fast charging at up to 350 kW on WT ('Work Truck') and RST. GM further notes up to 10.2 kW of offboard power on WT and RST with optional equipment plus up to 10,000 pounds of maximum towing capacity and 1,300 pounds of payload on RST.
The timing of its arrival in 2023 means that the EV will be launched a year or more before the next shape Silverado (the ICE variants should be replaced in 2025). However, while the name might be consistent with Chevrolet's mass market truck, that is one of the few things it will share. That's because GM is basing the EV on the same electric-only architecture as the GMC Hummer EV and Hummer EV SUV. These big electric vehicles will be made at the same plant.
Part of GM's January 2021 media statement noted various launch details: "In spring 2023, the Silverado EV will debut a WT model offering GM's longest range battery with an expected GM-estimated range of over 400 miles on a full charge. In fall 2023, a fully loaded RST First Edition model, also delivering a 400-mile range, will debut with an MSRP of $105,000 + DFC".
"After production ramps up, Chevrolet will unleash the full Silverado EV portfolio, including WT (with a starting at MSRP of $39,900 + DFC), RST, Trail Boss and more. Customers will have the ability to content [sic] the truck across various price ranges, with MSRPs around $50,000, $60,000, $70,000, $80,000 and more, allowing them to choose the truck that meets their capability and pricing needs", the press release added.
The Ultium-branded battery pack will have LG Chem cells, the platform is BT1 and the life cycle should be eight years. That would mean a facelift in CY2027.
In August 2021, GM's CEO told the media that battery versions of Chevrolet's medium duty trucks were coming:
"Both [the all-electric Chevy truck and all-electric Chevy van] will complement BrightDrop and keep our commercial fleet market share growing," Mary Barra said. "We'll share more details about these products as we move forward."
Mary Barra has also stated that a 'HydroTec' (hydrogen fuel cell) medium duty Chevrolet truck is coming too. GM might launch this and other new powertrains either in the last few years of the existing generation Silverado 4500-6500 HD models – perhaps 2025-2027 – or it could instead bring forward the next generation to CY2025, 2026 or 2027. If there is a facelift later in 2022 then the replacement series will likely be launched for the 2026 model year.
Unlike other Silverados and Sierras, there are no GMC Sierra equivalents of Chevrolet's Class 4, 5 and 6 chassis cab trucks.
A feature highlighting certain other global Chevrolet models, this time IC-powered ones, will follow.