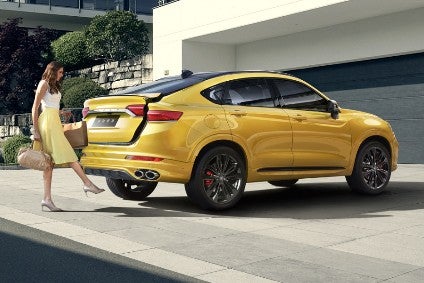 Until recently, Geely had been having a long run of major success at home. Now, its sales are falling, May wholesales declining by 30% and the brand dropping to fifth place behind Nissan. Still, Geely is in no danger of losing fourth position, its 511,191 sales being well ahead of Nissan's 438,581 for the year to the end of May.
This first report in a multi-brand series examines the divisions of ZGH (Zhejiang Geely Holding Group). After the initial focus on Geely and its new Geometry electric vehicles brand, attention will turn to Lynk & Co, followed by Proton and Lotus, then Volvo Cars, and finally, Polestar.
Current models
The Emgrand X1, a 3,778mm long SUV, had its world premiere at April 2017's Shanghai motor show. It went on sale in China during the following month. The car at Auto Shanghai was badged 'Yuanjing X1'. The prefix is Chinese for 'Vision', which is why some media call the model the Vision X1 or Yuanjing X1.
The X1 was the effective replacement for the Geely Panda, a very successful small hatchback. Despite its age, Geely used the platform of the Panda for the X1. There should be a facelift in late 2020 with production due to last until 2024.
The Yuanjing X3 is Geely's second smallest crossover. This low price model debuted at the Chengdu motor show in August 2017 and went on sale immediately. It wasn't a new model even though it was initially claimed to be. Instead, it is a refresh of the SC5-RV, a crossover which was sold in China between November 2010 and 2014.
It is believed that the X3 was developed by ItalDesign. The SC5-RV was discontinued during the first half of 2014 after Geely announced that the Gleagle, Englon and Emgrand brands would be phased out.
The X3 is 4,005mm long, 1,760mm wide and 1,575mm high. There is also an electric variant. This, the Kandi GLEagle EX3, was released for sale in China in September 2018.
The Binrui is a small sedan which has been manufactured since August 2018. This was the first car for Geely, Lynk and Volvo's BMA (B-segment Modular Architecture). A mid-cycle facelift is due in 2022 and a successor in 2025.
The Binyui (or Bin Yue) went on sale in China in November 2018 and was the first SUV for BMA.
The sole engine at the time of its sales release was a 177hp turbocharged 1.5-litre three-cylinder petrol unit with a plug-in hybrid revealed at the Shanghai motor show in April. On sale in China from the end of the following month, this powertrain consists of Volvo and Geely's combination of a 1.5-litre three-cylinder petrol engine and one motor. Outputs are 258hp and 415Nm. The range from the 11.3kWh battery power is quoted as being up to 62km.
The 4.3m long Binyui SUV is due to be facelifted in 2022 and replaced towards the end of 2025.
The Vision S1 is another crossover of a similar size to the Binyui, in the style of the now former Volvo V40 CC. Released for sale in China during November 2017, it is closely related to the Volvo XC40 and Lynk 01. The production model premiered at the Guangzhou motor show in November 2017. The lifecycle should extend to the third quarter of 2024 after a facelift in 2021.
What had been expected to be called the S7 or Boyue is sold in China as the Bo Yue. This 4,520mm long SUV was announced to the media during March 2016. It is built at Chunxiao (Ningbo) and Baoji and also in Belarus at SZAO BelGee, a Belarusian-Chinese joint venture. This plant, set up in 2011 to assemble Geely vehicles with mainly imported components, moved to manufacturing in November 2017.The local name for the Bo Yue in Belarus and Russia is Geely Atlas NL3.
The Bo Yue is Geely's most successful model in China. The firm's deliveries surged 63 per cent to 1,247,116 Geely vehicles in 2017 and 1,500,838 in 2018. The Bo Yue accounted for 255,695 of that total. That continues in 2019, with sales numbering 95,928 for the year to the end of May.
A facelifted Bo Yue had its motor show premiere in Beijing in April 2018. Six months later, Geely began exporting the Bo Yue to Malaysia badged as the Proton X70, ahead of it being locally assembled. The Geely original should be facelifted again in 2021 with a successor due in 2023.
The Emgrand GS, a 4.4m long hatchback/SUV mash-up (i.e. a crossover) is supplemented by a sedan which is closely based upon it, the Emgrand GL. The latter went on sale in China in September 2016 which was three months after the GS.
A facelifted GS range was announced a few weeks ago. At the same time, the engine line-up was revised and became as follows:
133hp and 170Nm naturally aspirated 1.8-litre four-cylinder, six-speed manual or six-speed dual clutch transmission
141hp and 235Nm 1.4-litre turbo, six-speed manual or CVT
177hp and 255Nm 1.5-litre turbo, seven-speed DCT
The Xingyue is a 4,605mm long crossover (officially, a 'Sports Coupe SUV'). Named after an asteroid, Geely also calls it Xing Yue. Production commenced in March, which means the production run will likely end in 2026 after a facelift in late 2022.
There are three power options: internal combustion, mild hybrid and plug-in hybrid, along with two- or four-wheel drive.
The turbocharged 2.0-litre petrol engine produces 175kW and 350Nm with an eight-speed Aisin automatic transmission standard, while the Mild Hybrid has a 48V BSG system and 140kW of power.
As for the plug-in hybrid, this pairs a 1.5-litre three-cylinder petrol engine with a seven-speed wet dual-clutch transmission. Outputs for the engine are 130kW and 255Nm (190kW and 415Nm including the motor) and there are two lithium-ion battery choices: 11.3kWh or 15.2kWh version. The first of the two offers a claimed electric range of up to 56km and a fast-charging time of 90 minutes while what Geely calls the ultra-high capacity version gives up to 80km and takes 105 minutes to fully recharge.
Another model which went on sale only months ago is the Jiaji. Also known as the Jia Ji, this is a 4,706mm long minivan/MPV. It was revealed in December 2018 and was in Chinese market dealerships three months later. It had been previewed by the MPV, a concept which debuted at Auto Shanghai in April 2017.
There is a choice of five, six or seven seats and three powertrains. These are:
135kW and 300Nm 1.8-litre turbo, six-speed manual
140kW and 300Nm mild hybrid 1.5 turbo, seven-speed DSG
188kW and 385Nm (combined) 1.5-litre turbo+motor, seven-speed DSG
Geely should facelift all three variants in 2022. It could also add an EV at the same time, if not before then. A second generation Jiaji should arrive in 2026.
The image of Geely has changed fundamentally in less than a decade. Nothing better demonstrates this than the history of what heralded the Borui (Bo Rui), a large sedan. Two concepts which preceded this car in 2009 and 2010 were ornate and criticised for being so. The company rethought the project and we next saw a prototype which had a then fairly rare PHEV powertrain.
Not much happened for a couple of years but then a new luxury car concept, the KC, appeared with Emgrand badges at April 2013's Shanghai motor show. This had fastback styling (like the Audi A7) a 2,880mm wheelbase and was thought to have used Volvo Cars' SPA platform. The Geely GC9, the production version of the KC, was revealed at a media event in November 2014.
There was a last minute change to the car's name, this becoming Borui just before the model went on sale in China during the first quarter of 2015. The Borui is nonetheless called GC9 in some export markets.
The Borui is built by Geely subsidiary Zhejiang Jirun at its plant in the eastern coastal city of Ningbo. This was after Zhejiang Jirun Automobile Company bought Zhejiang Jirun Chunxiao Automobile Components Company from Zhejiang Geely Automobile Company for CNY1.14bn in February 2015.
There was a minor facelift for the Borui in late 2016. Mild hybrid and plug-in hybrid variants were added to the line-up in May 2018. There should a more extensive facelift in a few months' time and then a successor in early 2022.
Fully electric models
The GSe is an electric version of the GS with an NEDC range of 353km. It went on sale in China during June 2018. External modifications include a front end which lost the GS' grille, and there are bespoke bumpers at both extremes. The single motor produces 163hp and 250Nm and the battery pack has a capacity of 52kWh. It should be facelifted in 2020 and replaced in 2023.
The EV is a 4,631mm long plug-in sedan. Although production dates to mid-2016, these cars are basically electric versions of the EC7, a model which Geely sold between 2009 and 2018.
Launching this model is in keeping with Geely's November 2015 media statement that it intended to phase out its conventional petrol engines between 2016 and 2020, replacing them with hybrids, EVs and PHEVs. The car changed names for its production debut, being revealed at November 2015's Guangzhou motor show as the Geely Emgrand EV.
The EC7's four-cylinder petrol engine was replaced by a 127hp electric motor which produces 184 pound-feet of torque. Energy is storied in a 44.8kWh battery pack. Geely claims the EV can travel at 37 miles per hour for up to 205 miles before needing to recharge. The varied speeds range is 157 miles.
A EV450 variant is expected later this year, timed to conicide with a facelift. This car will reportedly have a battery pack that allows a range of up to 450km. A successor model series is due in 2022.
Future models
While there are strong rumours that it will be called 'Bin Jie' (or Binjie), the model name of a 4,350mm long crossover due on sale in China by year-end is not yet known, only the development code, which is SX12.
Prototypes have been photographed and these look a lot like the Concept Icon which premiered at the 2018 Beijing motor show.
Geely also has a 4,835mm long seven-seat SUV under development, codenamed VF12. Some believe this model to be closely related to the Volvo XC90 although powertrains will reportedly differ. These are expected to be turbocharged 130kW 1.5-litre three-cylinder and 135kW 1.8-litre four-cylinder units.
Ji He (Geometry)
The A is a 4,736mm long electric car. Shown to the media in February and then presented again two months later at an event in Singapore, its motor show premiere was at Auto Shanghai, also in April.
The first Chinese market customer deliveries took place in May, wholesale data showing that there were 2,392 of these. This was the launch model for the Geely New Energy sub-brand. As such it is also the first to carry a special silver badge adapted from the usual Geely badge, the official name of which is 'Quantum Silver Shield'.
The Jihe or Ji He brand name translates as Geometry. Geely included this paragraph in its annual report which was released in March:
From 2019, Geely will significantly increase the proportion of new energy vehicles in its sales volume by further strengthen [sic] its new energy vehicle range with new models including the LYNK & CO 02 and 03 PHEV models and the creation of a new sales entity, Geely Geometry (Ji He) which will launch its first pure electric model "A".
The A is powered by a single 120kW and 250Nm motor. The lithium-ion 51.9kWh and 61.9kWh battery packs are supplied by CATL and buyers have the option of variants with claimed ranges of 410km and 500km.
Geely's 11 April media release stated that by 2025, Geometry would launch 10 pure electric models in multiple segments including sedans, SUVs, crossovers, and MPVs.
Reports for many other manufacturers' future models are grouped in the OEM product strategy summaries section of just-auto.com.
Future product program intelligence
More detail on past, current and forthcoming models can be found in PLDB, the future vehicles database which is part of QUBE. Details of other Geely models not named in the above report can be found there.