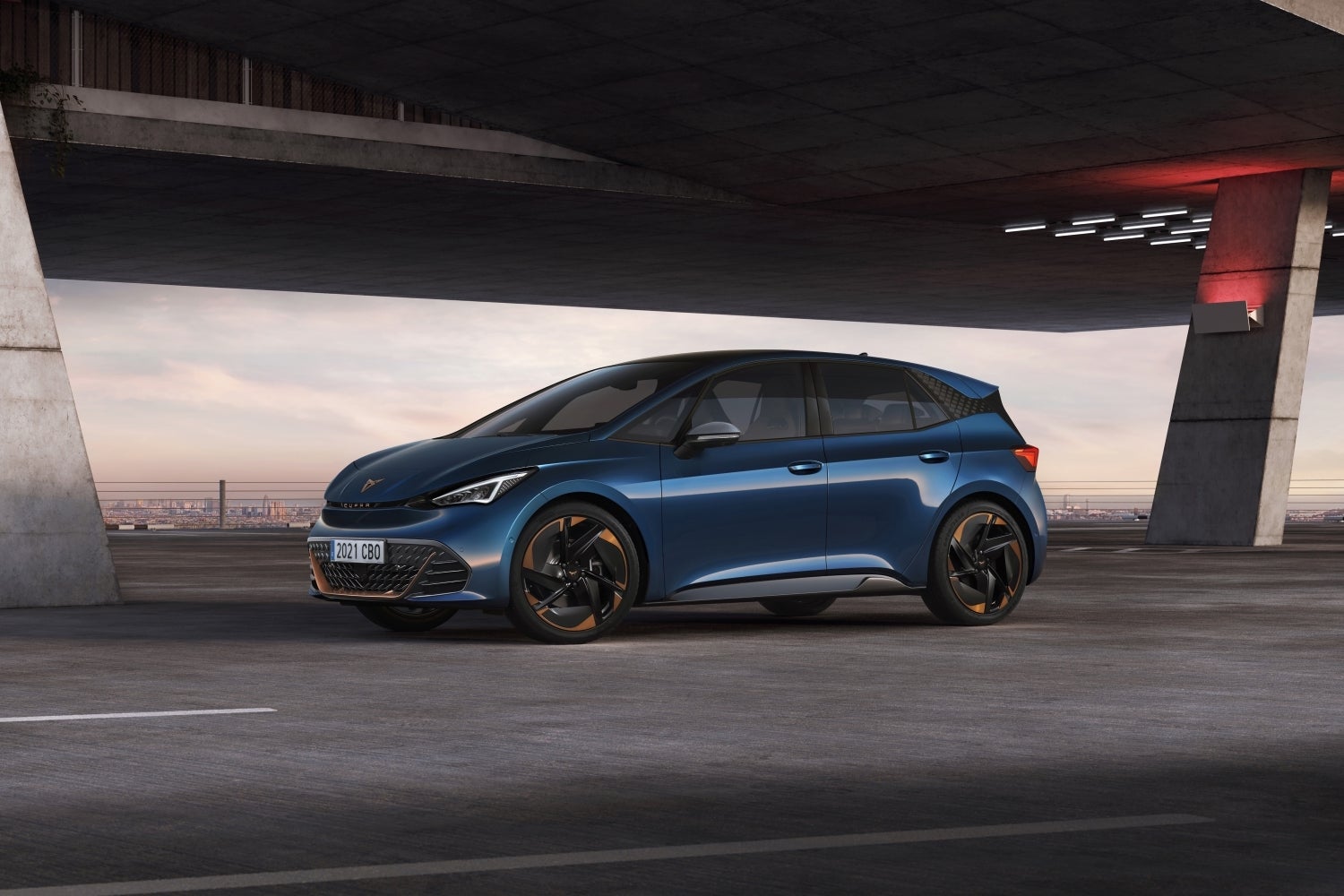 Volume for the year to the end of September was 332,576 Seat and Cupra passenger vehicles, according to Acea, versus 274,185 for the comparable period of last year.
Due to Covid and the semiconductor shortage, direct comparisons are of course irrelevant. Still, it's worth recognising that SEAT's volume and premium brands alike have had a far stronger YoY comeback than other VAG divisions, Europe-wide deliveries shooting up by 21.3 per cent between 1 January and 30 September.
Will SEAT and Cupra be able to maintain their momentum? It certainly seems as though each has a fair chance at doing just that, facelifts for good performers such as the Ibiza and Arona having recently gone on sale, plus Cupra's first EV, the Born. Let's look now at what else is heading down the new product pipeline.
SEAT
Rumoured to be called 'Acandra', what might turn out to be a replacement for the Mii electric won't arrive until 2025, SEAT told us in March. The company did not explain why its 'Urban Electric Car' would take so long to reach the market, offering only this statement:
SEAT S.A. announced today that it will launch an urban electric vehicle on the market in 2025. With this car, the company will enter a segment of around 20-25,000 euros, essential to make electromobility accessible to the masses and hit the Green Deal targets. The production plant where this vehicle will be manufactured will be announced in the coming months.
It was already known that small EVS for several Volkswagen Group brands were being developed, each one based on a new version of Meb, the group's electric vehicles platform.
SEAT had been tasked with engineering the MEB-K architecture, the company's then CEO announced in March 2019. However, the division lost leadership during the first quarter of 2020 but the vehicle programme remained active.
Recently, there have been some suggestions recently that the 'Acandra' might yet be shelved, reason being that SEAT (the company) will only have one model in the small EV segment. That would be a vehicle for Cupra: see details below. On the other hand, both brands may yet have a model in this size class, these being either different body styles or equivalents to Renault's future 5 and its sportier and pricier Alpine equivalent.
Launched in mid-2017, the fifth generation Ibiza has just had a facelift and some powertrain changes. As previously, there are no diesels. The choices are:
1.0 MPI – 59 kW (80 PS) & 93 Nm, three cylinders, five-speed manual transmission
1.0 TGI – 66 kW (90 PS) & 160 Nm, three cylinders, CNG & petrol, six-speed manual
1.0 EcoTSI – 70 kW (95 PS) & 175 Nm, three cylinders, five-speed manual
1.0 EcoTSI – 81 kW (110 PS) & 200 Nm, three cylinders, six-speed manual or seven-speed DSG
1.0 EcoTSI – 85 kW (115 PS) & 200 Nm, three cylinders, seven-speed DSG
1.5 TSI Evo – 110 kW (150 PS) & 250 Nm, four cylinders, seven-speed DSG
Generation six is due to arrive in 2024.
Now four years old, the Arona small SUV has also just had a mid-life refresh. At the same time, the engine line-up was revised, the choices being identical to those in the latest Ibiza range. The next generation is expected in early 2025.
The next Ateca is expected to be launched in the third quarter of 2023. Its platform should be MQB A/B Evo. There is said to be a possibility that SEAT will add an SUV-coupé, potentially to be based on this model.
As for the León, the fourth generation model became available from the second quarter of 2020 so a facelift is still perhaps two years away with generation five – likely to be an EV – due in 2027.
Unlike the prior generation, this one comes only as a five-door hatchback and an estate (ST: Sportstourer). This follows a decision to drop the former SC (three-door) during 2018 as it wasn't selling well.
Engines are abbreviated as follows: TSI (petrol), TDI (diesel), TGI (Compressed Natural Gas), eTSI (mild-hybrid) and eHybrid (plug-in hybrid).
The hatchback is 4,368 mm long (+86), 1,800 wide (-16) and 1,456 high (-3) with a 2,686mm wheelbase (50 more than the third generation Leon). Equivalent dimensions for the ST are 4,642 mm long (+93), 1,800 wide (-16) and 1,448 high (-3). The wheelbase is identical to that of the five-door. Boot capacities are 380 and 617 litres.
All engines are turbocharged:
66 kW/90 PS three-cylinder 1.0 TSI
81 kW/110 PS three-cylinder 1.0 TSI
81 kW/110 PS three-cylinder 1.0 eTSI (48V starter-generator & lithium-ion battery)
96 kW/130 PS four-cylinder 1.5 TSI
110 kW/150 PS four-cylinder 1.5 TSI
110 kW/150 PS four-cylinder 1.5 eTSI (48V starter-generator and 48V lithium-ion battery)
140 kW/190 PS four-cylinder 2.0 TSI with standard DCT (new in May '21)
85 kW/115 PS four-cylinder 2.0 TDI, manual transmission only
110 kW/150 PS four-cylinder 2.0 TDI, manual or DSG transmission
110 kW/150 PS four-cylinder 2.0 TDI, DSG gearbox and 4Drive system (ST only)
96 kW/130 PS four-cylinder 1.5 TGI (3 CNG tanks with a total net capacity of 17.3 kg) – production commenced in February '21
There is also a PHEV which is called León eHybrid. The powertrain consists of a 1.4 litre TSI petrol engine, electric motor, 13 kWh lithium-ion battery pack and six-speed DSG transmission. This set-up produces 150 kW/204 PS of power. The maximum range in EV mode is 60 km (WLTP). Both five-door hatchback and ST (estate) bodies are available.
Cupra
Speaking at an event in February, the brand's CEO Wayne Griffiths announced, "Cupra will help make electric cars available to the masses with an urban, small electric car – and that's a project we're working on with [parent company] the Volkswagen Group."
It is believed that the car – sized somewhere between 3.7 and 4.1 metres, will use the Volkswagen Group's MEB-K platform. It will be very closely related to the SEAT Acandra.
The UrbanRebel Concept, revealed in September just ahead of its public debut at the Munich motor show, is claimed to be a "radical interpretation of an urban electric performance car" and a preview of a model due out in 2025.
The upscale division is soon to gain its first EV, the Born being due to roll into showrooms later this month. The 4.3 m long five-door hatchback is closely related to the similarly sized ID.3.
As per the Volkswagen, the new Cupra has a rear-mounted motor and a single-speed transmission which sends torque to the back axle. There are four combinations of battery and motor:
45 kWh (net capacity), 110 kW (150 PS) & 310 Nm, 340 km *estimated WLTP range, 0-100 km/h in 8.9 seconds
58 kWh (net capacity), 150 kW (204 PS) & 310 Nm, 420 km *estimated WLTP range, 0-100 km/h in 7.3 seconds
77 kWh (net capacity), up to 170 kW (231 PS) & 310 Nm with e-Boost pack, 420 km *estimated range, 0-100 km/h in 6.6 seconds
77 kWh (net capacity), up to 170 kW (231 PS) & 310 Nm with e-Boost & range pack, 540 km *estimated range, 0-100 km/h in 7.0 seconds
Production commenced in September, all build being in the same German factory – Zwickau – which manufactures the ID.3. The life cycle should be seven years, so a facelift is expected in 2025.
*official range to be confirmed
The last couple of years have been busy for Cupra but the brand should take a breather from adding new models in 2022. Things go expansionary again in 2023 (new Ateca) and 2024, which is when the Tavascan is due.
The large electric SUV Coupe was heralded by the Tavascan Electric Concept. Powered by two motors with a combined output of 225 kW (306 PS), the prototype premiered at the Frankfurt IAA in September 2019.
The series production model will be based on the Volkswagen Group's MEB platform but designed and developed in Barcelona.
Reports for many other manufacturers' future models are grouped in the OEM product strategy summaries section of Just Auto.

Future platform intelligence
More detail on past, current and forthcoming models can be found in PLDB, the future vehicles database which is part of GlobalData's Automotive Intelligence Center. That includes SEAT and Cupra vehicles not covered in this report.
This is the seventh of eight features which examine future model plans for Volkswagen AG's brands. It follows overviews of VW cars and MPVs; VW crossovers, SUVs and pick-ups; Audi cars; Audi SUVs; Porsche; and Škoda. The final instalment will look at Bentley and Lamborghini.