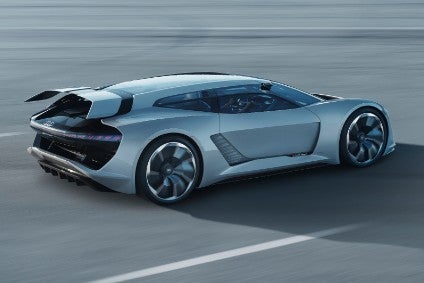 Even with the downturn in China, Audi still sold over 575,000 vehicles in 2018, way more than either Mercedes or BMW. Things are also good in the US, where the brand delivered in excess of 220,000 SUVs and cars. Europe, however, is a disaster. That's due to Volkswagen AG having been ill-prepared for WLTP. Plus, it will take a while yet for all current models to be approved as compliant. What though, is coming down the pipeline in terms of fresh, future models? Lots, is the short answer.
The first of two articles which look at Audi's current and future models is all about the brand's cars. Next will come an examination of crossovers, SUVs and e-tron electric vehicles.
Cars
The second generation A1 Sportback is 56mm longer, measuring 4.03m. It has been built alongside the Ibiza on Line 3 at SEAT's Martorell factory since October last year and production should continue until late 2025. The little SEAT was the first vehicle for the Volkswagen Group's MQB A0 architecture. The A1 and S1 will not be replaced, i.e. Audi has reduced the offering to the five-door Sportback. Still, there could be good margins on an S1 Sportback and/or RS 2 Sportback so neither should be ruled out.
The next generation A3 Sportback is expected to enter production later in 2019. It will be followed soon after by the A3 sedan and A3 cabriolet. Audi is understood to have cancelled development of an A3 (three-door) due to cost cutting and slow sales of the current car. There might still be four body styles though, as rumours suggest an A3 'liftback' will be part of the line-up. This would partly serve as the replacement for the TT. Another possible name for this car might be A3 Sportback Coupé.
The current generation A4 is based on the Volkswagen Group's MLB architecture. The sedan, Avant and allroad were announced in June 2015 with all three making their public debuts at the Frankfurt IAA three months later. China's locally built long-wheelbase (2,908mm compared to 2,820mm) A4 L went on sale in September 2016. Facelifts for all four cars took place last year, and replacements will become available during 2021 and 2022.
The second generation A5 Coupé and S5 Coupé, announced to the media in June 2016, were in European dealerships from October 2016. The A5 Sportback and S5 Sportback were then announced to the media in September 2016, all four cars having their world premieres later that month at the Paris motor show.
The A5 Cabriolet and S5 Cabriolet would be added to the line-up from March 2017, it was announced in November 2016. These cars had their world premieres at the Detroit auto show in January 2017. The US importer is selling the Sportback for the first time.
All three A5 body styles are due to be facelifted in the second quarter of 2020. The successor models should appear in 2024.
The latest A6 sedan, which is 4,939mm long in standard wheelbase form, was a world premiere at the Geneva motor show in March 2018. It has the same MLB Evo platform as the A4 and A7 Sportback. The A6 Avant was then announced to the media in April 2018. Then came China's extended wheelbase (3024mm) A6 L. This premiered at the Guangzhou motor show in November, the car going on sale in China a few days ago. Next comes a new A6 allroad. This should be a world debut at the Geneva motor show.
There should be a mid-life styling changes for all four bodies during the final quarter of 2021. The A6 sedan will then be replaced by a successor in 2025, to be followed by new editions of the Avant, L and allroad.
The second generation A7 Sportback premiered a year ago at the Detroit auto show and production – at Neckarsulm – started during February. The 4,969mm long car is again a five-door hatchback, although curiously, Audi calls it a four-door coupe. Audi will add a new S7 and then an RS 7 later in 2019 and potentially, an A7 e-tron too. The life cycles of all these cars should be just over seven years, meaning facelifts in 2021 and replacements in 2025/2026.
The current A8, A8 L and S8 use an ASF (Audi Space Frame) platform, known as D5. Each is fitted with a mild hybrid system. That also includes a 48V lithium ion battery and a belt-driven alternator/starter. All-wheel drive is also standard and four-wheel steering features in certain variants.
These big sedans are built at Audi's Neckarsulm manufacturing complex. They went on sale in Germany during November 2017. Three months prior to this, the company announced an illogical and complex badging system for some of its cars. The A8 was the first. Under this regime, the model name gained two numbers. These are supposed to convey a power output. They don't. Audi of America decided that it would not use this confusing system.
Audi is said to be planning a new super-luxury trim level for the A8, which will see the Horch name revived. This was the name of a manufacturer which became part of Audi's predecessor, Auto Union.
The next generation A8 range is due for market release in 2025, which will be three years after the current A8, A8 L and S8 receive facelifts.
An A9 doesn't yet exist. Should such a model be brought into production, it would be based upon the A8 and likely come in two body styles, giving the brand rivals for the Mercedes-Benz S-Class Coupe and Cabriolet. There may also be an S9 derivative of each.
The third generation TT has been manufactured for just over four years now. A facelifted model was announced in July 2018, followed a few days ago by news of an update for the TTS. This variant, available as a hatchback or convertible, now has a seven-speed S tronic (dual clutch) gearbox. The 1,984cc turbocharged engine has outputs of 225kW (306PS) and 400Nm, a gain of 20Nm.
As the current TT has not been a big seller, Audi may discontinue this model series in 2021: a fourth generation seems unlikely. The effective successor will probably be the combination of an A3 'liftback' and the next generation A5/S5/RS 5 Coupe and Cabriolet.
Audi's only supercar is now in its fourth year of production. A facelifted R8 was announced in October 2018. The normally aspirated V10 remains the only engine but each of the two specifications gained power and torque. The V10 quattro's outputs rose to 419kW (formerly 397kW) and 550Nm (540Nm). As for the former V10 plus quattro, it changed names to V10 performance quattro, with outputs rising to 456kW (449kW) and 580Nm (560Nm).
The third generation R8 is due in 2023. Some sources within Audi stated in early 2018 that the project had been shelved and may be cancelled. One year on, there are indications that this remains the status quo although the potential business case for a third generation R8 will inevitably be continually looked at throughout this year and next.
Should this car go ahead, production likely wouldn't commence until 2023. The R8 mark 3 could even become a battery-electric vehicle. That outcome depends on how much demand there is for the various high priced electric supercars which come to market during 2019.
Will there be an R9? The former Audi Sport CEO Stephan Winkelmann told the media in August 2017 that the division may release a hypercar in the 2020s. Such a vehicle is probably as far off as 2023 or 2024.
What Audi might be thinking when it comes to general outline may have been heralded at the 2018 edition of Monterey Week, which is where the PB18 e-tron was exhibited for the first time. The PB stood for Pebble Beach (Concours d'Elegance) and 18 for the year. An R9 or R10 might take that car's lines and evolve them to make an even more futuristic hypercar. The prototype was said to have a solid-state battery and three motors. These produced up to a claimed 570kW (775PS) and 830Nm.
Recent reports for many other manufacturers' future models are grouped in the OEM product strategy summaries section of just-auto.com.
Future product program intelligence
More detail on past, current and forthcoming models as well as additional vehicles which are not in the feature above such as all the RS models can be found in PLDB, the future vehicles database which is part of QUBE.
Following this feature plus one to follow on Audi SUVs and EVs, and after others covering SEAT and Cupra; Skoda; VW cars; and VW pick-ups and SUVs; the remaining makes to be featured in the Volkswagen Aktiengesellschaft series will be covered by two reports. One on Porsche and the other on Bugatti, Bentley and Lamborghini.