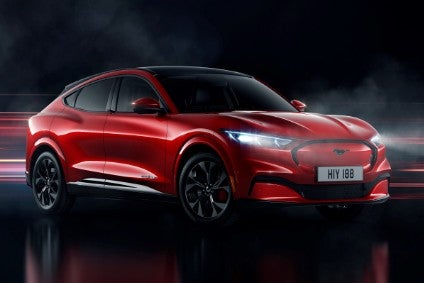 In this first chapter of a three-installment series, highlights of likely developments for the Ford brand's global cars line-up are explored, along with electrified vehicles. This will be followed by a look at coming developments in crossovers, SUVs and pick-ups, with the third report all about the future of Lincoln.
As the ninth generation Fiesta is likely to be as far off as 2024, few details have leaked so far. However, the platform should be based on C2, the architecture which debuted with the fourth generation Focus in 2018.
In July 2019, Ford and Volkswagen told the media about their decision to further deepen their ties via an expansion of their existing alliance. One piece of news was the announcement of an electric Ford for European countries:
"Ford will become the first additional automaker to use Volkswagen's dedicated electric vehicle architecture and Modular Electric Toolkit – or Meb – to deliver a high-volume zero-emission vehicle in Europe starting in 2023.
Ford expects to deliver more than 600,000 European vehicles using the MEB architecture over six years, with a second all-new Ford model for European customers under discussion".
The first of what could now be an eventual two vehicles rather than just the one is being developed in Germany by Ford of Europe. It is presumed that this first model will be a crossover in the style of VW's new ID.4, though it could instead be a second attempt at a hatchback in the C segment: the Focus Electric (2013-2018 in Europe) was by no means a bad car, it was just too expensive and the range inadequate for many people.
The Escape Plug-In Hybrid and Kuga Plug-In Hybrid were announced to the media in April last year along with the Escape and Kuga plus hybrid versions of both. The Kuga PHEV went on sale late in the first quarter of 2020, some six months after the arrival of other Kugas. The Kuga Plug-In Hybrid had been revealed to the public at the Frankfurt motor show in September 2019. Meanwhile, North America's Escape PHEV, new for the 2021 model year, will arrive in dealerships during the first quarter (January '21 start of production).
As with the hybrid, the PHEV is powered by a 2.5-litre four-cylinder engine and one motor, although the combined output is higher, at 209 hp (225 PS quoted by Ford of Europe). The battery pack has a capacity of 14.4 kWh.
The US-spec Escape Plug-In Hybrid takes three and a half hours to be recharged via a 240V Level 2 charger, Ford claims, or 10-11 hours on a standard 110V wall socket. The maximum range is said to be 48 km or 30 miles. Ford of Europe says a 230V charger takes "around four hours" to replenish a depleted battery.
There should be facelifts for all Kuga and Escape variants in 2023 (2024 model year in North America) and replacements in CY2026.
The S650 series Mustang is due to go into production in late 2022, it is now believed. The architecture will most likely be CD6, a rear-wheel drive and all-wheel drive platform. The estimated average annual volume for the fastback should 80,000 with an additional 20,000 units per annum of the convertible.
As part of the just-signed four-year agreement between Ford of Canada and its workers' union, the Essex powertrain plant in southwest Ontario is to be the place of build for a new 6.8-litre gasoline V8. This will be for the F-150 and Mustang, it was stated.
Unless plans change under the new CEO Jim Farley, a Mustang Hybrid is believed to still be coming for the 2023 model year. Although the powertrain isn't confirmed, it could have a V8 and two motors. This follows Ford Motor Company having filed an application for a "twin motor drive system for [a] hybrid electric vehicle" with the US Patent and Trademark Office. The patent request did not mention a specific size of combustion engine or the number of cylinders, only that it would be longitudinally mounted and for RWD/AWD applications.
The Mustang Mach-E, the first model for a bespoke electric vehicles architecture, will come in rear- and all-wheel drive form, and with one of two battery pack options:
68 kWh useable (75.7 kWh installed), 288 Li Ion cells
88 kWh useable (98.8 kWh installed), 376 Li Ion cells
Power and torque are:
198 kW (266 horsepower) and 430 Nm (317 lb ft) – Standard Range RWD
198 kW (266 horsepower) and 580 Nm (428 lb ft) – Standard Range AWD
216 kW (290 horsepower) and 430 Nm (317 lb ft) – Extended Range RWD
258 kW (346 horsepower) and 580 Nm (428 lb ft) – Extended Range AWD
342 kW (359 horsepower) and 830 Nm (612 lb ft) – Extended Range AWD
The GT is to have the 342 kW combined output motors, all-wheel drive and extended range as standard, while also having an illuminated pony badge. Ford of Europe announced its Mach-E GT at an event in Rotterdam a few days ago, stating that it would be "introduced to the region in late 2021" whereas the US market introduction is scheduled for summer 2021. Top speed is limited to 200 km/h (124 mph) and 0-100 km/h is said to take 3.7 seconds.
Due to COVID-related delays, it still isn't clear when series production will commence. Ford's own data show 300 pre-production examples having been built since the first batch of nine were made in February (and 24 last month).
CDX746 is the project code of a large electric crossover which is expected to be bigger than the 4.7 m long Mach-E. Due for launch in North America during the final quarter of 2022, it will be manufactured at Flat Rock on the same line as a related Lincoln model, CDX747. These vehicles will take the place of the Lincoln Continental at the Michigan plant. The Changan Ford joint venture should also build both these vehicles in China.
Others might have but Ford of Europe hasn't given up on the MPV segment, the Galaxy Hybrid having been announced in January 2020 (as was an S-Max Hybrid). Both models will go into production at the Valencia plant in 2021. As the originals date to 2015, each is expected to have a life cycle which lasts only until perhaps 2023 or 2024.
Both models will be powered by a 2.5-litre Atkinson Cycle four-cylinder petrol engine plus a single motor. Combined outputs should be 200 kW and 210 Nm. The water-cooled lithium-ion battery is mounted in a crash absorbent, waterproof structure beneath the vehicle's underbody. A seven-seat layout will be standard for the Galaxy Hybrid.
The first plug-in hybrid Ranger should be on sale in relevant countries from 2023, although it may not arrive until 2024. The powertrain will reportedly consist of Ford's EcoBoost four-cylinder petrol engine and a single motor. Outputs of 270 kW (362 horsepower) and 680 Nm (501 lb ft) are claimed to be the targets.
It isn't yet known if the second generation VW Amarok, the future Ranger's twin, will also get the PHEV treatment.
Reports for many other manufacturers' future models are grouped in the OEM product strategy summaries section of just-auto.com.
Future platform intelligence
More detail on past, current and forthcoming models can be found in PLDB, the future vehicles database which is part of GlobalData's Automotive Intelligence Center. That includes Ford vehicles not included in this report.