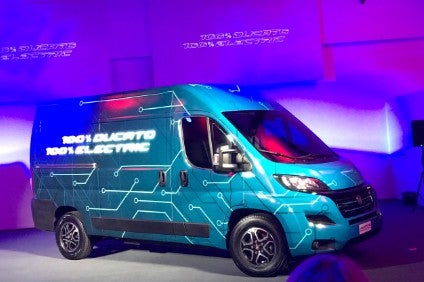 There are only so many ways to conduct the presentation of a new vehicle (one of our number likes to refer to one as 'death by Powerpoint') but Fiat Professional, the light commercial arm of Fiat Chrysler Automobiles, chose a quick presenter-hosted question and answer session with key executives and few slides or videos. But it was clear their thoughts were really on the main event and, after audience and teleprompters rotated 180 degrees, the real star of the show made its debut.
This was the much-anticipated Ducato Electric, Fiat Professional's first EV, due in showrooms during 2020.
The automaker was quick to point out the size advantage compared with "another EV LCV already in the market", obviously the now well-established Nissan NV200 EV. The 'lecky Ducato will be offered with all body variants (three heights, six lengths for vans plus cab/chassis and cab-cowl for DIY body building) with the same load volumes as the combustion engine (diesel and CNG) versions. That means van loadspace volume from 10 to 17 square metres and up to 1,950kg of stuff in the back, which FCA claimed is best in market segment.
Buyers will probably emphasise range which, depending on battery pack size – 47 or 79kw/h – will give an NEDC cycle range of 220km to 360km or 138 miles to 225 miles in old money.
Although parts of a prototype were off limits at the press conference into which the Ducato Electric was driven under its own steam, er volts, it looked pretty much production-ready save for a bit of tidying of the under-load-floor battery package and an EV-specific instrument cluster and central infotainment screen (the standard one's just been enlarged as part of a range-wide 2020 Ducato update and will be in vehicles from September production). The electric motor sits low in the engine bay with inverter and control electronics on top which, along with loads of battery cells underfloor, gives a low centre of gravity which usually results in decent handling and ride.
My experience with various iterations of Nissan's Leaf suggests HVAC is still a challenge – getting enough cold or warm air where it's needed without using too much power. Given that it was 34C and around 90% humidity in Turin for the launch event, and they tell me they get plenty of winter snow with icy mountains and ski fields visible from the city, real-world testing at home shouldn't be too much of a problem.
The electric motor itself develops maximum power of 90kW and torque tops out at 280 Nm. With all of the latter on tap from launch, your local Amazon deliverer is likely to be setting front door to front door acceleration records – speed off the line in near-silence is one of the delights of driving EVs.
Sez FCA: "[Ducato Electric's] development is the outcome of in-depth analysis of commercial vehicle use data and the various mission types, and partnership with major customers, all aimed at offering made-to-measure solutions that adapt payload and performance to the different demands of professional use, with no half measures." In other words, get the full day's work done on a single charge.
Most commercial operators – which fine tune delivery routes to the nanosecond and minimise traffic hold-ups and turns across busy traffic – will have a 'charge at base' policy and enough heavyweight chargers to ensure the full fleet is readied overnight and locked and loaded by morning for the daily rounds. FCA said the EV can be given a 100km (60 miles) range boost in around an hour using an AC fast charger (forgeddaboutit with a domestic socket or even some of the wimpier home chargers that are fine for topping up your passenger PHEV) or in under 30 minutes using one of the industrial-strength DC chargers you get at public stations.
The LCV specialist reckons over 25% of its market already has a 'BEV attitude' in terms of use, routes, dynamics and performances, "and is therefore ready and waiting for a mobility change". Of course, the steadily rising tide of cities imposing low or zero-emissions zones on road users is also spurring buyer interest and EV development, and the Ducato won't be the only player – Renault already has a Master EV up at bat and Peugeot and Citroen, which share the Ducato platform and factory for their rival ranges, are also readying EV versions though we hear PSA will use its own powertrain rather than 'borrow' FCA's.
FCA thinks "professionals working in specific business areas are well placed to be early adopters of [EVs], considering the growth in online commerce, postal and courier services, home ready-to-eat food deliveries, hub-spoke local transport, and the widespread need to ensure access to city centres with their ever-increasing traffic restrictions on conventional fuel vehicles."
In this sector, buying decisions are made on Total Cost of Ownership (TCO) and, FCA said, users "generally have a low level of route variability and a high number of days of use per year but fairly low daily mileages".
Ducato range update
The EV's reveal followed FCA's June announcement of range-wide updates to the entire Ducato line for the 2020 model year though a few of these won't see daylight until September production.
Fiat Professional claims the Ducato is the European leader of its segment for the fifth consecutive year and tops the sales charts in 12 different countries. That's not the case here in the UK, however, where latest SMMT results out today show the top four LCVs are the Ford Transit Custom, full-fat Transit, Daimler's Mercedes-Benz Sprinter and the Volkswagen Transporter.
FCA counters Ducato is a popular 'recreational vehicle' [aka camper] base and an insider said the replacement of the 'robotised' automated manual transmission with a proper ZF nine-speed torque converter automatic would enable FCA to offer 'a real two-pedal option' and target 30% of campervan chassis sales.
Billed as the '9Speed', the new auto is said to be the lightest transmission in its sector, and allows optimum use of driving torque – up to 450Nm with the 180PS diesel engine (the manual transmission manages 400Nm). You also get more torque by going automagic with the 160PS engine (400Nm versus 380Nm for the manual). The 140PS engine also offers the auto option but the entry level 120PS remains manual only. FCA says the transmission update "guarantees outstanding reliability and durability thanks to the torque converter".
Normal, Eco and Power modes are standard and manual selection of gears is possible in Autostick mode activated by moving the lever to the left, and then backwards and forwards to change gear.
The diesels are Euro 6D compliant and a standard ECOpack blend Start&Stop, intelligent alternator, electronically controlled fuel pump and the Eco gearbox for as much fuel saving as possible. Start-stop uses a conventional geared starter motor rather than a belt-drive starter/alternator so the re-start is noticeable (and worth a nanosecond wait before prodding the accelerator pedal to avoid a jerky launch) but more noticeable in 34C Turin was the sudden disappearance of most of the air conditioning airflow every time the engine stopped. Which, in that city's suicidal traffic, is a lot.
Available ADAS tech includes blind spot assist (BSA), new rear cross path detection (RCP), full brake control (FBC), lane departure warning, traffic sign recognition, high beam recognition, automatic wipers and headlights and a tyre pressure monitoring system (TPMS).
Engine Idle Preset increases the engine's minimum revs to power any additional electrical equipment while cargo space lights are now LEDs and Apple CarPlay and Android Auto are available.
September will add a larger seven-inch touchscreen (the current one with TomTom based navigation really is a bit small), USB port and DAB [digital] radio and "the possibility of specifying the dimensions of the vehicle and possibly trim version to provide indications that avoid streets which are not sufficiently wide or low passages". Ideal in cities like Turin where we had to breathe in to squeeze through narrow archways.
"LCVs are a good place to be in," said an FCA insider, citing constant growth in the overall sector since 2009. "Sure, internet shopping is on the rise but that still needs physical transport of goods from warehouse to customer."
Some 30% of Fiat Professional sales are to delivery companies and an increasing number of larger parcels is driving demand for larger vans.
Like the Ducato.