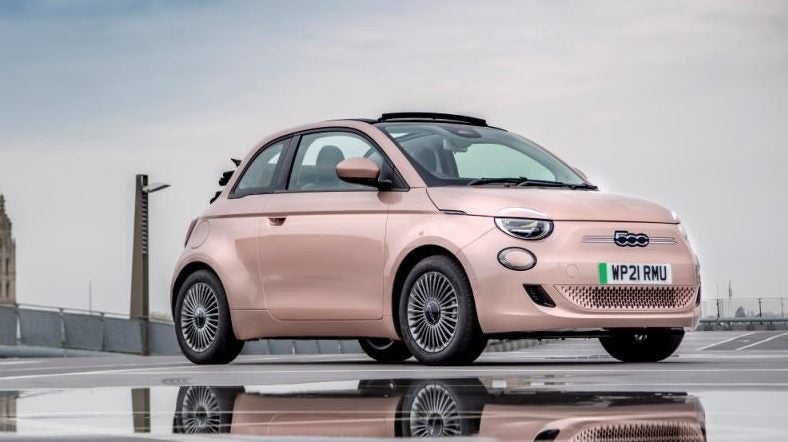 When FCA revealed the new Fiat 500 last July, some wondered what sort of future there could be for the little EV's bespoke platform, should a merger with PSA go ahead. Now, Stellantis appears to see this architecture as the key to giving other group brands a continued, profitable and perhaps expanded presence in the A segment. 
The new Cinquecento takes Fiat into a segment where only a few other OEMs have ventured: electric city cars. The Volkswagen Group has been there for some years yet there is the strong suspicion that the e-up! isn't much of a money spinner. Why else would the supply of its SEAT Mii Electric brother remain restricted, not to mention Skoda's Citigoe iV equivalent having been taken out of production after fewer than 12 months?
Electrified successors for the C1 and 208 twins?
How can Stellantis succeed in a segment with notoriously thin margins, particularly with just the one car and it also being from a brand which is decidedly non-premium? The answer is two-fold: by pricing and marketing the new 500 as an upscale entry, which seems to be working, and by likely creating replacements for the Peugeot 108 and Citroen C1 using this architecture. They could also be built at Mirafiori, this plant located southwest of Turin having been retooled for the production of electric cars. So far, the sole EV to come off the line there is the new Fiat but there could easily be others later in the 2020s.
Remember that Toyota Motor Europe has taken control of the former TME-PSA joint venture in The Czech Republic and even though it's still making those models for Stellantis, they're coming to the end of their life cycles. Remember too, that a new Fiat Panda is due in the next year or so, and that the 500's platform isn't EV-only. There will more than likely be ICE versions of all three models. And maybe a car for Lancia too, to replace the Ypsilon.
500 now available in Britain
The 500 is now being built in RHD form and the UK media launch has just taken place. Britain will in all likelihood become one of the largest markets for this electric city car, Stellantis pointing out not only keen pricing – GBP3,000 deposit and monthly payments from GBP199 – but the unique proposition of offering buyers the choice of hatchback or convertible. Yes, this is the only affordable open-top four-seat electric car available in Britain but if you ignore the entry-level hatchback, this new model takes Fiat into pricing territory that we don't normally associate it with. Can that work? It already appears to be in LHD markets, so why not here too?
Model grades are called Action (hatch only), Passion, Icon and La Prima. I asked Andrea Lo Presti who heads up Marketing for Fiat and Abarth in the UK if the top-spec would stay as a permanent part of the range. He pointed out that coming up for a year since the 4 July debut in Italy, La Prima cars remain available there.
Small Fiats: big in Britain
Fiat's man also notes the importance of the British market to the 500, some 400,000 examples of the second generation car having been sold since its arrival in 2008. I should clarify that this model remains available and that there are no plans to discontinue it just yet. Might it even be adapted for Euro 7? It's possible, he suggests. More likely though would be either a phase out by mid-decade or else some form of ICE-electric powertrain in the new 500. Officially, Stellantis says the Cinquento is EV-only but the platform is ICE-compatible.
Something I didn't know was that one in every four A segment cars sold in Britain is a Fiat. With a full year of the new 500 in 2022 and looking at what the competition is expected to be offering, Andrea Lo Presti sees the brand controlling fully one third of this size class.
Premium feel
What then of the car itself? My limited time driving it took place amongst the bicycles of central Cambridge and for just over an hour on faster roads, including the M11 motorway. Straight away it feels quite different to the older petrol 500 and not just in the obvious ways such as noise levels and engineering sophistication from being a fresh design versus an aged one. Here is a Fiat which seems to be – gasp – almost premium.
Everything your fingers come into contact with feels solid and looks as though it will last a long time. The links to the past are well done too, the bi-spoke steering wheel an obvious reference to the first Cinquecento (1957-1975) and there is even a little picture of that car etched into the rubbery interior door pulls. You also get an outline of the Turin skyline beside the phone charging pad.
The beautifully minimalist dashboard has a row of quickly referenced buttons for all the ventilation controls and all cars being automatic, the driver finds PRND on a lower part of the dashboard. Then, between the seats are switches for driving modes, parking brake and music volume. The traditional FCA sound system controls are also present on the back of the steering wheel: unseen but you can feel them. Having memorised which is volume, forward to the next radio station, DAB or AM and so on, they work as brilliantly as ever. Take that, touchscreens.
Just like on a Tesla, the interior door releases are both electric buttons and – for exiting in an emergency if the power is cut – mechanical latches which will always work. The door cards are hard plastic yet that doesn't take away from the funky feel of the whole interior. Also, the standard of components and assembly on the cars I saw was faultless: everything lined up perfectly, gloveboxes shut with a nice clunk and each stalk had a precise action with no slack. And each time I glanced at the dashboard, the shapes reminded me of swoopy-beautiful Zaha Hadid buildings No-one who spoke at Stellantis' press event suggested this but maybe they should have.
If the new 500 looks great, is built well, feels solid in so many ways (something else VW might want to note – there's no cheap metal stick to hold up the bonnet but instead two tiny gas struts), how does it drive and how's the level of comfort?
Here's something else I wasn't expecting: the suspension system delivers a near-miraculous level of comfort. I mean that in the context of this being a car that's not only a mere 3,632 mm long with a 2,322 mm wheelbase (+22 compared to the second generation 500). Tall, narrow tyres help to make it quite fun even on bouncy-bumpy roads but it does lean a lot.
The only bad news about the electric 500, aside from the limited range with the base spec 24 kWh pack, is a certain lack of sharpness in the steering, while nobody could say the handling is anything like that of a sports car. But that's not what the new Fiat is meant to be about: as a cute and often fun electric city car, it hits the target. Plus in two-three years' time – possibly sooner – Stellantis will probably give us a suitably rapid plug-in Abarth version. Now that, I will look forward to.
The electric Fiat 500 costs from GBP20,495 (Action hatchback with 24 kWh battery) after the UK's PiCG. The convertible starts one level up (Passion). Icon, the model grade above this, is expected to be the UK's best seller, taking some 50% of volume.
In as-tested 42 kWh Icon convertible form, top speed is 93 mph, 0-62 mph takes 9.0 seconds, with the motor producing 87 kW (118 PS) and 220 Nm. The OTR price is GBP30,645 and the maximum range is 199 miles. Warranties are three-year/unlimited mileage and eight years/100,000 miles for both (Samsung-supplied) battery packs.