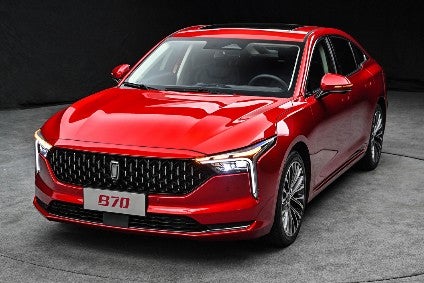 Little known outside China, Bestune is FAW's number two brand behind Hongqi. While last year was phenomenal for the luxury marque, it wasn't great for Bestune, wholesale deliveries falling by nine per cent to 49,960 vehicles. New models coming soon have the potential to change the fortunes of what is supposed to be a high volume make.
Some had thought FAW might take the axe to this division, particularly when various models were discontinued well before the completion of the OEM's typical seven-year production cycles. That has included the B30, B30EV, SX6, T33, X40 and X80, leaving a range as at the start of February, of B70, E01, T77 and T99. The new B70, along with a couple of other models, show instead that Bestune is effectively being relaunched.
Cars
Bestune was absent from cars for a time, the B30 having been withdrawn in 2020 after fewer than five years on the market. There are rumours that a new B30 could be coming but there are no firm details about such a model.
The third generation B70, a 4,810 mm long hatchback which looks like a sedan, has just gone on sale, build having started at the end of November. The first engine is a 124 kW and 258 Nm 1.5-litre four-cylinder petrol turbo.
FAW told the media in August (2020) that this was its first model for a new architecture called Fma; the car itself being revealed at the following month's Beijing motor show. The development code for the B70 was D357.
SUVs
Will there be a new T33? FAW isn't saying but it seems likely, perhaps in 2022. The previous one was available between 2017 and last year, production ending after deliveries faded into single figures. This small SUV suffered from having originally been called the Besturn X40 and FAW X40 before a name change in September 2019. The fact that it was very similar to FAW's Senya R7 didn't help matters either.
A new model which slots in below two larger ones is called T55. The 4,437 mm long SUV was announced for the Chinese market in January. It is powered by a 1.5-litre petrol turbo engine but a T55 EV is also said to be on the way. The life cycle should be six-seven years. The vehicle's code is D365.
Data for January were yet to be released at the time of writing but Bestune at least ended 2020 in good form, overall sales surging by 26% in December to 6,851 vehicles. Leading the charge was the T77, which is easily the brand's number one model (Dec deliveries: 4,621).
This 4.5 m long SUV went on sale in China during November 2018, shortly after the debut of the model at the Guangzhou motor show. This was also the first vehicle for the brand's name change: previously FAW called it both Besturn and Bestern.
The T77 is said to be be closely based on another FAW model, the former Junpai D60. A T77 Pro was announced in March 2020. This sports variant is powered by a 169 hp and 258 Nm 1.5-litre turbo engine.
Facelifts for the T77 and its Pro derivative are thought to be a year away and that should be the only exterior update before a second generation model arrives in late 2025. That vehicle is highly likely to be an EV.
It's quite a gap in sales volume from the T77 to Bestune's number two model, also an SUV. Launched in November 2019, the 4.8 m long T99 had been previewed by the T², a concept which was revealed at the Shanghai motor show in April 2019. The production model, powered by a 224 kW and 340 Nm 2.0-litre petrol turbo engine, shares certain components with the Hongqi HS5.
As the T99 isn't selling too well (1,766 wholesale deliveries in December), FAW might give it an early facelift rather than waiting until mid-2023 which is when it would have otherwise been due for a refresh. Likewise, a successor that hadn't been due until 2026 may arrive in 2024 or 2025.
Electric
A fully electric five-seat crossover with the development code of C105 was exhibited as a concept at the Guangzhou motor show in November 2019. The production model, which is called E01, was revealed at the Beijing motor show in September last year, going on sale in China soon after. So far, sales volume has been only modest.
This 4,639 mm long model is powered by one motor with outputs of 190 hp and 320 Nm. Energy is stored in a ternary lithium battery pack with a capacity of 61 kWh. There will likely be further battery pack options in 2022/2023 and then a facelift in 2024. The replacement should appear in 2027.
Taxi
The EO5, a model specially developed for taxi operators in China, is similar in concept to the BYD D1 which was announced only weeks earlier. Bestune revealed the vehicle in January at the Haikou New Energy and Intelligent Connected Auto Show in Hainan.
This MPV is unusual for having a sliding rear door on the passenger side and a conventional one on the driver's side. Power and torque are stated as being 190 PS and 320 Nm, there is a 61 kWh battery pack, a single motor and the maximum NEDC range is 450 km.
Reports for many other manufacturers' future models are grouped in the OEM product strategy summaries section of just-auto.com.
Future platform intelligence
More detail on past, current and forthcoming models can be found in PLDB, the future vehicles database which is part of GlobalData's Automotive Intelligence Center.
This was the first of two reports on the passenger car brands of FAW. Next comes Hongqi/Red Flag.