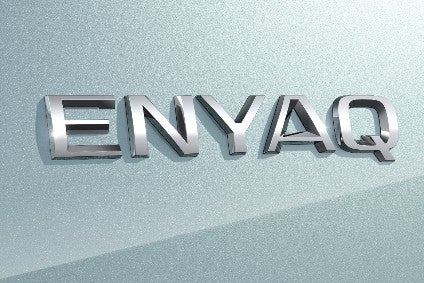 A record sales year in Europe wasn't quite enough to push Škoda Auto towards another new worldwide record in 2019. Still, considering how the Chinese market crumbled, global deliveries of 1.24 million vehicles was by no means a poor result. With 2020 being the first full year for a new generation of the Octavia plus the arrival of various PHEVs and EVs, the brand is well placed heading into the next decade.
Cars
An electric version of the brand's A segment model was revealed at an event in Bratislava in May 2019 alongside the brand's first plug-in hybrid, the Superb PHEV. The Citigo e iV has a 36.8 kWh lithium-ion battery which Škoda says gives it a range of up to 265km in the WLTP cycle. The motor has outputs of 61kW and 210Nm. Top speed is 130km/h. Sales commenced in November at the same time as the SEAT Mii electric which is more or less the same car. Both these vehicles joined the Volkswagen e-up!, which had up until that point been the only battery-electric version of the three A-segment hatchbacks. The VW is now the only one of these tiny triplets which can also be ordered with an internal combustion engine.
Sub-20,000 euro EVs for several Volkswagen Group brands are being developed, each one based on a new version of MEB, the group's electric vehicles platform. SEAT has been tasked with engineering this architecture, the company's CEO announced in March 2019. There should be 'MEB-K' vehicles for VW, Jetta, SEAT and Škoda. One of these small cars could serve as the successor for the Citigoe iV. The market launch should take place during the second half of 2022.
Škoda is leading a project to develop a multi-model platform specifically for the potentially enormous Indian market. Sources say the Favorit badge could reappear for one of the models, a small sedan although the company could of course keep the Rapid name. This model is due out in late 2021 and the platform is called MQB A0 IN.
Inda's current Rapid has been around since the final quarter of 2011 and is understandably not much of a force in its segment. This small sedan, which is unique to the local market, is a different body on the VW Vento. Both 1.6-litre petrol and diesel engines were available for many years but these have just been dropped ahead of BS6 emissions laws. Both are replaced by a 1.0-litre petrol turbo.
There is a larger Rapid, this car having been developed mainly for Europe and China. A year younger than the Indian-made model, it will likely be discontinued in 2022. It has been withdrawn from many countries, replaced by the Scala but build continues in China and Russia. The latter market's Rapid underwent a major facelift three months ago. At the same time, the dashboard was also redesigned.
A fresh Fabia scheduled for introduction in 2022 should be the first Volkswagen Group vehicle for the MQB A0 Evo platform. At the point, the current model will be seven and a half years old. That car's details can be seen in PLDB (see below).
The 4,362mm long Scala is a five-door hatchback and the replacement for two vehicles: Europe's Rapid/China's Rapid Xin Rui (hatchback) as well as the Rapid Spaceback/Rapid Xindong. It is presumed that the car to be built and sold in China from later this year will also be called Scala. For the moment, the only plant building this model is Mladá Boleslav. Production commenced in February 2019. A facelifted model should be launched in late 2022 with a replacement due to arrive in 2026.
Still easily the brand's best seller, the Octavia remains a global success story for Škoda with the car especially strong in Northern European markets. The five-door hatchback, Combi (estate) and Scout were all revealed to the media last November at an event in Prague. Production commenced at the end of that month.
At 4,689mm, both Combi (by 22mm) and hatchback (19mm) are slightly longer than the previous generation cars.
Powertrains are similar to those offered in the eighth generation Golf, which was announced to the press a few weeks before the Octavia:
81kW/110PS three-cylinder 1.0-litre TSI with 48V belt-driven starter motor and lithium-ion battery, seven-speed DSG (six-speed manual without mild hybrid technology optional)
110kW/150PS four-cylinder 1.5-litre TSI with 48V belt-driven starter motor and lithium-ion battery, seven-speed DSG (six-speed manual without mild hybrid technology optional)
140kW/190PS & 320Nm four-cylinder 2.0-litre TSI, standard seven-speed DSG and all-wheel drive
85kW/115PS four-cylinder 2.0-litre TDI Evo
110kW/150PS & 340Nm four-cylinder 2.0-litre TDI Evo
147kW/200PS & 400Nm four-cylinder 2.0-litre TDI Evo
96kW/130PS 1.5-litre four-cylinder G-Tec (Compressed Natural Gas) with three tanks offering a combined capacity of 17.7kg plus 9-litre petrol tank
There are also two petrol-electric plug-in hybrids, the Octavia iV & RS iV. Their details plus life cycle expectations for the Octavia range can be found in PLDB (see link at end of this report).
SUVs
A prototype of a small SUV for India was revealed at the New Delhi auto expo at the start of this month. This model will be based on MQB A0 IN, a special low-cost architecture, the suffix being an abbreviation for India. The model name, while speculative, could be 'Kosmiq'. Company executives have said the production model will be introduced to the Indian market in the second quarter of 2021.
The Vision In concept which premiered at the Auto Expo was 4,256mm long, powered by a 110kW (150PS) 1.5-litre turbo petrol engine and had a 2,671mm long wheelbase.
The Kamiq GT is a special SUV for the Chinese market. It was announced to the media in November 2019. The Vision GT concept, which was a debut at the Shenzhen motor show in June 2019, had been a preview. A facelifted GT should go on sale in 2023 while the successor is forecast for 2026.
As for the Kamiq, to which the GT is closely related, this is another unique-to-China SUV. At 4,390mm long, it is only 8mm lengthier than the Karoq which it closely resembles. Both Kamiq and Kamiq GT are manufactured by SAIC Volkswagen. Their low-cost platform is a re-engineered version of the NCS architecture as used by the previous generations of Volkswagen China's Bora and Lavida The first and cheaper of the pair became available in June 2018 after a debut at the Beijing motor show a few weeks earlier. The mid-cycle facelift should be in 2021 with the replacement expected in 2025.
There is a third Kamiq, this one being built in the Czech Republic for mostly European destinations where it became available from September 2019. Large for its class, this B-SUV is 4,241mm long and unlike some in the segment, isn't available in AWD form. The Kamiq Scoutline will soon premiere at the Geneva motor show. This has exterior changes which include LED tail lights and matte black wheel arch liners, special wheels and silver mirror caps. All variants are due for a facelift in early 2023 and to be replaced in 2026.
Škoda's first EV to use a dedicated platform will be called Enyaq, it was announced a few days ago. It will be manufactured in Mlada Boleslav and sized between the Karoq and Kodiaq. A preview of this crossover was revealed at the 2019 Geneva motor show in the form of the 4.66m long Vision iV. Series production should commence in the fourth quarter and last until late 2027 after a facelift in 2024. The MEB platform is the same as the one used for the Volkswagen ID.3.
The company recently stated that "more than ten electric models that will be launched under the iV sub-brand by the end of 2022". Further, by 2025, Škoda expects EVs and PHEVs to account for 25 per cent of its worldwide sales.
Information on other Škoda SUVs, such as the Karoq, Kodiaq, Kodiaq iV and Kodiaq GT, is available to view in PLDB.
Reports for many other manufacturers' future models are grouped in the OEM product strategy summaries section of just-auto.com.
Future product program intelligence
More detail on past, current and forthcoming models can be found in PLDB. That includes certain models which were not discussed in the above report.
This was the fifth feature in a series examining the current and future models of Volkswagen AG's passenger vehicle brands. The first one looked at Volkswagen's global cars range, including future EVs, while the second examined VW brand SUVs, crossovers and pick-ups. After this came Audi cars, including electric ones, and then a look at that brand's SUVs. Next comes SEAT and Cupra, followed by Porsche, before the series ends with Bentley, Bugatti and Lamborghini.