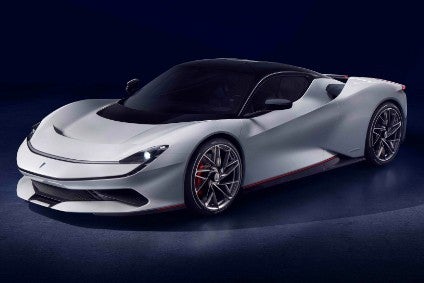 Mahindra subsidiary Automobili Pininfarina GmbH has now shown its first model, the Battista, in public. The hypercar, still more than a year away production, is promised to be the first in a multi-vehicle series.
Automobili Pininfarina wowed the Geneva motor show with its all-wheel drive electric hypercar. Munich-based AP says that will be only the first of several models, adding that the intention is to "manufacture high technology, extreme performance, luxury electric vehicles for the most discerning global customers."
Rimac battery technology
The Battista has a T-shaped battery pack and this will be supplied by Rimac, the firm also being tapped for various components shared with its C_Two model. The Croatian company – partly owned by Porsche – will also be one of AP's rivals.
Pininfarina is understandably making much of the Battista's power and torque figures. Combined outputs from the four motors are claimed to be 1,400kW (1900hp) and 2,300Nm, with 0-100km/h reached in under two seconds. The range is up to 450km, the battery pack has a capacity of 120kWh, top speed is in excess of 350km/h, and pricing is expected to be around the two million euro mark. The company says that it will make 150 Battistas commencing in June 2020.
Three future SUVs
Work being already well underway to bring the hypercar to production, AP is now putting resources into additional models. The company hasn't said when the first of these will be revealed, only that there could be as many as three electric crossovers and SUVs (PF-One, PF-Two and PF-Three). These, it is believed, will be infinitely less expensive that the Battista and targeted at the size segments where the Porsche Macan, Porsche Cayenne and Lamborghini Urus compete. Rivian is rumoured to be in talks with AP over the supply of its Skateboard platform for at least one of these models.
All being well, the firm hopes to be selling in excess of 8,000 vehicles a year by mid-decade and profitable enough to be self-funding as well as making good returns.
Reports for many other manufacturers' future models are grouped in the OEM product strategy summaries section of just-auto.com.
Future product program intelligence
More detail on past, current and forthcoming models can be found in PLDB, the future vehicles database which is part of QUBE.
A focus on the Mahindra brand was the first part of a series looking into the future model plans of Mahindra & Mahindra's automotive division. The next report, which will be the third and final one in the M&M series, concerns SsangYong Motor.